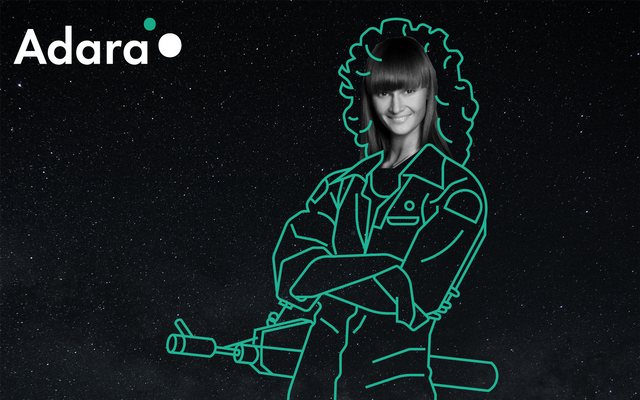 Olga Petrunina's first start-up made $400 million before Tiger Global Management bought it out. By the time she left the project - a booking service called AnywayAnyday - it employed 180 people and was colloquially known as "Russia's Expedia".
Olga's second start-up was Visatohome: an online Visa processing and delivery service. The project raised $4.5 million in seed money, and was 45-people strong when VFS acquired it for an undisclosed amount.
Many leaders would choose to take a break and rest on their laurels at this point. And at first, Olga was set on leaving the I.T. space - at least for a while.
But looking at Olga today, "sabbatical" is the last word that comes to mind. She's hard at work again, this time in a swanky Moscow office that's half steel and half marble. Right now, she's talking to her team of developers, alternating between a friendly smile and a stern look. In her own words, this project - Adara - may be "bigger and tougher than anything I've ever done before" and she's very much hands-on with her developers.
It's not just that the project, a community-focused digital asset exchange, is ambitious. As Adara's CEO, Olga has to "understand the tech, work closely with developers, navigate the regulatory environment smoothly and make sure finances are in order." Crypto assets are a new field so Olga has to mold her developers, get involved in their process and earn their respect by being proactive in order to create the product she and her team envision.

Squad
Fortunately for Olga, she's not alone in her new project. As CEO of Adara, she personally hand-picked her team. It includes some of the best professionals in the field, including several colleagues from previous projects. A few team members are childhood friends from Olga's hometown of Taganrog, located in the Southern Russian region of Rostov; others are workmates from AnywayAnyday and Visatohome; some are new faces she's still getting used to. What counts is that all are qualified experts who've taken start-ups from day 0 and turned them into successful commercial projects before. All are people she can count on.
Incidentally, it was one of Olga's colleagues from Visatohome - Artem Taradash, now Adara's CPO - who helped her come up with the idea for Adara. Olga bought her first Bitcoin back in 2010, and quickly recognized the power of cryptography and blockchain technology. While still at Visatohome, she started to believe that cryptocurrencies and dApps had a bright future ahead of them. Seeing an opportunity to use her experience in hi-tech and her International Monetary Relations degree, she started brainstorming different projects with Artem. That's how she saw the crypto niche market gap that eventually inspired her to start Adara.

The Vision
In Olga's own words, "we live in a digital world, but our financial system is from the 1970s. That was when floating exchange rates were established, and the modern economic and monetary system was born. Since then, little has changed." The world's financial systems still suffer from long chains of intermediaries; inefficient bureaucratic processes; a level of opacity that enables fraud and crime.
Blockchain technology can put an end to these problems. It can give hundreds of millions of people an alternative to an inefficient, 50-year old system by offering a better way to make payments, trade assets and transfer funds. Olga believes that crypto is the future, which is why she's building Adara: a digital asset exchange focused on serving its community, following regulations and facilitating the exchange of crypto tokens.

Introducing Adara
Olga started following the crypto scene a few years ago. Coming from Russia, she understood how national and commercial organizations can restrict capital flows to the detriment of individuals and organizations. The idea of a P2P system that puts users in control of their own funds and processes was appealing - and she started learning more about crypto.
Eventually, Olga and Artem started talking about tokenizing assets like art pieces and securities. One of the first problems they saw was that SEC and other national agencies were putting up resistance to various blockchain projects. That's when Olga understood that, in order to be taken seriously, crypto tokens would have to be fully legal and compliant, meeting the highest regulatory standards.
Simultaneously, she realized that no crypto exchange was made with real-life regulations and securities in mind. Afterwards, her and Artem came to the conclusion that creating a legal crypto exchange made with tokenized securities in mind would be immensely valuable.

Tech Support from a Crypto Giant
One of the first people to support the fledgling Adara project was Jeff McDonald: ex-Vice President of the NEM foundation which operates one of the world's biggest blockchains. According to Olga, McDonald is a "really good friend who helps our exchange a lot". Having built the NEM blockchain, which can process 4,000 operations a second, he gives Adara valuable advice - and access to his personal connections and NEM's developers. He believes that Adara can become the next step in crypto trading, and is a key advisor for the project.
The interest is mutual. NEM's CATAPULT 2.0 protocol features a 4-layer security system that scales well and processes transactions quickly. This kind of technology is vital to creating a successful hybrid exchange that combines centralized and decentralized operations. Adara's goal is to combine centralized and decentralized operations - and CATAPULT is one of the only technologies that could help with the latter. Having access to its development team and one of its key advisors in Jeff McDonald is tremendously valuable for the project.
Given Olga's past successes and Jeff McDonald's involvement, expectations for Adara are high. Fortunately, Olga's goal of creating a regulation-compliant, legal exchange that processes tokenized securities is unlikely to meet resistance from anyone. "We want to create a win-win project that helps everyone by helping crypto move to the next stage of its development. That's why we feel confident about our project."

You can contact us via
  Telegram https://t.me/adara_io
  Linkedin Adara.io
  or visit adara.io