Threads:
Of bubbles:
Glisten and glow:
Illuminating the dark.
My life may still be in tangles:
But I see the beauty in their depths.
As the story unravels: The journey begins:
Once again.
~Ally.
Tangles.
I've always been fascinated in matted and knarled, tangled and twisted overgrowth in our Australian bushland and how the weavings of these features can create beautiful depth in a visual interpretation.
This original film and hand-developed photograph was taken with my pre-digital Nikon at the Melbourne Flower and Garden Show several years ago.
The proteas were submerged in water in a glass tank that had been very cleverly built into a temporary wall. It was so discreet that many visitors to the show walked by it without even noticing.
I always loved how the tiny little air bubbles clung to the stems of the submerged proteas: Making these wayward tangles even more alluring.
♥︎♥︎⚖️♥︎♥︎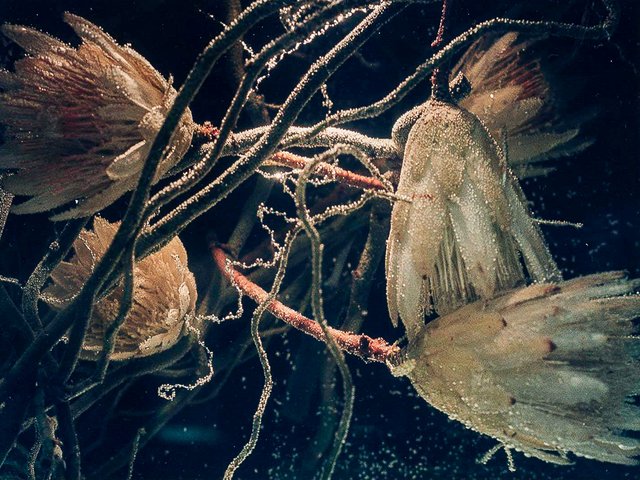 ---
Makers Place.
'Tangles' is the first image for my digital art Triptych: Designed to be the first panel of three for the latest Makers Place Contest: Triptych Collective.
An outline of the contest, as well as the themes that one can select from, can be seen HERE.
My submission can be seen HERE.
The image was required to be in a 9x16 portrait format.
Instead of taking a vertical 'slice' of the landscape format photograph, I decided to rotate it into vertical alignment.
The image was then slightly edited in LightRoom, in order to give more contrast to the dark and light areas: Enhancing the lightness and jewel like quality of the air bubbles and dulling the green stems and tendrils. The original proteas were brighter and more yellowish. I gave them a more salmon pink hue and added a touch of indigo/cyan to the background to give the final image an 'old-worldly' charm.
♥︎♥︎⚖️♥︎♥︎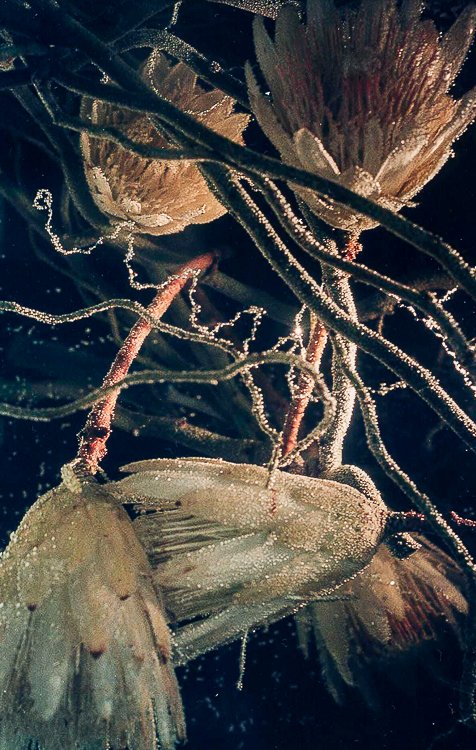 ---
What Next?
This week, artists are asked to select one of the images, produced by another of the participating artists, and create an adjoining panel for it.
Just about always, whenever I want to do something but have absolutely no idea what I will do, I experience a very 'unsettled' feeling. Which I'm feeling right now in relation to producing this second image for Makers Place.
I should know by now that I just have to relax, not think about it too much ~ And something will come to me as to how to start.
This week I've been particularly interested in the 'Closure of Uluru' and seeing how people have responded to this highly significant event. I've been working on a drawing with this in mind for Inktober: Ghost and Ancient. Not sure if I'll finish it/them ~ Let alone publish it/them.
However, if any of the images for the first panel of the Makers Place Triptych Collective have a hint of the sacredness of our earth and its landmarks and our need to honor the ways of our indigenous peoples ~ I'll have my starting point.
---
A heart that is holding infinite possibilities.
A creative who is learning to trust the mystery of what will be.
A spirit that is willing to fly into new creative realms and share the journey. ~Ally.
---
Photography: ©Alison Lee Cousland.
SONY Mark2 A7.
---

---

---

---