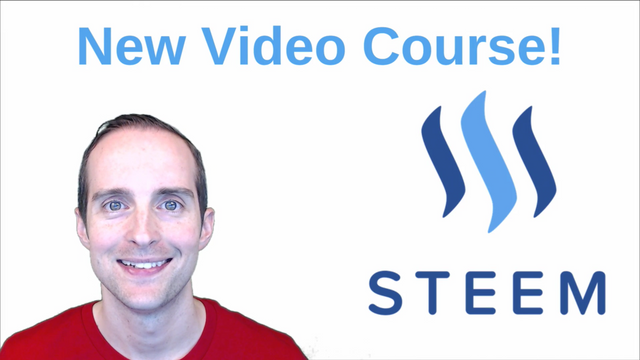 Would you like a new and complete Steemit video course showing how to get started? Enjoy 3+ hours of new HD tutorials featuring everything needed to make a strong start on Steemit for free using this coupon with unlimited redemption at https://u.jerrybanfield.com/courses/steem17?coupon=steem.
Hopefully this course will be very helpful for use in getting friends to sign up, learning how to buy and sell Steem/SBD, and making it feel easy to get started here! All videos from this course were filmed by me within the last two months making it the world's newest and most complete Steemit HD video class available anywhere! Enjoy all of the courses I offer free on my website at https://jerrybanfield.com/freecourses/.
Here is the release video announcement on YouTube!
Course description!
Would you like to see how we earn Steem, a top cryptocurrency like Bitcoin, by making and voting on Steemit posts? Get inspired to make and level up your Steemit account today by seeing how generous the community has been in helping me earn Steem in my first weeks at https://steemit.com/@jerrybanfield!
Steem is a cryptocurrency similar to Bitcoin, Ethereum, and hundreds of others which is made and managed by users online instead of banks and governments.
Steemit is the social media platform powered by Steem where it literally pays to upvote posts, submit a story, and write a comment! How much? Within my first month, one post paid over $3,000 worth of Steem and SteemDollars or SBD which are worth $1 of Steem.
As bloggers, artists, video producers, musicians, social media enthusiasts, and entrepreneurs we have the opportunity of a lifetime today to be one of the first users on Steemit which may become so popular that it will be the top network of choice instead of Facebook or Instagram or Snapchat or Twitter or any other website not giving us anything in return for our time and energy!
When we realize that our posts, comments, and shares are worth a lot of money AND we have the opportunity to actually get paid that income on Steemit, the choice is obvious to leave behind all other social networks and go where we are given the most back in exchange for our curation and creation on social media! We choose to post pictures on Steemit instead of Instagram because when our friends upvote them we make a little bit of cash or maybe a lot sometimes! We choose to invite our friends from Facebook to upvote our posts on Steemit and return the favor because we enjoy helping our friends get paid for creating what we love reading. We choose to post short updates as comments on Steemit instead of Twitter because we can often make $1 or more just for a comment!
With the potential for Steemit so high, the question is where do we quickly learn the basics all in one place? Would you take this video course to join us in knowing exactly how to give the very best to the Steemit community and how to get the highest return on the time you invest in getting started and growing on Steemit?
Course Curriculum featuring 36 video lectures and 1 text link to my Steem resources list!
#1 New Social Media and Blogging Website? Steemit!
Steem is a cryptocurrency that powers Steemit a social network.
What are cryptocurrencies? What is Bitcoin?
$503 a day for my first month on Steemit!
Is Steemit going viral now? Huge growth in one month!
Steem, Steem Power, and SteemDollars or SBD explained.
Blog, comments, replies, and rewards explained.
The home, new, hot, trending, and promoted feeds on Steemit.
Steemit guides and helpful links!
Creating a post on Steemit by submitting a story.
Case studies from my friends starting on Steemit.
Earn just by commenting!
Trending post case studies and a simple way to get there!
8 websites to change fiat like USD to Cryptocurrency like Bitcoin.
Coinbase.com is where I bought my Bitcoin which I then used to buy Steem.
Bitstamp.net has support for most countries
Kraken.com offers a great selection of altcoins to fiat.
3 more cryptocurrency exchanges if Coinbase, Bitstamp, and Kraken do not work for you.
Buy Bitcoin with Cash on WallofCoins.com!
Buy Bitcoin directly from third party sellers in nearly any country with LocalBitcoins.com
Bittrex.com is my current favorite cryptocurrency exchange for buying Steem.
Bittrex has 170+ cryptocurrencies with simple security using two factor authentication.
Making a deposit on Bittrex.
Selling SBD to BTC and buying anything with Bitcoin.
Cashing out on Coinbase to USD
Blocktrades.us makes changing BTC, ETH, LTC, and more to Steem easy.
The blocktrades transaction completes within minutes and I power my Steem up.
Different types of posts I make on Steemit.
How much do top authors post?
Publishing Steemit posts automatically to Facebook and Twitter Free with Zapier and Streemian.
Earning more followers on Steemit.
Built in crowdfunding!
Crowdfund anything on Steemit from health emergencies to new apps.
Redeeming Steemit Rewards.
SBD Market with Steemit Tax Payment and Calculation System.
Blocktrades tutorial for instant exchanges with Bitcoin, Ether, Steem, SBD, and Litecoin.
Thank you for finishing the course!
Questions?
Why not just make the course available free without signup or free coupons? My main business prior to Steemit was teaching classes online which now is #2 after Steemit. With 1,500+ videos free on YouTube already, the added value of taking my courses is better organization and editing. Making the course cost $180 and then giving a free coupon based on my experience testing courses just free produces a way higher enrollment and course usage rate. I put the course on my website instead of YouTube because I already have enough free Steemit tutorials there and because I hope some students enrolling in the course will convert to my all courses subscription or lifetime bundle. Signing up on The University of Jerry Banfield also helps me to use email marketing for communication about future new courses with an easy one click unsubscribe option available on every email.
Will I keep making new courses on Steemit? Yes I plan to do a video course on becoming a Steem witness and more advanced Steemit classes going forward.
Why not charge for the course and make good money? With our generosity here in upvoting my posts, I am happy to give this course away for free to help as many people see it as possible. Anyone that wants to pay is welcome to do so!
Will I keep making new courses that are not about Steemit? Definitely I have several more courses planned!
Are all of my courses free? Most of the new courses I create will require payment to view while the 80 or so I have already created and uploaded will have free coupons everywhere.
Can I earn as an affiliate? Yes all partners at https://jerrybanfield.com/partners/ are allowed to participate as affiliates earning a 50% lifetime commission on every single sign up. For example, if you refer someone using my free coupon to my Steemit course that later converts to a $27 a month subscriber, you get $13 a month for life on their subscription which is $152 a year! Becoming a partner includes many more rewards including reading your Steemit posts first and costs $49 a month on Patreon or $999 for lifetime access because I prefer to work with a small number of motivated partners instead of trying to serve everyone poorly.
Thank you very much for learning about the new Earn Steem on Steemit video course I released today! If you appreciate the work I did to film the 36 videos for this class which I then am making available free here with an unlimited use coupon, would you please upvote this post 100% (or 1UP) because this will continue to motivate me to do the same for future Steem courses?
Love,
Jerry Banfield