🍲 Cream Soup With Zucchini And Walnuts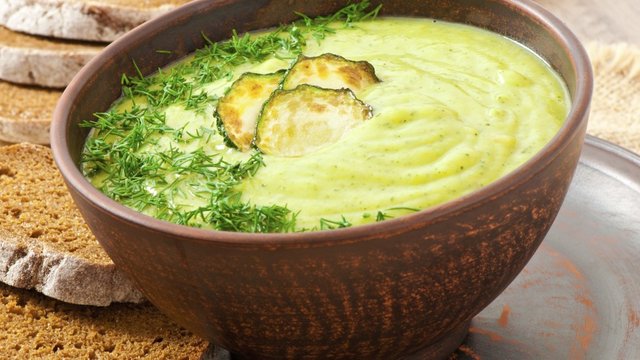 Cooking 25 min Preparation 15 min Number of servings 4
A magical cream soup with a spring flavor and tenderness. Its soft and memorable flavor is due to the elegant presence of cream and lightly baked nuts ...
Ingredients
1-2 tsp. Sugar
4 tsp. Lemon juice
1-2 pinch Black pepper
1-2 pinch of salt
150 ml Kessel cream
750 ml Vegetable broth
4 tablespoons Oil
2 cloves Garlic
500 g courgettes
200 g Potatoes
Chapter One Onion
1 handful of nuts
Method of preparation
1. In 2 tablespoons oil is cooked for 3-4 minutes finely chopped onions and garlic along with the large pieces of potatoes and zucchini.
2. After the mixture is boiled, quench with the broth, cover and allow to boil on a soft heat for about 15 minutes.
3. Pump nuts gently and add to the soup. Add the cream and let it boil briefly.
4. Season the soup and season with salt, pepper, lemon juice and sugar. Optionally, croutons are added.
Support me and my work by voting for me
@thealpha