#DoubleDolphin Celebration Giveaway | 10 Steem and 500 SP Delegation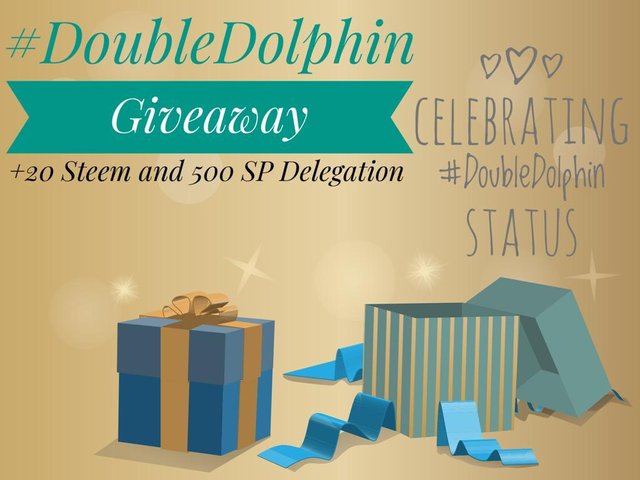 A few days ago, I became a #DoubleDolphin and to celebrate my Double Dolphin Status, I have decided to organize a steem Giveaway and an SP Delegation of 50SP to five Steemians.
Earlier this year, I had just about 1.5k SP but I pledged and committed myself to grow, and here I am, 10K SP. Only Steemians like @benjamin09, @chiabertrand, @rosita-nkefor, @elian23khan, @b-naj, @saxopedia, @fombae, @chant, and all those who have been doing committed power-ups can explain how I feel because they have have had a taste of this kind of feeling.
It feels good but I will feel really good when I hit 15K SP by December 31, 2021. I know to grab 5k SP in less than 24 days sounds like magic but I believe with passion, hard work, commitment, and financial investment, I will grab 5K SP before the year ends.
BTW, this post wasn't intended to talk about my plans of grabbing 5k SP. It was meant to call steemians around the globe to join me to celebrate my #DoubleDolphin Status.
To celebrate, I am organizing a Steem giveaway and a 500 SP delegation to 5 steemians.
How to participate
You can participate by doing any of the following;
Comment, upvote, and resteem this post. In your comment, tell us what SP you hope to achieve by the end of the year. The first 20 comments with their SP Pledges will each receive 0.25Steem each.
Power up this week. All power-ups will receive 0.5 steem for powering up while the best five power-ups will receive a 50 SP delegation from @thegreens for a period of 20 days.
It's thanks to you that I am celebrating 10k SP. I am because you are and you are because I am. Together, we shall continue to support one another to grow and move Steemit to another level.
Congratulations to You and me. We made it!
Next stop, #TrippleDolphin by December 31, 2021.

Now is the best time to invest in Steem!
CC:
@steemitblog
@steemcurator01
@steem-cameroon
@majerius
@saxopedia
@fombae
@pennsif
@kiwiscanfly
@stephenkendal
@steemchiller
@kiwi-crypto


The Greens is a grassroots environmental organization that strives to educate, inspire and engage young people to take action to combat climate change and be at the forefront of biodiversity conservation and waste management.