Thank's to everyone who participated in the contest to help people in urgent need!
For more information please see my contest post here.
I decided to support as many people as possible instead of just a few with a large amount, so in this post I will present the 10 Winners out of the 20 submissions I received.
I thank everyone who participated for your time! Unfortunately not everyone can win. To all who didn't win, please continue your good work and keep posting on Steemit / Busy as eventually your work here will support you to help others one day.
Ok, lets get into it! 50 STEEM have been sent to the following 10 users and their projects.


50 STEEM - @indayclara - The Awesome SMILE Project

50 STEEM - @giftinkindph - Gift In Kind PH

50 STEEM - @kokamspycare - Orphaned and Poor families

50 STEEM - @ramsesuchiha - Organizing donations to families in need

50 STEEM - @iamchijamz - EMPOWERING THE NIGERIAN CHILD TO EDUCATION

50 STEEM - @rosz - Organizing a donation for children with Down syndrome

50 STEEM - @mickyscofield - Feed a Child with 1 Steem

50 STEEM - @singkelsteemit - Help Poor Patients For Medical Expenses

50 STEEM - @khusairi - SHARING FOOD TO THE POOR AND ORPHANS

50 STEEM - @carlagonz - Project for children in extreme poverty

A screenshot of my History page.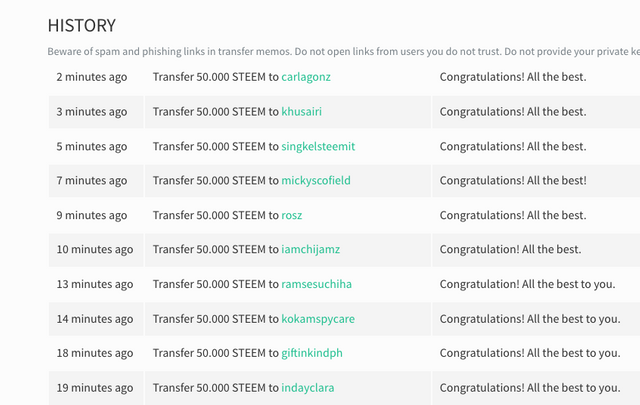 Congratulations to all of you! I hope I made a good choice trusting you and wish you all the best and success with your projects.