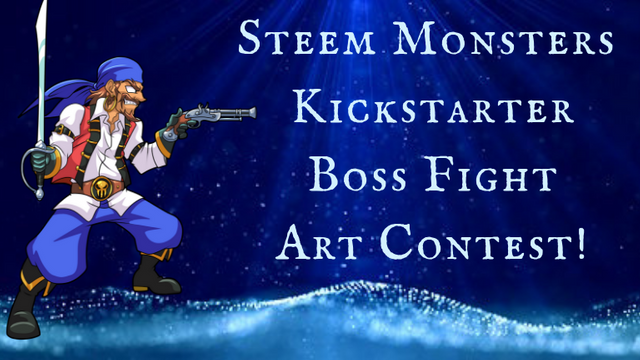 Steem Monsters Kickstarter Boss Fight Art Contest!
The Steem Monsters Kickstarter is well under way!
You can help Steem Monsters become the best game possible by becoming a backer!
Pledge $25 or more for some awesome rewards!
So far, we've had a Level 1 Boss Fight for the kickstarter campaign.
We defeated that Boss by reaching 150 Kickstarter Backers! (We are now at 162!)
This victory unlocked $10 daily tournaments (paid in steem/sbd)!

Boss Fight Level 2 Art Contest!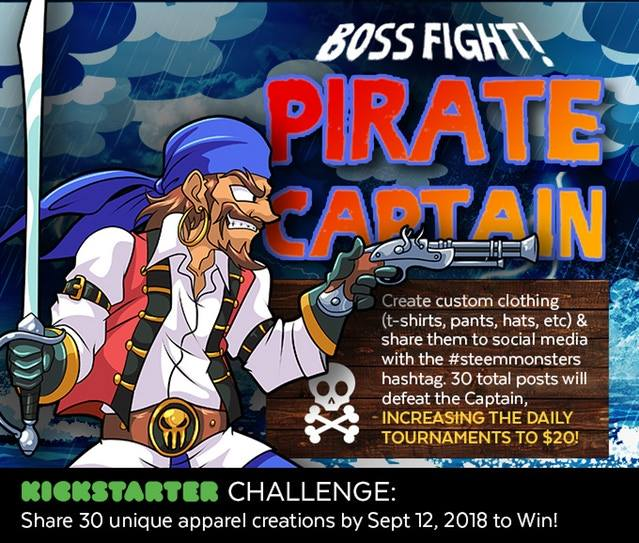 This week we are combining our Kickstarter Boss Fight with our weekly Art Contest!
We collectively have a few days to make some sweet homemade Steem Monsters gear. We need 30 pieces of clothing altered to be Steem Monsters themed and you need to put those pieces on display at the Facebook Page.
You can create lots of things for this. At the very least you can just draw a steem monster on a white tee-shirt, but I'm betting you can get more creative than that.
To have your work officially entered please make sure you post some proof of work on our Facebook Page (be sure to like it while you're there!).
Make your creation, make your post, link your post in the comments here, and the winners will split 15 Booster Packs!
All entries will also recieve some @steemmonsters upvotes!
BUT IN ORDER FOR IT TO COUNT TOWARD WINNING THE KICKSTARTER BOSS FIGHT IT HAS TO GO ON OUR FACEBOOK PAGE!!!
You have until Wednesday night. Let's get crafting/drawing/making!
If we receive 30 entries we'll beat the Level 2 Boss and increase the daily tournament rewards pool to $20.

The Prize!
We have decided to increase our prize due to reasons!
15 Booster Packs will now be split between the winners!!!

Rules for Submission
Post your creation on your own Steemit account
Please describe and show some steps of your process
Link your post in the comments of this submission post
Upvote/resteem this post
The Deadline for submissions is Wednesday, September 12th at 11:59 PM CST
The winners will be announced on Friday!



Thank you for your continued support!
Steem Monsters Contact Info
Official Account: @steemmonsters
Website: https://steemmonsters.com
Discord: https://discord.gg/CAFJRjY