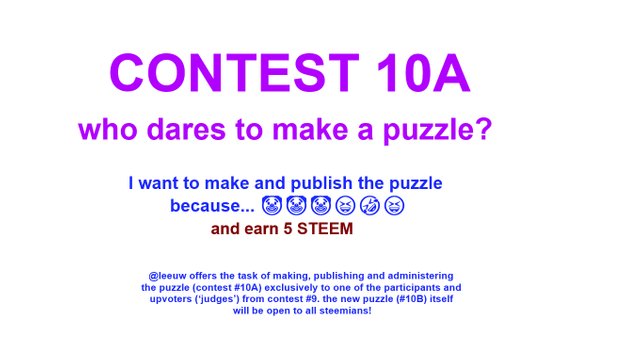 Hello everyone! Here, @leeuw is steeming contest 10A called 'who wants to make a puzzle and earn 5 STEEM?'
The winner shall publish a puzzle which involves a 'count the hidden OWLS' contest based on @fher's winning image pair to be grabbed from contest 9 (https://steemit.com/contest/@leeuw/contest-9).
@leeuw offers the task of making, publishing and administering the puzzle exclusively to one of the participants and upvoters ('judges') from contest 9.
'Applications' for this task are made by means of a short comment right below here, by filling in the blanks after 'I want to make and publish the puzzle because .........'.
put your clown face or joker hat on. valid entries are for ex.:
... because I can fart a puzzle while sleeping in my bed 🤣😃🤣
... because my graphics card is bigger than yours 🤣😃🤣
... because i am the best puzzle maker from planet Uranus 🤣😃🤣
... etc etc some of this may be a bit lame but its oke to have some light-hearted fun once a while neither are we professional comedians anyways
Then, @leeuw will objectively 🤣 choose the winner who should publish the puzzle within one week and administer the result one week after that. @leeuw has also a pot with 2 STEEM divided for 4 funny runners-up .
The puzzle (10B) itself shall be open to all steemians and is to be published inside the puzzle maker's own steemit account and involves graphically pasting and hiding many owls inside the photo from @fher's entry in contest 9. Then, puzzlers comment with the number of owls found on the puzzle makers steemit post. This is similar to @leeuw's contest 4 (https://steemit.com/contest/@leeuw/puzzle-win-steem-4-1530861788) The puzzle maker shall announce winners based on earliest comment with correct or best given number of owls.
From @leeuw's wallet the chosen puzzle maker will receive 2.5 STEEM upfront and another 2.5 STEEM after the puzzle has winners announced on the puzzle maker's steemit blog. Also, @leeuw has a prize pot of another 5 STEEM to be distributed to the puzzle winners according to the puzzle maker's schedule. In both this contest 10A and the new puzzle 10B @leeuw has final overrule authority if required.
'Applications' are open now and close Monday September 10, 14:00 utc/gmt. Thank you, lets see who dares and remember laughing is a healing thing!