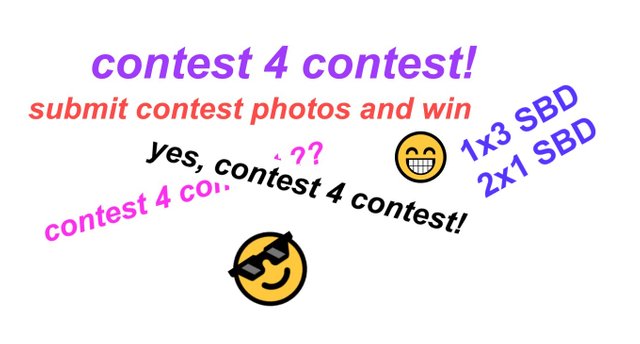 Hello everyone, hope all steemians doing wel! Here is my new outragiously super light-weight contest called 'contest for contest':
Steemians are invited to provide/upload two original images which @leeuw will use for the next contest/puzzle 'count the hidden objects'. Thus, steemians are to make 1 comment inside this (my) blog-post which includes your 2 images uploaded in the comment: image 1 = photo to hide objects into (for ex field of flowers or whatever). image 2 = the object to hide (by @leeuw in the next contest) for ex a insect or whatever you can think.
Meanwhile, not-participating steemians can upvote comments i.e. photos they like (multiple upvotes is ok). Then after @leeuw closes this contest, upvotes are counted and the winner photos to be used by @leeuw to create a new second contest/puzzle called 'count the hidden objects'. Winnings are 1x3 SBD and runners-up 2x1 SBD from @leeuw. This first contest closes Thursday 30 August 14:00 UTC/GMT. Its ok to edit your comment/photos anytime, just keep in mind that upvotes might be removed or withdrawn. In contest, @leeuw can overrule or tie-break at any time.
Soooooo,let our imagination run wild and have some light-weight fun! Thank you very much for participating or upvoting comments!
pls note: upvotes by contest participants are not counted, only upvotes by non-participating steemians will count
UPDATE: re-steem this post and it may (or may not) help to garnish upvotes by non-participating steemians on your contest comment
UPDATE: find a sub-contest WITHIN this contest somewhere in the comments below and win 1 STEEM! UPDATE: this sub-contest is now played out and won by @jennimorillo!