THE CONTEST IS OVER!!! :D
Give me a couple more days to announce the winner! :D As you can see I am late to do that again. What can I say... Life happens! I'll explain what happened in my next post! Thank you for your patience! :)
The best travel writer will get 100 STEEM!
"A journey of a thousand miles begins with a single step." – Lao Tzu.
All Steem Power earned by this post will be delegated to Travelfeed.io
2nd place - 25 STEEM, 3rd place - 15 STEEM, 4th-5th - 5 STEEM,
6th-7th - 3K lifestyle tokens delegation for 1 month!
Winners of "T.W. Contest No.3" will be announced at the end of this post!
I am terribly sorry for being late to announce the winner on time! :D Who knew that I will start working as an engineer again. Only this time I am working at Reinforced Concrete factory. Another great thing that happened to us recently was the news that @kamile and I gonna have a baby! :D Another reason to work hard. What is more, I am still saving money to buy as much STEEM as I can. I think I will do it as soon as the price of STEEM will change the direction! These are the main reasons why I had less time for blogging. Anyways, let's get back to business!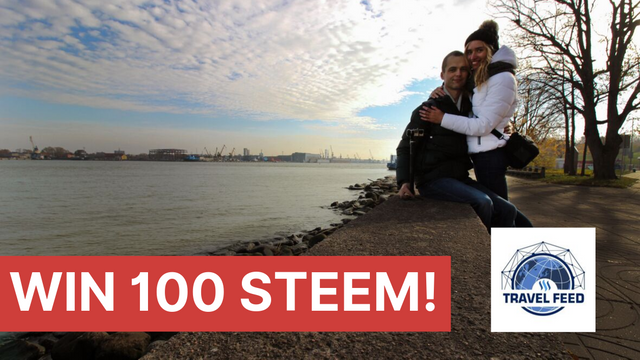 HOW TO PARTICIPATE IN THE CONTEST?
Write a travel article using travelfeed.io platform and post the link in the comment section below. Articles which are older than 7 days may participate too. Each article may participate in the contest only once.
Resteem this post.
[Optional] Follow invisusmundi for more cool contests!
WINNER WINNER CHICKEN DINNER: WIN 100 STEEM!
After 14 days (13th of October) my wife @kamile and I will personally read every single one of them and choose the one which we like the most. The best travel writer will be rewarded with 100 STEEM! 2nd place winner will get 25 STEEM, 3rd place - 15 STEEM, 4th-5th - 5 STEEM, 6th-7th - 3K lifestyle tokens delegation for 1 month! You know how they say! Every STEEM counts! Do not hesitate and share your best article!
MAY I HAVE YOUR ATTENTION, PLEASE?
100% of Steem Power earned by this post will be delegated to @travelfeed. Your upvotes will help to support the mighty Travelfeed.io platform and its amazing community. Keep in mind that the only way @travelfeed uses its Steem Power is to manually curate best-#travelfeed posts. It is not a secret that Travelfeed.io is home to some of the best quality content in whole Steem ecosystem. Smash that UpVote button!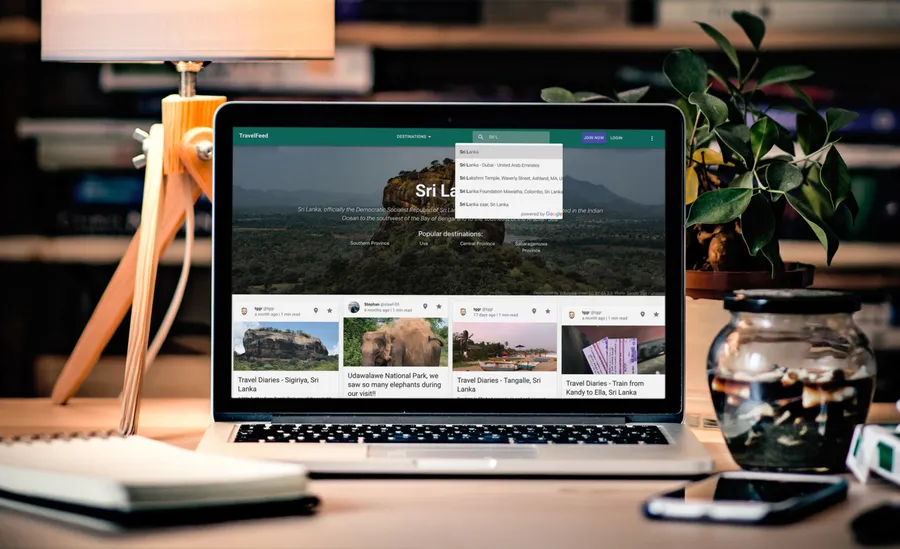 WHAT IS TRAVELFEED.IO?
Travelfeed.io is a global community of independent travelers, where it's easy to meet new people and find information, and where bloggers can monetize high-quality posts. With full-scale manual curation, Travelfeed.io makes sure that the best posts get the visibility they deserve, often months or even years after they've been published. Content is monetized through the Steem Blockchain where creators get rewarded with cryptocurrency. Since February 2018, the Travelfeed.io team has curated over 11,000 travel posts on Steem, rewarding over $100,000 to authors using the tag #travelfeed.
One of the reasons why I believe in this project so much is the team behind it. These guys are passionate travelers and travel bloggers themselves. For example, Jürgen Horn @for91days has been making a living as a travel blogger for over 10 years and knows the industry in and out. The content is manually curated by @smeralda and @elsaenroute. Discord community is moderated by @wanderlass and Steemitworldmap-curator @livinguktaiwan. The main developer behind this project is Julian Peters @jpphotography. He is a full-stack developer and budget traveler.
Travelfeed.io is the first dApp based on the Steem blockchain to offer free STEEN account creation and easy login. New users who might be unfamiliar with crypto keys, or the cryptic processes which secure them, won't even blink an eye through our easy onboarding process we're calling EasySignUp. If you would like to join TravelFeed and don't have a STEEM account yet, go to TravelFeed.io and click on "Sign Up". The only thing they will ask you to do to finish this process is to confirm your email.
TRAVELFEED.IO TOKENS AND OTHER COOL STUFF!
Can't wait to know more about their plans to launch Travelfeed token and reasons to delegate your Steem Power to @travelfeed?
I highly recommend reading Travelfeed's recent update posts:
My personal experience with this platform has been very positive. I managed to write 3 long articles in the first two weeks. Those three posts alone earned me 58.65$ or 240 STEEM (+19.1$ for the curators). Keep in mind I did not use bid bots or any other type of tools. All three articles were upvoted by @travelfeed, @jpphotography, @for91days, and other curators. They were also noticed by @curie, @blocktrades, @ocd, @c-cubed, @mariusfebruary, @tombstone, and other Steemit legends.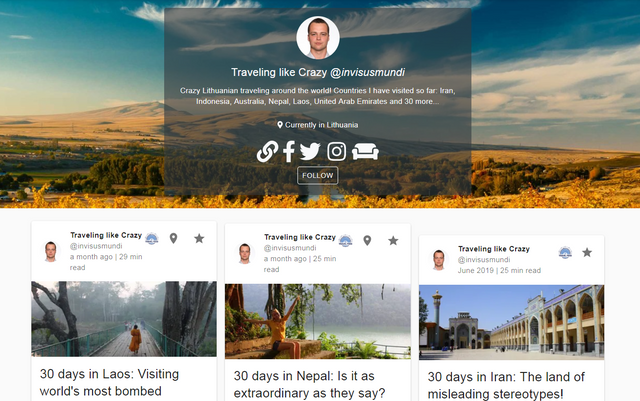 WINNER OF THE TRAVEL WRITING CONTEST NO.3
The total Prize Pool of "T.W. Contest No. 3" was 150 STEEM. 100 STEEM for the 1st place, 25 STEEM for the 2nd, 15 STEEM for the 3rd, 5 STEEM for 4th and 5th and 1K lifestyle tokens delegation for 1 month for the 6th and 7th places! I am more than happy to announce that the quality of your travel blogs improved A LOT! Without further ado, the winner of The travel writing contest No.3 is...
All the reasons why you should travel to Romania! by @holm! 100 STEEM!
Romania, a country I grew up only hearing only the worst things about whether it would be that it's the cradle of gypsies who would kill you at every turn you would make or that communism still lured in the political landscape ready to strike back. Despite the bad reputation, this country has most certainly bashed away all the presumptions I once had before. This experience is coming from living well over 1 year in this magnificent, culturally rich and beautiful country that you rarely will find elsewhere in the world.... <Read>
I've been to Romania myself and this astonishing article reminded me of all the crazy things that happened over 3 years ago. Back in 2016 @kamile and I decided to hitchhike to Iran. Romania was one of the countries on our way. Our relatives tried to convince us to give up this idea of hitchhiking across Romania. According to them, it was too dangerous. I don't want to be the one who says that "there is no danger at all. Go and try it yourself!" Everything happens everywhere. I am only saying that WE were lucky to meet kind and hospitable Romanians ONLY! It looks like @holm had a similar experience! Well done buddy!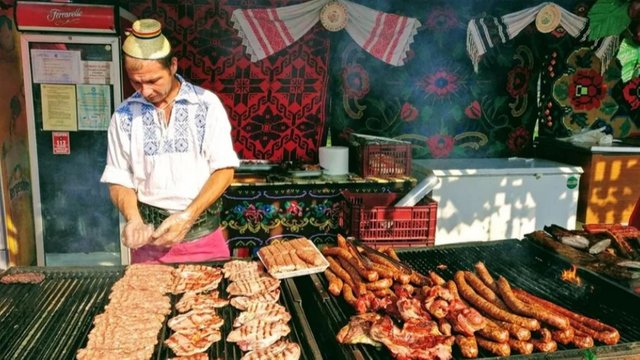 2ND PLACE GOES TO...
Khmerican Family Abroad | ⌗ ➇ How We Got "Mother Turtled" @justinparke! 25 STEEM!
Well, the strange thing is that somehow, for the 7 years I had already lived in Cambodia, Sreypov and I's paths never crossed. Even though I knew almost every extended family member of hers, I had never physically come face to face 🙈 with Sreypov, sometimes missing each other by minutes in various locations throughout the years. All the time Sreypov was married 👰 I fell in and out of love 💔 about four times, never able to find that special someone... <Read>
@justinparke just can't stop amazing me! His life story is so unique, that it is sometimes hard to believe that it really happened! This time Justin decided to share a story of how he met his lovely Cambodian wife. The style of his writing is so rich and colorful that it is super easy to imagine every single moment mentioned in this article like it was a story of my own...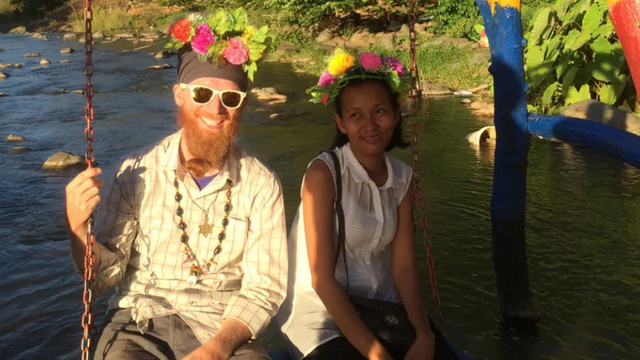 3RD PLACE GOES TO...
Fordlândia - the "ghost town" on the Rio Tapajós! by @kris-eklu! 15 STEEM!
While preparing for my Amazon trip, I came across an interesting article about a ghost town on a tributary of the Amazon river. This city is called Fordlândia and was founded in 1927 by the automobile company of Henry Ford. The aim was to produce the raw material for tire production on large rubber (caoutchouc)plantations. However, the project failed for several reasons. The Americans left the city after nearly 20 years and left behind a lot of machinery and also many residential buildings built in the typical American style of that decade. <Read>
For those who don't know, @kris-eklu was the winner of T. W. Contest No. 3. I am super happy to see that he continues creating high-quality content. Keep up the good work man! Hopefully, Travelfeed.io will succeed to attract more and more travel writers like you!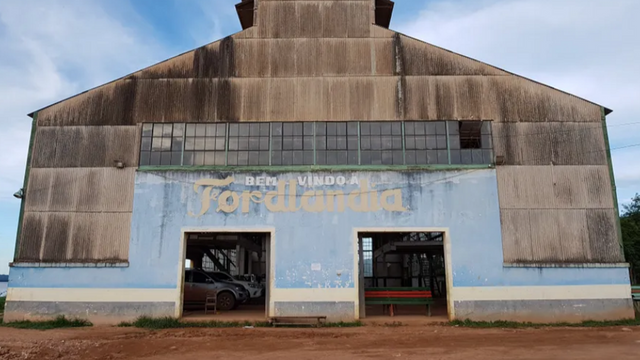 4TH PLACE GOES TO...
Heptonstall - Cobblestones, Churches and Sylvia Plath's Grave! by @raj808! 5 STEEM!
The village of Heptonstall sits just above Hebdon Bridge in Yorkshire in the UK. Famous as the place of Sylvia Plath's burial, this quaint village has remained virtually unchanged in 200 years. There are no supermarkets cinemas or clubs, and there is only one village shop/post office and two pubs.1 The most recent addition is a cafe where you can get a decent coffee and the quintessential 'fry up' English breakfast. <Read>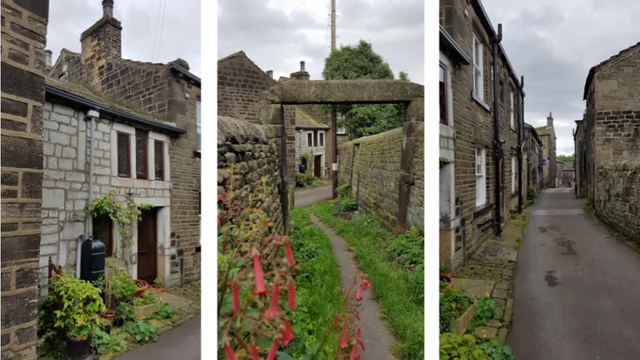 5TH PLACE GOES TO...
Bangkok Dangerous - a temporary relocation experience! by @rayshiuimages! 5 STEEM!
Ok so if you've read some of my previous travel posts, you know that I'm always rushing, more often than not plans don't work out and that something weird/funny/stupid usually happens. This most recent trip is no exception but by far the least planned and most rushed ever! In fact, I don't think it can get any worse than this. Curious? Read on, my friends! <Read>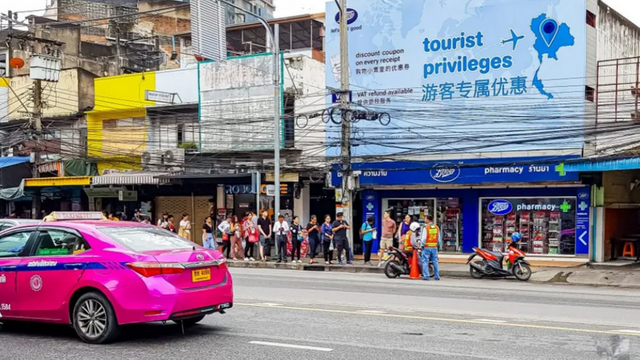 6TH PLACE GOES TO...
Glamping @ Tiarasa Escapes || Camping In Style! by @kaerpediem! 1K lifestyle tokens delegation for 1 month!
One day you wake up and realize you have become a city girl. All that cycling around your small town for hours, swimming in rivers catching tadpoles, eating mangoes sitting high up on the tree branch seem to belong to a young girl from another time. Your heart yearns for that carefree, devil may care attitude that was second nature but the city has conditioned you to the convenience of modernity. <Read>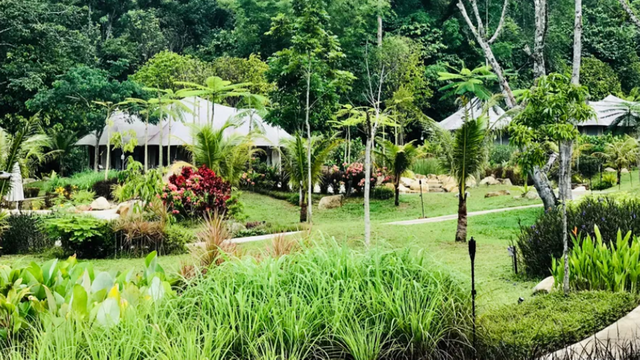 7TH PLACE GOES TO...
Port Barton, Palawan: The Secret (Paradise) is Out! by @wanderein! 1K lifestyle tokens delegation for 1 month!
Most people would visit either Puerto Princesa or El Nido when in Palawan. No one really knew Port Barton as a tourist destination until in recent years. Port Barton is a small town in San Vicente located on the northwest of Palawan. It is a fishing village that is now thriving in tourism. <Read>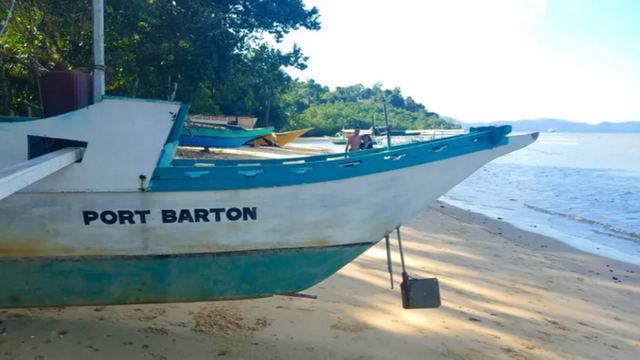 ---
ONCE AGAIN!
Write a travel article using travelfeed.io platform and post the link in the comment section below. Articles which are older than 7 days may participate too. Each article may participate in the contest only once.
Resteem this post.
[Optional] Follow invisusmundi for more cool contests!
Yours,
Tautvydas! (Tot)