WIN Pre-Alpha Access to Cryptocurrency Mining Game Hash Rush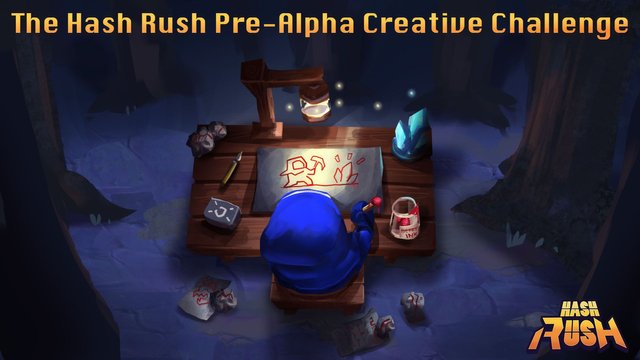 The pre-alpha dates have been announced and we are just as excited as you are! We are restricting entry to this early preview to those that took part in our Pre-ICO as well ICO backers that took part in the first three days. However, we now have a third way for you to get access, and that is with the first Hash Rush competition:
10 community members will win access into the Hash Rush pre-alpha!
Introducing the Hash Rush Pre-Alpha Creative Challenge
The first Hash Rush competition will be a
General Creativity Contest
where your task is to create or do something that you feel describes the theme in the best way possible.
The theme of the Hash Rush Pre-Alpha Creative Challenge is:
ERNACKS THROUGH THE SEASONS
We'd love to see how you envision Ernacks through Spring, Summer, Autumn (Fall) or Winter.
Some ideas of what you can do are: fan art (drawing, Photoshop, painting...), fan fiction, cosplay, DIY crafting, interactive websites, pixel art, animated gifs, memes, a music or dance set-up... you name it.
Please note, the above are just examples for those of you that are not sure what to do. You are totally free to do something else! No matter what your chosen form of creative expression, we look forward to seeing the result of your creativity!
How to take part
For now, all that you need to do is to start working on creating your masterpiece. We will provide everyone with a means of submitting their entries in an upcoming article, as well as how to view submissions in our gallery.
Rules of Entry
Entries open at 09:00 UTC on Monday, 20 November 2017.
Entries close at 09:00 UTC on Monday, 11 December 2017.
Your entry must not contain offensive, inappropriate or copyrighted content.
You may submit as many entries as you want, but only your highest ranking entry will be taken into account for a prize.
Plagiarism will result in an instant disqualification of all your entries.
On submission, you agree to our full Terms and Conditions and Privacy Policy, which will be made available on our website.
Prizes
5x Grand Prizes: Pre-alpha access and a Hash Rush t-shirt
5x Runner-Up Prizes: Pre-alpha access
Judging criteria
To give you all a fair chance, your work will be judged on a scale of 1 to 5 from the following categories:
Creativity
Relevance to Hash Rush
Relevance to the theme
Quality of Work
At the end of the competition, we will add up all of your points and the entry with the highest score wins. In case of a tied result in a prize-winning position, we will use an extra score, graded from 1 to 10. The category for this tie-break is: The wow-factor of your work.


---
So Monday 20th November (at 09:00 UTC) marks the official start of the Hash Rush Pre-Alpha Creative Challenge! Remember to keep watching our articles — we'll let you know how and where to submit your work in the near future.
Good luck to you all and we look forward to seeing what you can put together!
For the latest Hash Rush news, go to our website, follow our blog, join our newsletter or talk to us on Discord!