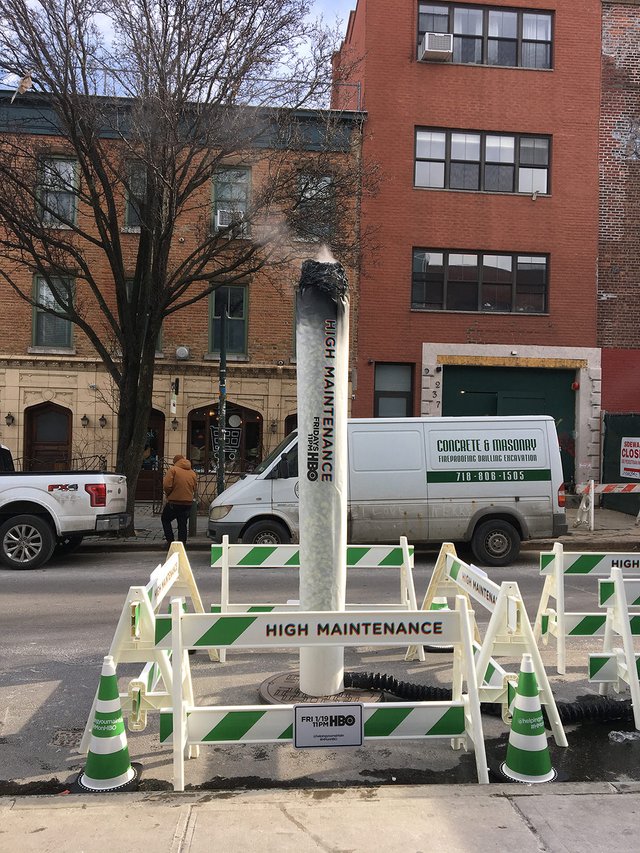 Walking past the Whole Foods on North 4th and Bedford, I caught sight a typical New York phenomenon, a tall pylon letting steam blast from the sewers (as opposed to steem blasting from the rewards pool, which I'd image will eventually become a more routine New York phenomenon).
The closer I got, the more it became clear this was no ordinary vent.
I had stumbled upon a gigantic smoking joint, easily 10 feet high (pun intended).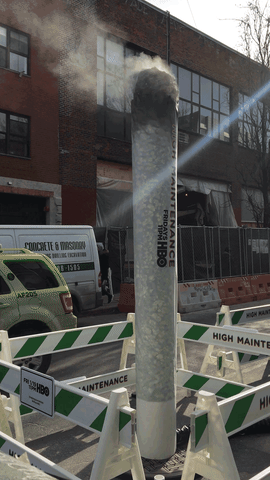 (Look at the size of that thing! High Maintenance indeed)
Upon closer inspection—it was missing the telltale smell of the real thing— I realized that this was an HBO stunt activation for High Maintenance. And a pretty good one too. Smart because it was simple, a large prop and seemingly abandoned generator and fog machine hidden nearby in a cordoned off cube. Prop fabrication, gear rental, transport and permit, I'd guess the whole thing cost less than 20k
The power of stunt activations runs deep.
From zombies hiding in the sewers...
(The Walking Dead Zombies Prank NYC - surprised nobody had a heart attack from this one!)
...a haunted coffee shop...
(The brilliant Carrie coffee shop stunt)
...to the gas station I helped take over on the west side of manhattan and won 3 Cannes Lions for my directing efforts.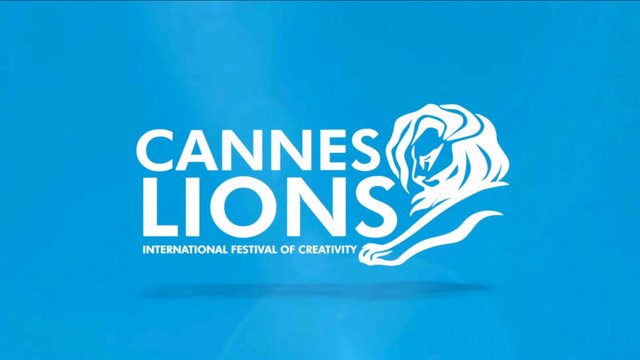 ### CHECK OUT THE VIDEO ON DTUBE ###
These have the power to put very sticky thoughts in people's heads. To lay the foundation that things aren't what they seem, and magic can exist in real life.
Stunts make the intangible tactile. They make you think about the IP they're related to in a new way, and the best ones make you search out their connection to the media they're related to, gamifying the experience for even more of a fun lasting impression.
We should all dream up a crazy stunt activation to coincide with the release of the @hardfork-series and make it happen. You can never start planning these things too early. This is the perfect community to engage in this kind of wild and crazy activity. If you have any thoughts write them in the comments below. Something that helps seal our crypto-noir sci fi in people's subconscious. The best one will win 5 SBD and best runner up will get 3 SBD, and if you're more of a researcher find other cool stunts that have already happened and drop them in the comments for inspiration and full upvotes. You have a full week to enter! Make sure it's crazy and will knock people's socks off!
Yours in the Chain,
Doug & The HardFork Team
---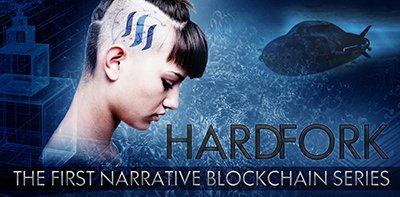 @HardFork-Series is an upcoming narrative film mini-series with a decentralized filmmaking approach to be produced in New York City and around the world, the team includes writer @ericvancewalton, writer/director @dougkarr, star and writer @bakerchristopher, producer @skycorridors, technical lead @complexring, executive producer @andrarchy, growth hacker @nickytothenines, the amazing HardFork-Universe crew, and the entire Steemit community. Please reach out to any and all of us to get involved, or simply reply below and we'll reach out!
We'd also love it if people posted about their ideas on Steemit using the #hardforkseries tag, we just want to point out that in order to avoid any liability that we will be assuming everything posted within that tag is intended to be a derivative work of the HardFork series and so the HardFork team cannot be liable for any apparent similarities between the content and the final product.