CONTEST STATUS: CLOSED
CLOSES: When this post shows 5 days old.
SURVIVING ON STEEMIT
April 2018, I was told about the Steemit community by a course mate. At first, I was very skeptical about if my contents can actually pay within a short period of time as my friend told me. The first week, I made some few post. They were poems I wrote while I was still in secondary school. I received upvote from
@yoo1900
who propelled me to a reputation above 35. And after 7 days, I made a transfer to my local bank account from my steem account. I was surprise that it actually worked. So my content can actually pay.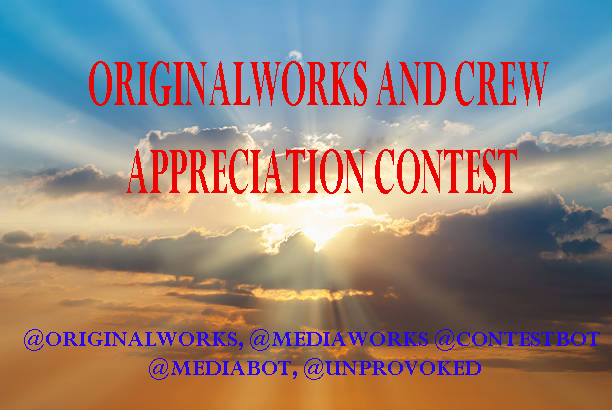 I decided to go to my archive and retrieved all contents I have written some time past. Though I am a computer engineer, I also love writing. But after @yoo1900 upvote, it was like my contents were no longer valuable. It was frustrating as my expectations were cut short. There were no much rewards coming from the content I post. As a new user on Steemit, you can attest to how it can be frustrating trying to earn something good from your content yet it seems your efforts are in vain. I almost thought of quitting since I don't get much upvotes like I get from my Facebook post. I should have expected it not to be like Facebook. Money is involved here. Then I came across @originalworks post on trending posts. I checked out the content of the contest post @originalworks published. I knew very little about the blockchain techs. I downloaded the whitepaper of the tech that it contest was been anchored by @originalworks that day and surprisingly I made some few Steems.
Since then, I can say 50 percent of my earnings on Steemit are from the @originalworks contest and its subsidiaries. And I have also learnt a lot within the space of 4 months.


On this note, I want to formally appreciate the
@originalworks
and all its subsidiaries for putting up contests that has kept a lot of Steemit users active and also improving in knowledge of the blockchain technologies. I personally want to do this because I think they've saved a lot of young people out there from engaging in irrelevant activities to make some pocket money especially in Nigeria, West Africa (I see a lot of Nigerians participating in
@originalworks
contest). I may not know who is behind the
@originalworks
but he/she has done something worth emulating by other big whales on Steemit; to engage minnows and give them reasons to believe the best social media platform is the Steemit Community. I barely make post on my Facebook account because it seems I am wasting my data and time there. This shows that in the nearest future, Steemit community would be one of the top social media not only because of good contents shared but also it compensation for good contents and the fact that sooner or later world's economies would be decentralized as numerous techs are invented on the blockchain. And those who are already aware of them would be on the better side because they will then be making some cool money and teaching people coming into the system.
I want to also thank the founder of the Steemit community, Nedd. I do not know where he got the idea from, but every good thing comes from God. There is a bright future for Steemit and we have to make the community a better place for those who would love to come and join us.

On behalf of the Steemit community, @originalworks and all good contents writers, I am presenting a little contest to encourage Old users and new users of the Steemit community especially those who always participate in @originalworks contest. This contest is about @originalworks and its subsidiaries. I am doing this to show them that I am grateful and I know that other users are also grateful for opportunities created weekly. In some countries the Steems won in @originalworks contest are like salaries earn and I know the rewards are saving some young people from becoming nuisances in the society. No young adult who knows he has to read a 57 pages whitepaper would be doing some other irrelevant or criminal activities. @originalworks has made many people want to learn, research and explore every week.


Now that the @originalworks would be having some upgrade this week and no writing contest, I want to invite all @originalworks, @mediaworks, @contestbot, @mediabot and @unprovoked followers to the Original review contest. Like I said, the contest is all about @originalworks and its subsidiaries. It is about how well you know these blogs and the content the post.

CONTEST
HOW WELL DO YOU KNOW ORIGINALWORKS AND CREW?
Download the questions for the contest and answer them. These questions contain the comprehensive activities of the
@originalworks
crew from day one.
RULES OF SUBMISSION
Choose from the options provided for each question.


Answer the questions in any word editor and titled it as "Originalworks answers by "your Steemit name"". Do not forget to number your answers accordingly.

Example: Originalworks answers by @focygray (This will help me identify who is submitting. Please if your Steemit username is not found in your answers, it will be void.)

You can convert to pdf format (but not mandatory) or screenshot your answers as JPG or PNG format (but it should be enhanced enough for me to see clearly)


Then submit to email: omuabor@gmail.com or Whatsapp on: +2348066907449 or Twitter on: @TOmuabor (You should have any of these media) if not make your answers as a post and comment your link to the post here (not recommended anyway but for you not to be left out in appreciating @originalworks, I will not restrict you).


Then comment the media you used in submitting your answers on this post and I will reply to your comment if I found your submission.

Example: Submitted on Email or Whatsapp or Twitter (Please note that all your answers are to be kept private to only you. Do not share your answers with any other participants. The questions are simple so I am expecting a lot of good works).

Finally, resteem this post (it is not mandatory but necessary) for more participants to come in. You can share with minnows that are new to Steemit. This will also make them know about @originalworks.


Upvote this post if you also like the good works of @originalworks (mandatory and necessary in selection of winners)


PRICES
I just want us to have some fun while
@originalworks
do it updates this week since there would be no contest for this week.
30 winners will share 70 percent of the authors reward on this post so your upvote is highly needed (Must have a total score of 90 percent of all answers and above)


Other bonuses might follow if we get more sponsor from those who like this idea.
The prices might be small at the end of it all but I just want us to have some funs with @originalworks and it crews while we wait for next week contest..
ANNOUNCEMENT OF WINNERS AND PAYMENT PERIOD
A new post will be published by me to announce winners and the scores of every other participant.


All participants will be paid after winners' announcement and every possible issue are resolved. I might add some bonuses if we get some good supporters.


Selection of winners will be strictly to my own criteria.


I am also pleading to anyone who can also sponsor by donation of any kind to support this contest in order to award more participants.
Goodluck!