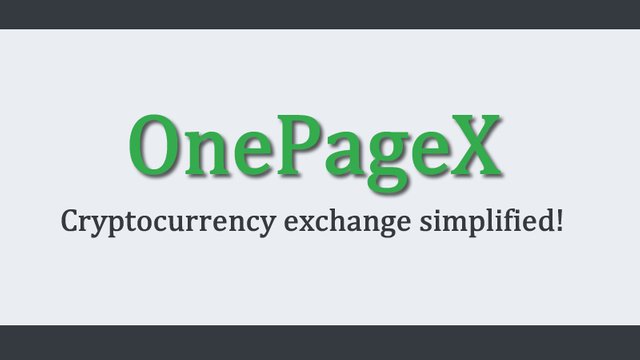 Overview of Cryptocurrencies
A cryptocurrency is a is a digital or virtual currency or asset designed to work as a medium of exchange. It has gained acceptability and popularity in so many nations of the world. Bitcoin was the first released decentralized cryptocurrency in 2009 and since that time over 4000 altcoins have been created
About OnePageX
OnePageX is the simplest cryptocurrency exchange with a wide selection of cryptocurrencies. is a cryptocurrency conversion tool. It has the simplest interface online while also supporting the widest selection of assets online. The name OnePageX is short for onePage Exchange. The philosophy behind onepageX is to simplify the process of trading and converting cryptocurrencies. One of the great things about OnePageX is that there is no need to register because it does not require any registration. Simply pick your cryptocurrency of choice and get started
Registration
OnepageX does not have registration. Every time a user generates a transaction their URL will add on a "session". Simply bookmark the page or copy and paste the link to come back to it. The addresses generated can be used indefinitely, and you can also come back to see the status of your transactions
Selection
OnePageX works by integrating with exchanges and finding the best prices for any given cryptocurrency.. OnePageX has upto 140+ cryptocurrencies avialble presently Therefore, users of OnePageX are not limited in selection of cryptocurnces.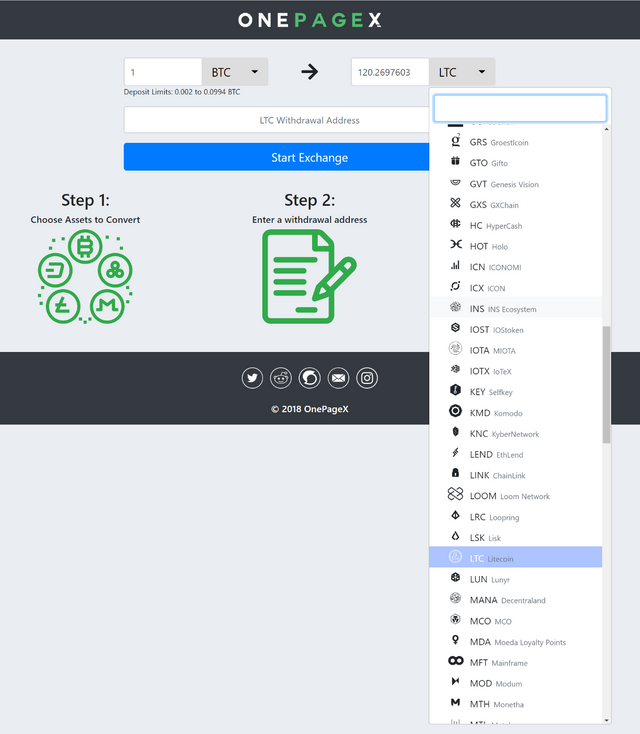 (https://cdn.steemitimages.com/DQmdi4wvUWdvPkDJAYzriE8G1yciooXUQMMaXdXaUQEoKWP/t5v3ih7l.bmp)
Vision/Future
OnePageX has good plans for the future which includes an implementation for STEEM. There are numerous upcoming implementations that will allow users to convert more cryptocurrencies. OnePageX is only just launched. While in this initial launch all the cryptocurrencies are converted from Bitcoin, other assets are actively being added.
OnePageX vision is to enable trading most cryptocurrencies with a simple interface.
Transactions
OnePageX allows multiple transactions from one page in line with keeping the interface simple. Transactions are added in the form of cards that users can come back to and use any time.

Transaction Status Indicators
The transaction cards indicate the status of each transaction. This is to provide the user with an accurate idea in regards to the state of their transaction.




Widget & Integration
OnePageX has a widget that websites can implement just by copy-pasting a snippet! This will allow websites to provide their users with the ability to do quick cryptocurrency exchanges.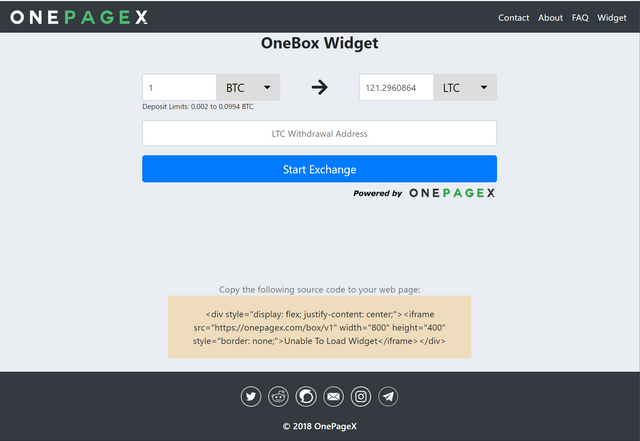 The widget is called Onebox. The Onebox works just like theOnePageX page, but within the widget.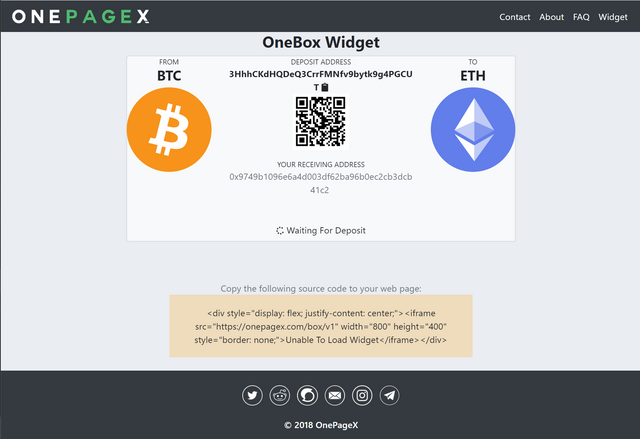 How Long it takes OnePageX to Transact
The transactions are almost instant once the deposited currency is confirmed. In order to ensure faster exchange speeds please use appropriate fees when sending Bitcoin.
Use-Case
Individual
Gift is a busy businesswoman and also a crypto-enthusiast. Her anonymity is important to her, and she is constantly working with various cryptocurrencies.
Gift needs an exchange that is anonymous, fast and offers a wide range of cryptocurrencies. She finds OnepageX and with that she can make multiple transactions to all her favourite crytocurrencies and she is able to do this from within a single page
OnePageX does not require registration
It is important to have a wide selection of cryptocurrencies so that it will not limit the trader or investor to a particular cryptocurrency. Having a wide selection of cryptocurrence will also help a trader or investor to have more opportunity to invest and to spread his investment within a limited time . He is prevelaged to make choice from among crytocurrencies available. So it gives room for multiple trading at a time and in the simplest onepage method. He can have more opportunities to trade and to convert cryptocurrencies
The benefit of being able to perform multiple exchanges from one page is that it saves time .A trader can do multiple transactions to all her favourite crytocurrencies and will be able to do this from within a single page. It will also help in the scalability of blockchain since there are increased market demands.
Only Few companies can be able to buy and maintain mining machines because of its cost. This has affected the number of miners in the world. Since they are few, the platform is slow, so having multiple exchange can save the time of going from one page to another and will help the trader handle so many investments at a time. It will also help the trader study the markets at ease.
In OnePageX users are not limited to a select few cryptocurrencies. There are 140+ cryptocurrencies available currently, and their Plans for the future include an implementation for STEEM as well kudos. This will enable trading most cryptocurrencies with a simple interface. The number of assets available inOnePageX actually stack up against other exchanges
OnePageX not requiring registration simplify the process of trading and converting cryptocurrencies. The regorous processes that are time consuming involved in registration are eliminated.
Reference
https://steemit.com/crypto/@originalworks/1250-steem-sponsored-writing-contest-onepagex-com
https://cateredcontent.com/events/onepagex
onepagex2018
onepagextwitte