Waves World Giving $$$ 1 Million?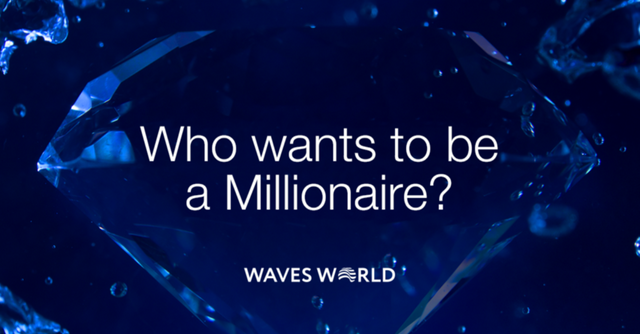 The WW token is the native currency of Waves World, functions as the default token of payment for all its services. It is also the means of rewarding supporters of all kinds and build value around our ecosystem. 40 percent of all WW is being distributed to lessors in a weekly airdrop, up until June 2019. All of activities are designed to increase demand and liquidity for Waves World Token.
In last article, it was explained a bit more about what is with the WW Millionaires Club, and one of the promotions has been planned to launch soon. Well, here are the details for the Who Wants To Be A Millionaire Giveaway!
The only condition for entry will be that your wallet must contain at least 50k WW, but less than one million. All wallets meeting these conditions by 10 October 2018 are automatically entered in the giveaway.
random.org will be used to generate a truly random number to select an address from the list. (For example, if the list of qualifying accounts is 103 addresses long, we'll generate a random number between 1 and 103.)
The launching of the promo was officially last Wednesday 3 October. One week later, at 5pm Central Time (11pm GMT) on Wednesday 10 October, a snapshot will be taken at PyWaves list of WW holders. Be warned: PyWaves takes a little while to update, so make sure you your tokens are in your preferred address well before the snapshot. You can find out more about earning WW on the website.
Following that, will be the generation of random number, inform the community of the winning address and drop 1 million WW into the lucky account!
Please invite everyone to join the main WW Telegram channel and our Announcements channel, and enter the competition. It won't be the last competition or giveaway by any means, so if you don't win this one then hold onto your WW for next time. If you have any feedback about the process or can spot a flaw in it, please let us know.
credit source for more awareness
Create Wallet HERE
Visit WAVESDEX to buy and Trade WW token
Hold 1 Million WW and Receive Daily Rewards!
Visit Previous Post, WW Millionaire Club

Proof of Participation Post
Get 0.2 redfish/submit
comment your;
1.-username
2.-upvote this post
3.-resteem this post
4.- waves address
-Receive Redfish after Verification!