So, I have had this little obsession involving cryptocurency, maybe the good people on steemit here can relate.
The problem is, is that there aren't many people to talk about it with or learn from except here on steemit. I mean, you guys are great and all, but some face to face discussion would be nice sometimes. My roommates are disinterested, and I don't blame them, but I know there are plenty of people on campus that would be interested. Hence the club I will be starting!
It may start small at first, but I'm sure it will grow. And if not, then least I tried and put the effort into forming a organization. (It was more work then I thought. I had to write up a three page constitution
![cryptoclub.png]
(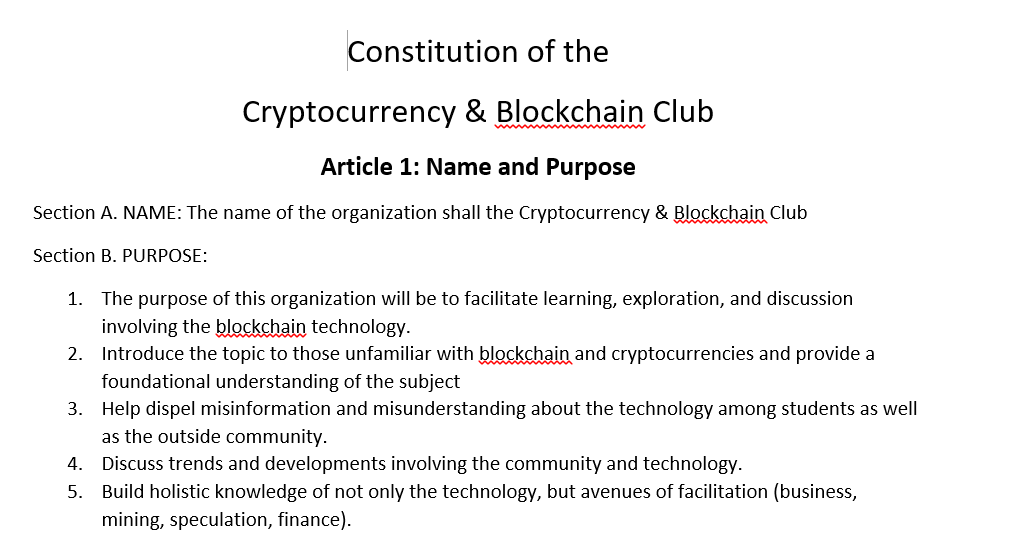 )
I had to fill out a registration, write a letter of intent, sequester a faculty member to be the sponsor. I thought it would be a lot easier, but reading through an example constitution and seeing some of what a organization can do, I kinda understand.
But now it is time to recruit!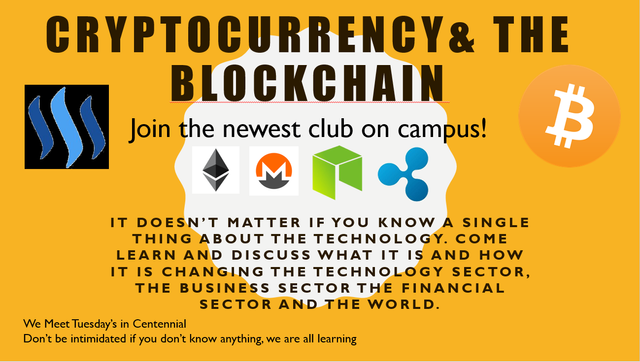 Example of the flyer I will post around campus
Content of the club
As I mentioned in the constitution it is going to focus on the technology. I will spend a fraction of the time on the speculative and investment aspect because that is only a small part of what decentralization and crypto currencies are. There is a much bigger proponent at play and it plays out here on steemit. We have already connected the world socially, this can connect it financially. It can provide people services and opportunities that traditional banking was refused to provide them. It is a way to remove a portion of the fraud and manipulation exercised by central banks and governments.
I want to share that understanding with people new to the space, because too often in the media or on youtube, all you hear about is money and price outlooks. Many miss the true point of this technology and the impact it will have.
I also want to clear up much of the misinformation and hopefully give fellow members a good foundation to build their understanding upon.
I would like to educate the greater community of lacrosse on this technology
AND I WANT TO MEET OTHER CRYPTO NUTS!
I want to meet people that know more about crypto then me. I am always apt to learn and I would love to learn more about technical aspects, or mining. I have gotten somewhat of a grasp on technical features, but there is much I don't know or understand.
So, hopefully this club is everything I hope it is going to be! And if not, I won't be discouraged, they will listen eventually!
I'll update my page on the progress,
Wish me luck steemians!