POLIS: The Trial of Socrates - Kickstarter Update and another Inked page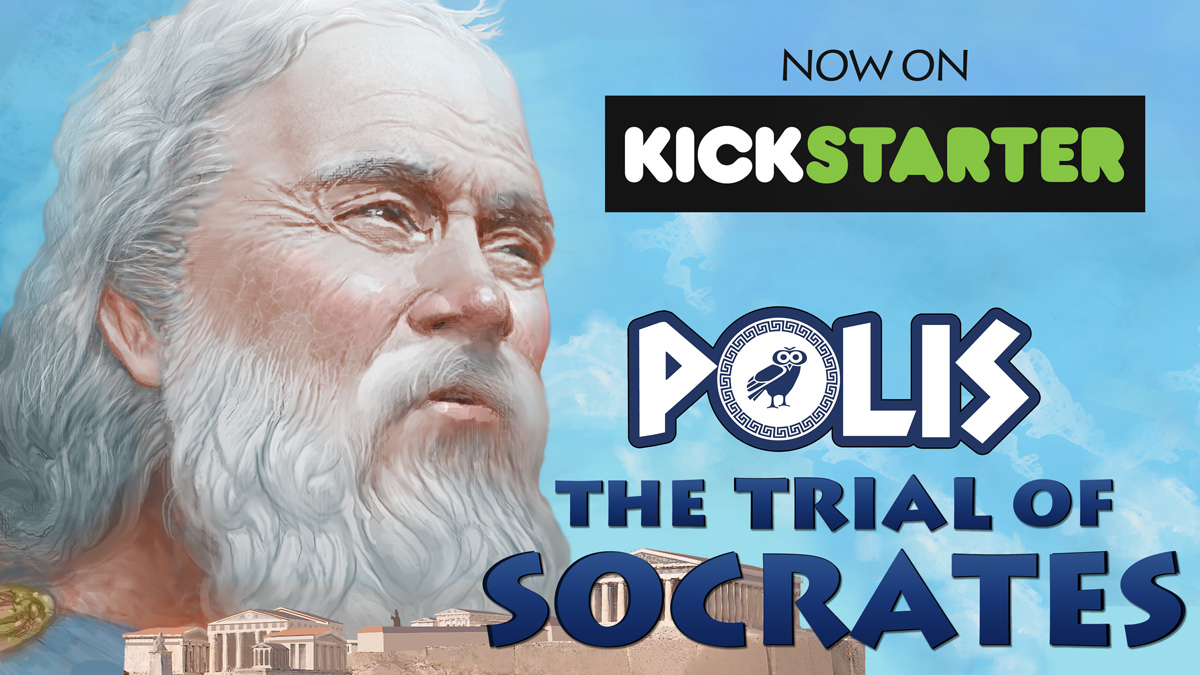 The struggle for Socrates continues on Kickstarter. Thanks to everyone who has pledged and spread the word!
Creating can be a difficult thing. First, there is the time and effort that goes into the actual creation. But after that, there is the attempt to be recognized - the pursuit of validation. And look, you can say all you want that creativity is an end in itself, and your work would be just as worthwhile if you shoved it in a drawer afterward rather than have it hailed as genius by an adoring public - large or small. But, for me anyway, that's pretty much bullshit. I want my work to have a positive impact on an audience. Communication is the purpose, and communication isn't a solo operation.
So, often, the pursuit of validation - whether crowdfunding, or finding an agent or publishing company, etc - can be more emotionally difficult than the work itself. As much a critic as you are about your own work, it never feels as bad as a deafening silence - a lack of response. Granted, a lot of creative folks react to that feeling defensively, like the fox and the sour grapes. And, like a callous or a scab, that reaction may be a beneficial shield that allows one to go back to doing the creative work. But, at bottom, it's still bullshit. :)
If you'd like to check out the campaign, click HERE!
Now here's a look at page 3:
POLIS: The Trial of Socrates
A historical graphic novel that examines the events leading up to the trial and execution of Socrates in ancient Athens. On this page, Aristocles attempts to gain access to a meeting of the Assembly.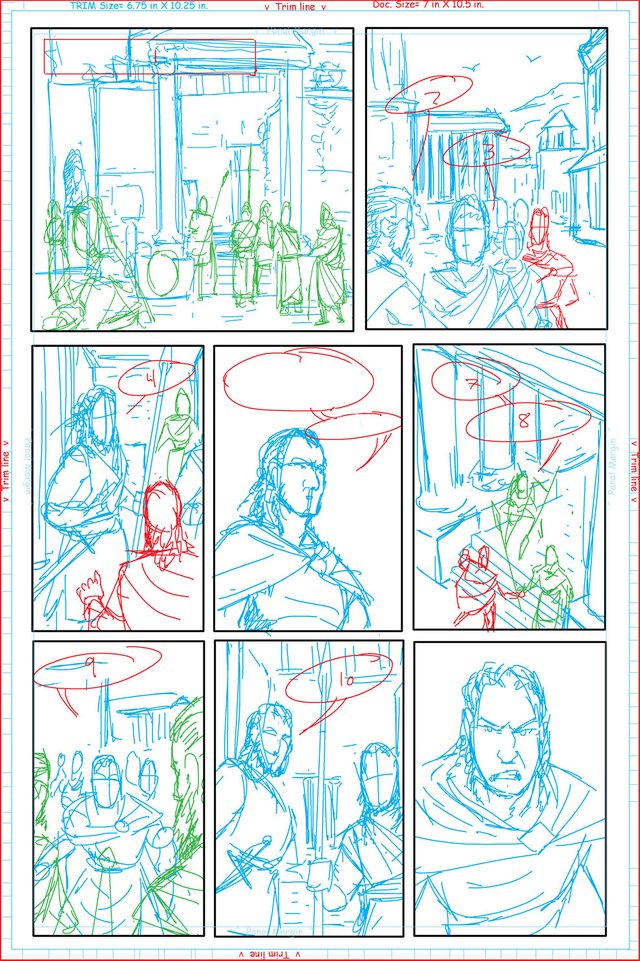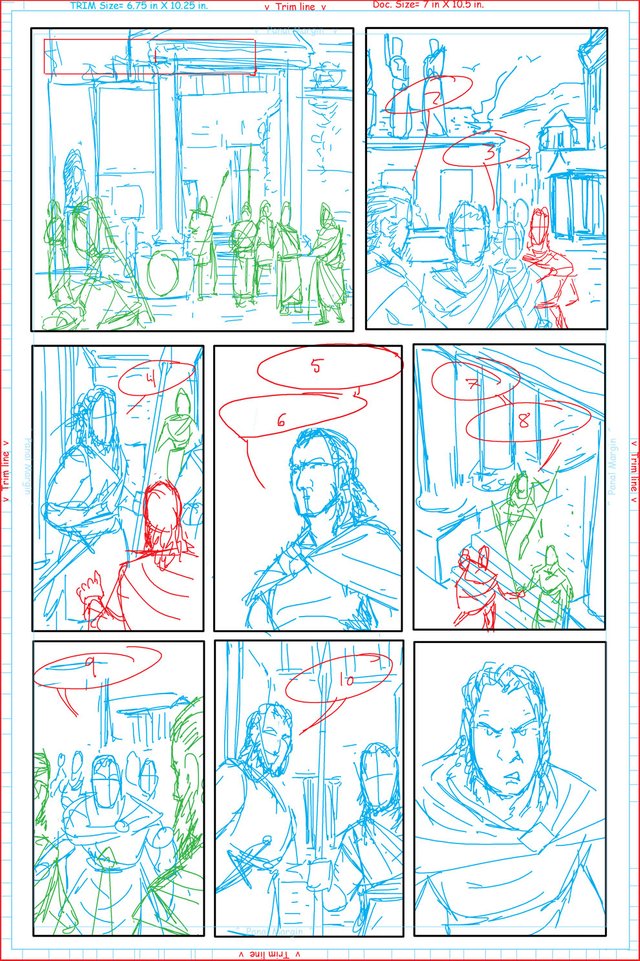 The only difference between the two drafts was the flop of Aristocles in panel 4. I figured it was easier on the eyes.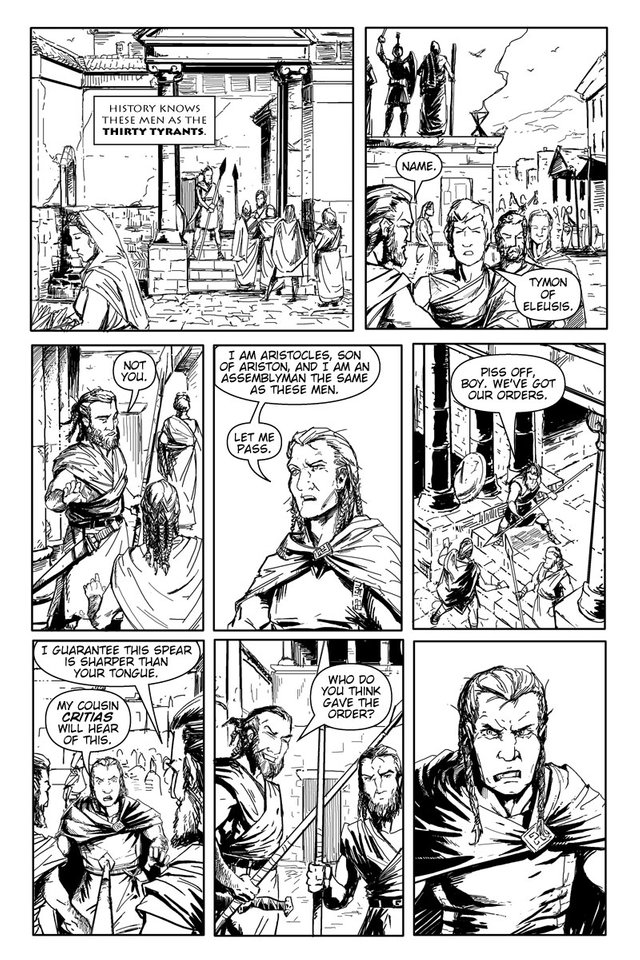 Aristocles - or Plato - was cousin to the infamous leader of the Thirty Tyrants, Critias. We know nothing about his life at this period, but it seems logical and probable that he was more or less on his family's side during this chaotic time in Athens. Giving him the benefit of the doubt, I've tried to characterize Plato as someone who did not fully agree with his cousin's methods.
And this sets up his plan to bring Socrates over to talk some sense into his cousin.
Art by Daniel Becker.
Previous colored pages: Page 14-15 | Page 16 | Page 17 | Page 18 | Page 19
---
Thanks for your support and any feedback! Your upvote is definitely appreciated. I hope you'll stick around and watch it all come together.

Like what you see? Follow to watch history come to life! @jpgaltmiller
UP-VOTE -- RESTEEM -- FOLLOW