---
Plus a bonus sneak peek at some "I Thought It Would Be Zombies..." mayhem!
---
I Suck At Thumbnailing
---
I'll be the first to admit it. Most comic artists prior to beginning a page or issue in earnest, go through an extensive thumb nailing process wherein they make small sketches (hence the "thumbnail" nickname) to determine the layout, composition, pacing, balloon placement, and solve as many problems as possible before diving into irreversible and time consuming illustration work. In the past I've been too impatient and struggled to put all the puzzle pieces into place, which of course has led to sub par results and plenty of heartache.
Recently I've begun to embrace and enjoy a slightly different method, albeit with all the same goals and benefits as traditional thumbnailing. It may not be a cure all, I'm still bound to have results I don't love and a modicum of heartache as I turn to pencil and ink... but this is pretty sweet.
Organized Chaos
---
I'm not doing the usual sketches, I'm jumping right into page creation... but without the painstaking illustration. Instead I'm using the Clip Studio Paint software to create my panel layouts, mock up scenes using 3d models, and even pre place script and lettering so that I know it works and exactly how much area I have to draw in... and how much I have to draw! It may be a noble task to spend 3 hours rendering foliage that will be covered by text balloons... but I'll skip the nobility and just try to get a damn comic done for once in my life! Everything you see in the layouts below will end up being completely redrawn by hand but I'm aiming to get an incredibly solid foundation in place so that the actual drawing is as smooth and productive a process as possible!
Pay Lots of Attention to that Man Behind the Curtain!
---
Unlike the great Oz, I'm willingly pulling back the curtain... because... well, I need some stuff to post about! As I'm moving through this scripting it's really starting to bring the characters to life for me, and I'm just plain eager to start sharing them with the world, even if it's just as digital mannequins so far. I also think it's important for artists to see each others process, especially my process... as it's a great affirmation that for most people, drawings don't just fall out of their pencil tips fully formed. I've said it before and I'll say it again. I consider myself a storyteller first and foremost and I'll use any tool or dirty trick I can to get the story realized on the page as good as I can make it!
Set the Scene
---
So I hope you enjoy. As Dr. Emmett Brown would say... "Please excuse the crudity of this model."
I estimate these will end up about page 15-16 of issue #1 of "I Thought It Would Be Zombies..." Dave has found himself in a spot of trouble inside of a hospital. (a great starting point for any post apocalyptic tale!) The scene begins to cut back and forth to the interior of a car, its unseen and unknown occupants engaged in strange conversation. When Dave is unfortunately... and painfully... punched through a wall to the outside world beyond, the narratives intersect for the first time and we get our first glimpse of more of our core protagonists.
---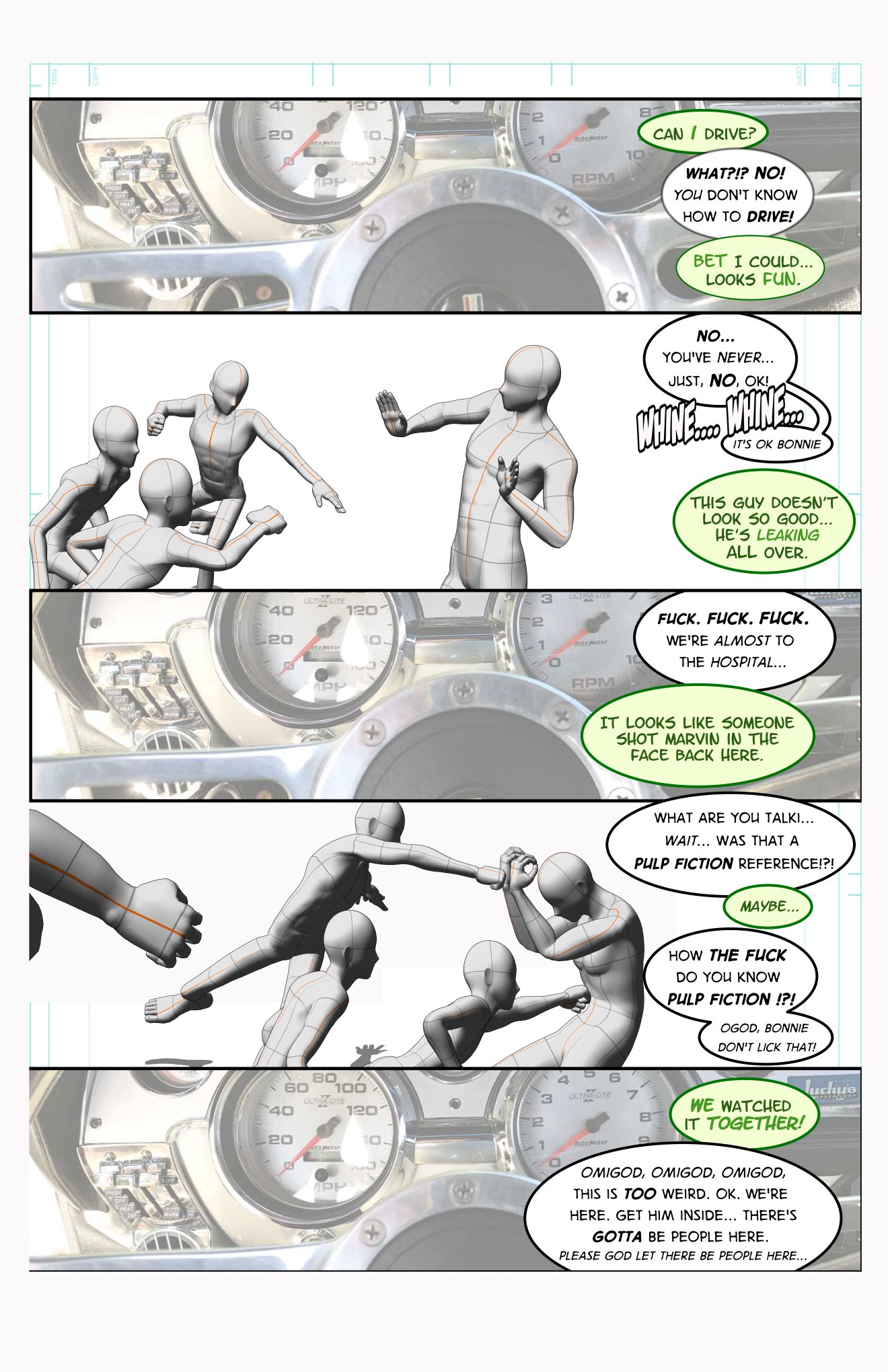 ---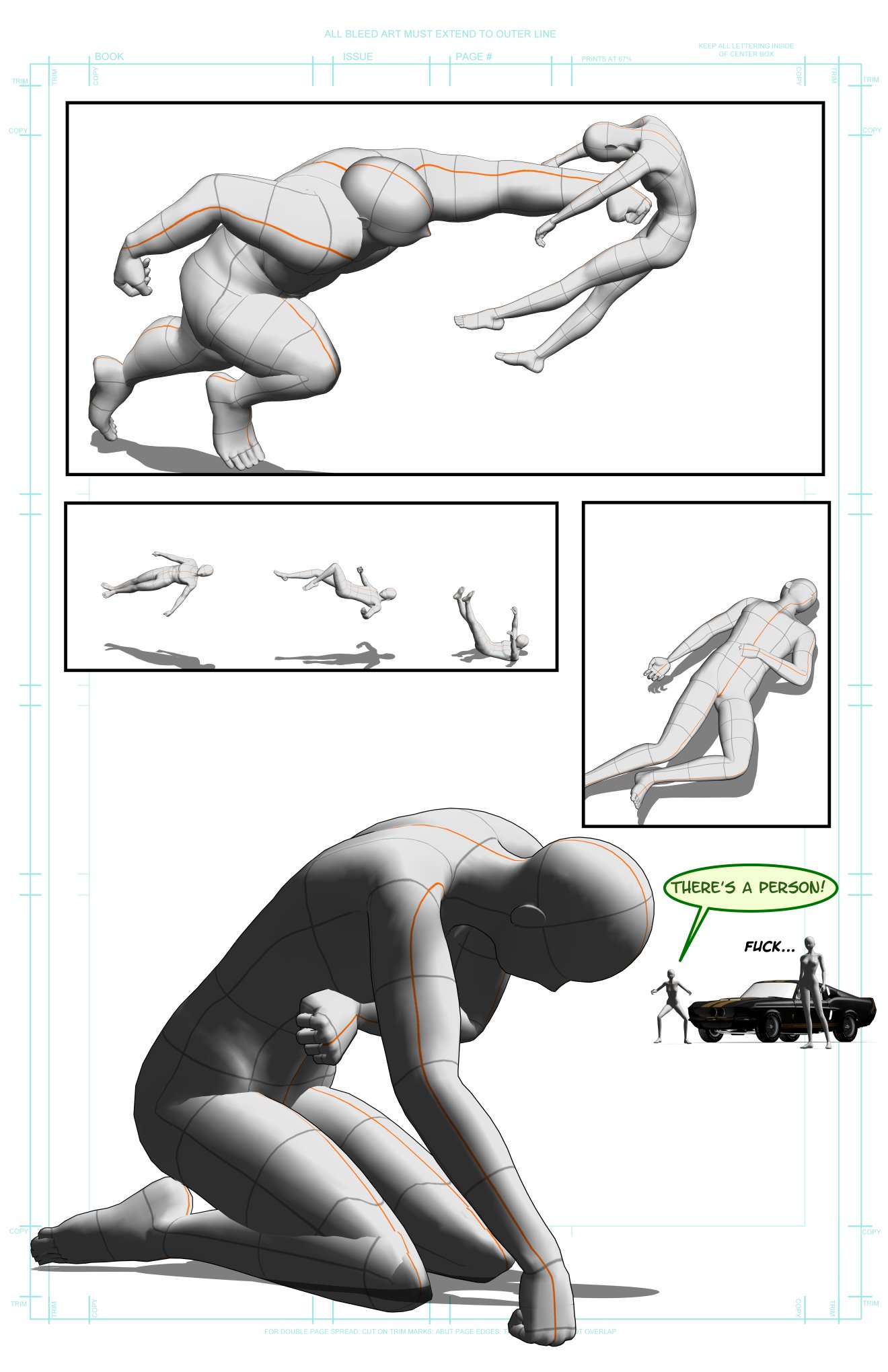 ---
I hope the dialog begins to inject some personality and humor, already hinting at the strange burgeoning relationships, and a good bone crunching hit inflicts a glimpse of the action to follow!
If I did my job, you should already be able to envision just which one of these characters each "voice" or action belongs to...
---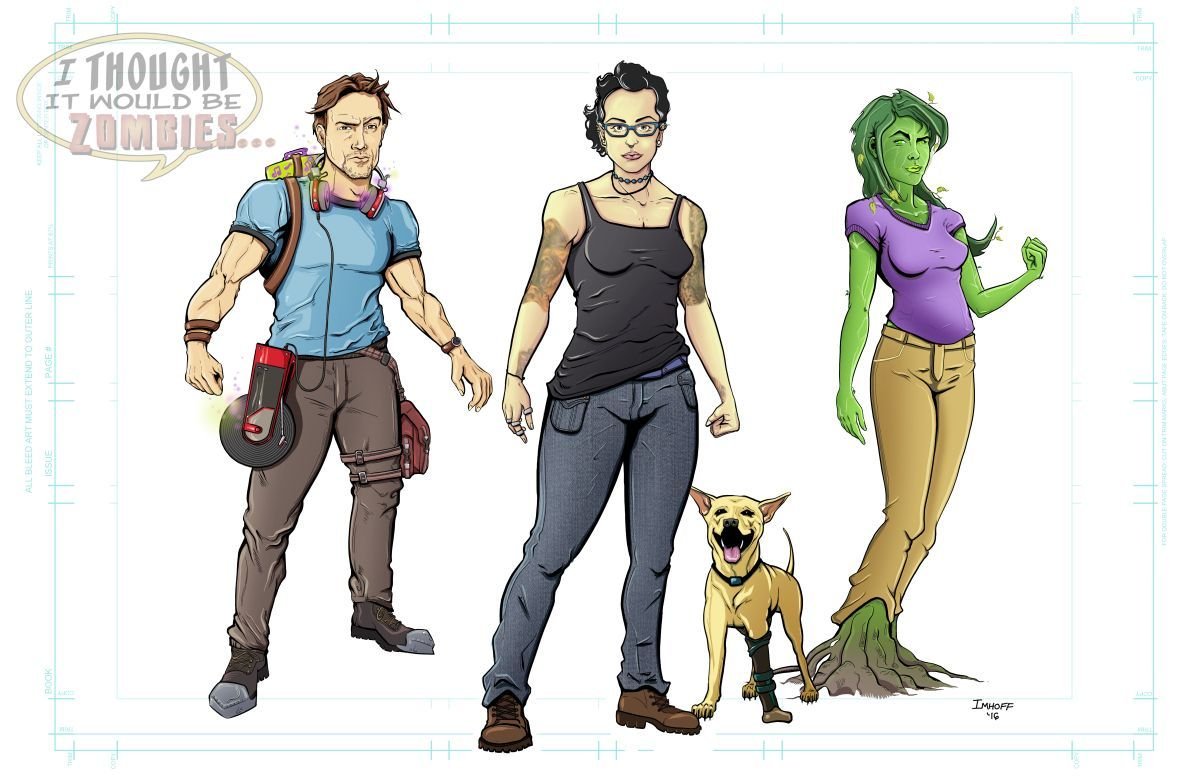 ---
I hope I wet your appetite for more to come. I'll keep plugging away at it, slow and steady!
-Bryan "the Imp" Imhoff
---
Support the growing comics community here on Steemit! by joining the @steem-comic-con!