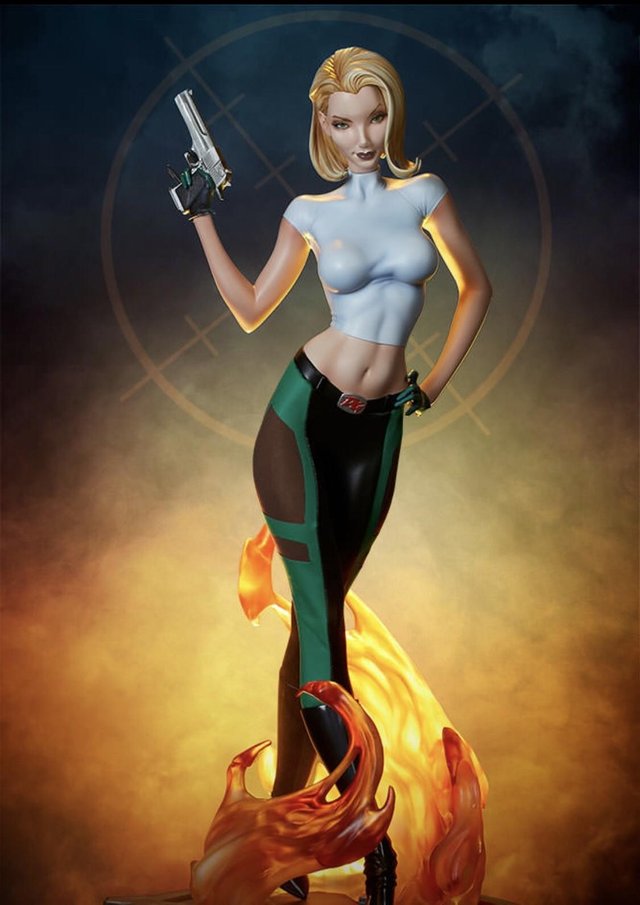 With over 1200 high end statues and busts on display in our shop Conquest Comics, we have to be a bit choosy these days in what we can purchase to stock. Not only due to the obvious tremendously huge cost that these suckas each have, but in terms of space as well. We sadly just can't order everything that we want to which is kind of a bummer as there as some truly kick ass pieces out there that will never grace our cases.
Which brings me to this beautiful Abbey Chase Danger Girl Exclusive Premium Format Statue I'm about to unbox. As much as we wanted to stock this for the shop, she just didn't make the cut. But one of my good customers wanted this beauty so we ended up placing the order just for him.
Before I hop right in, let me give those who aren't extreme nerds a tiny background on the character as it's not a mainstream piece like the usual ones we get in and show off here.
Straight from the Wikipedia page...
Danger Girl is an American comic book series created by J. Scott Campbell and Andy Hartnell that started in March 1998 and is still published as new series. The comic stars an eponymous group of three sexy female secret agents—Abbey Chase, Sydney Savage and Sonya Savage—who engage in adventures in the vein of other fictional characters like Charlie's Angels, James Bond and Indiana Jones. They are led by a former British Secret Service Agent named Deuce and guided by teenage genius Silicon Valerie.
That's right...superstar artist J. Scott Campbell is responsible for this beauty from an Image Comics series over 20 years ago. This is back when Campbell was just another name in the comic art game and not one of the kings in the field.
Ok...that's enough backstory...if seriously interested in learning a bit more, just check out the Wiki page above or pop into your local comic shop and pick up an issue!!! You can find your local shop here
Let's do this!!! First things first...the box. It's simple and pretty. Showcases the actual statue on the front of it which I like. Makes the statue box easy to locate in my back room amongst the other gazillion boxes when a baller is taking the plunge on one of these bank breakers. The back of the box shows a sexy silhouette of Ms. Chase.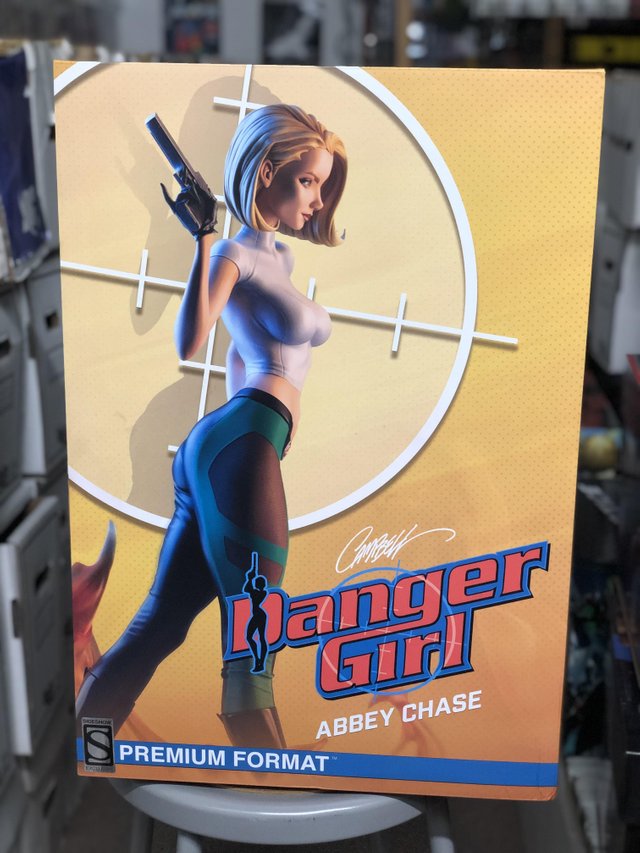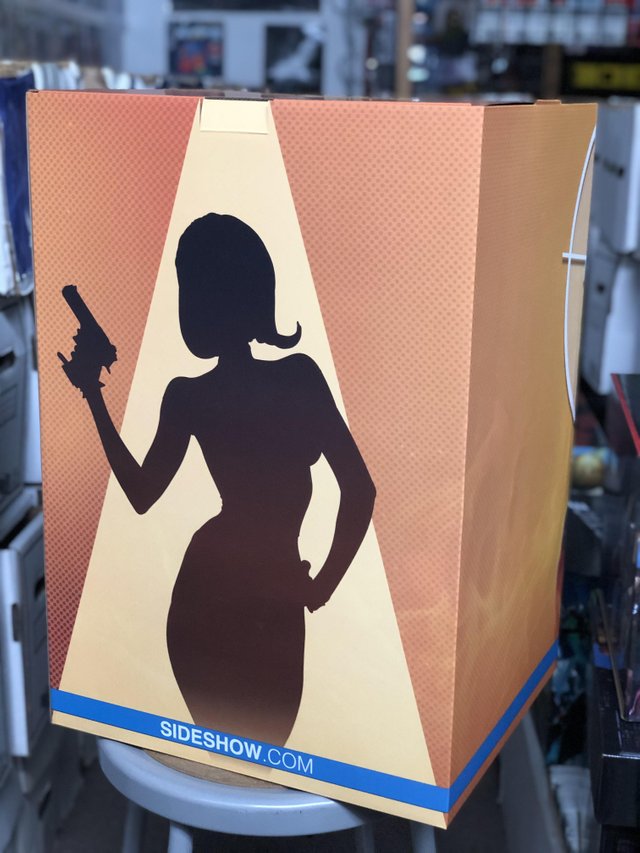 Now let's pop this mofo open...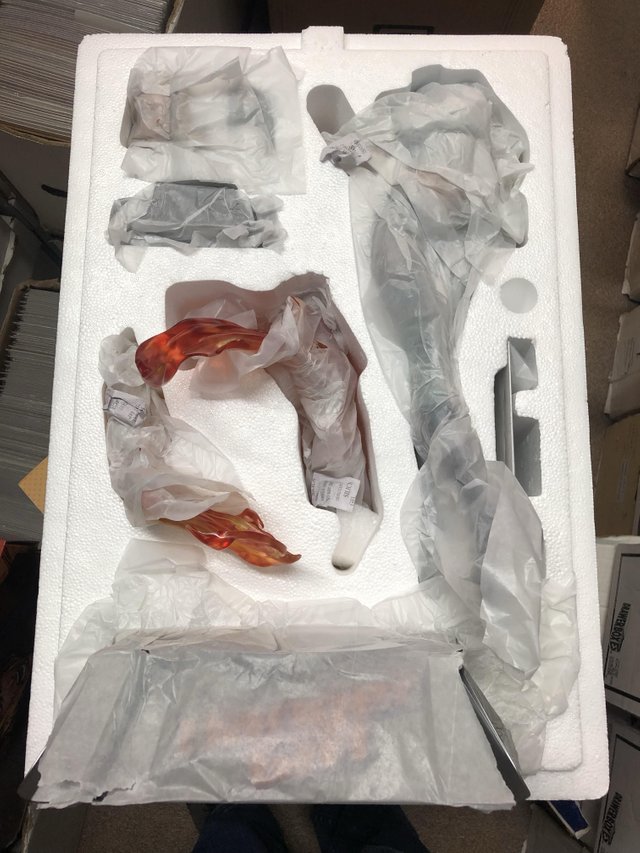 As per the usual with Sideshow sculpts, it comes in pieces. This one consists of a base, a right hand with gun, head, body, and two separate flame pieces that will affix to the base. Since this is the exclusive version over the regular release, it comes with a bonus metal print and stand. Let's check those out first.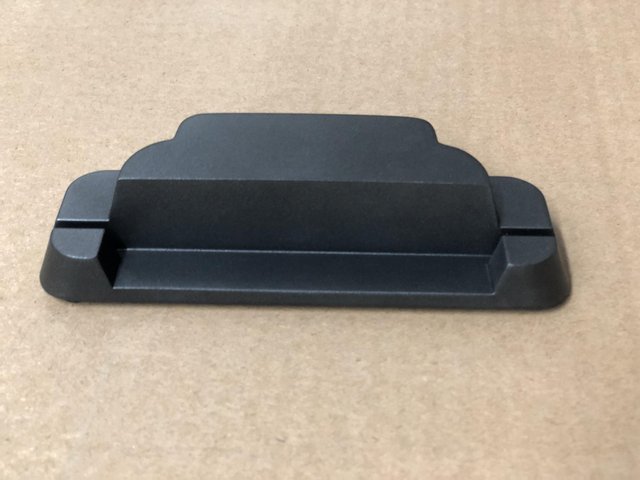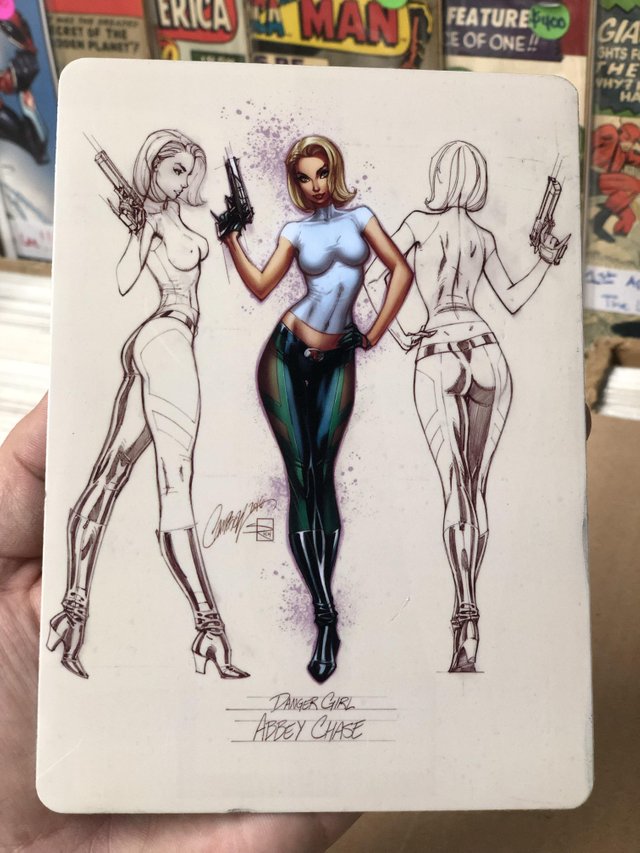 Together...it makes sweet music.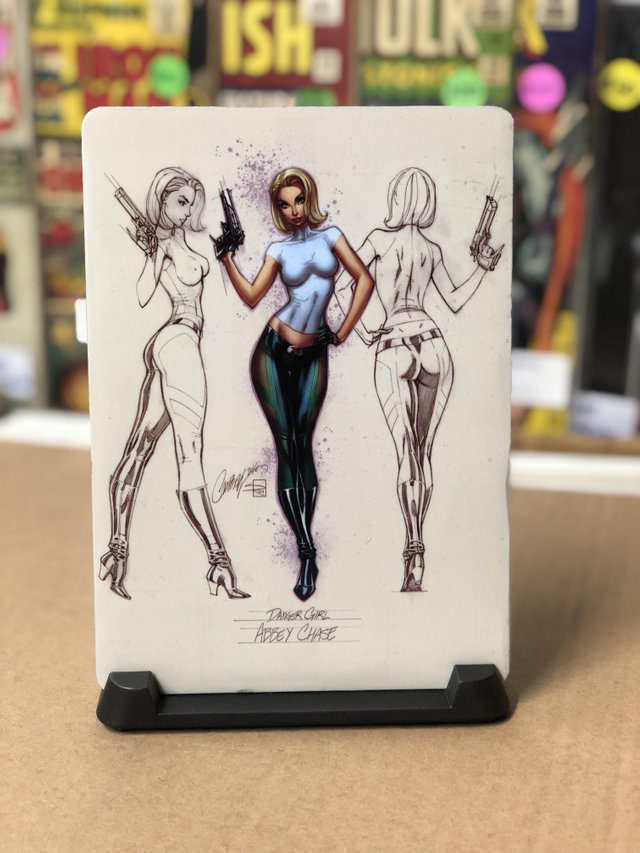 Onto the statue!!! As always we will start from the bottom up. The base is fairly plain and boring and I detest name plates so it gets a minus from me for stating who she is. Tom is now the proud owner of statue 198/500.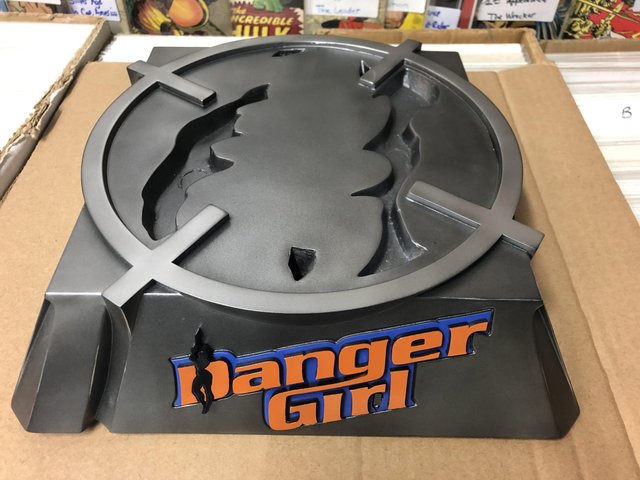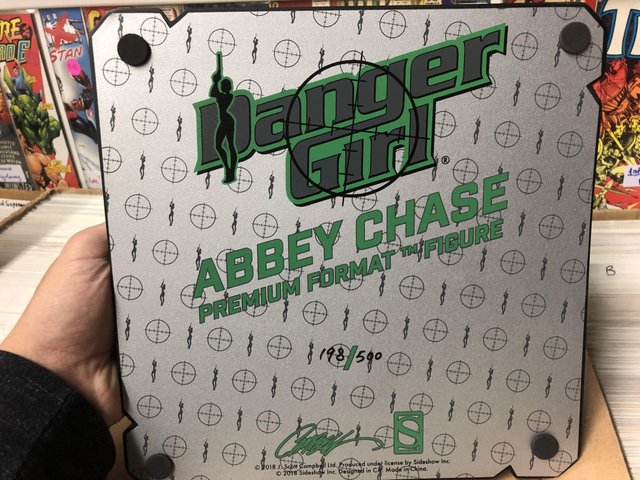 Let's get the body in place. She's rocking some sweet spandex material that actually feels pretty smooth. I'm sure I looked even creepier than I normally do when I was caressing her legs to inspect the material.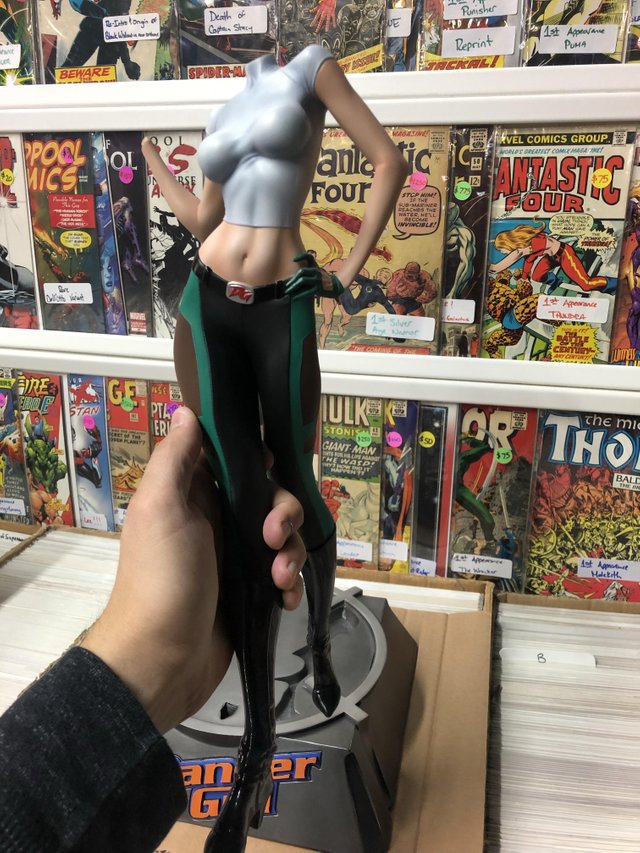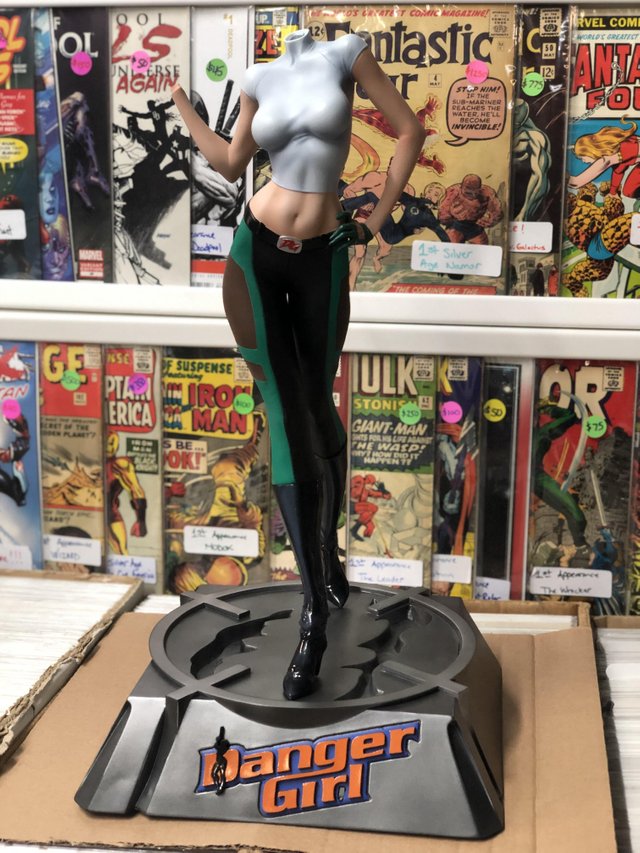 Aiiiiight. Flame on!!!! 🔥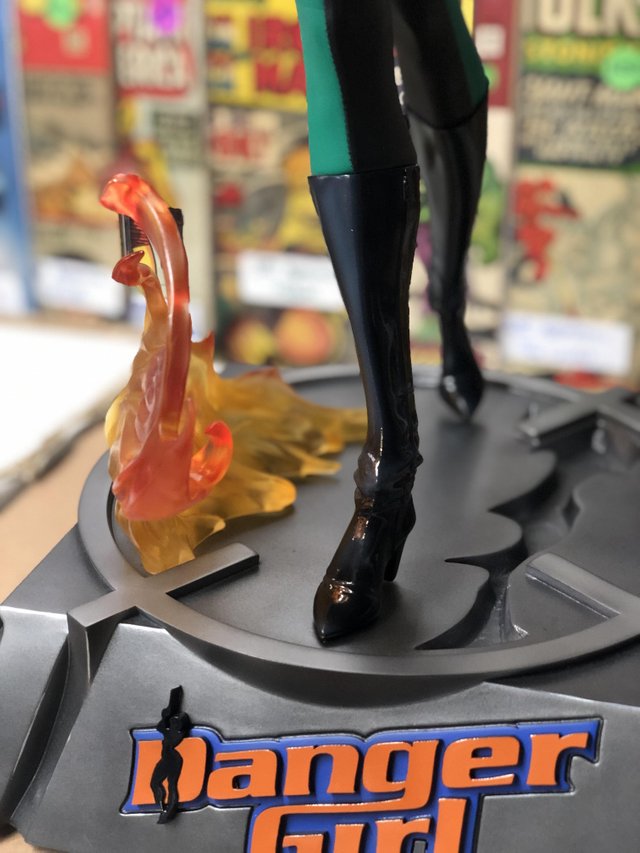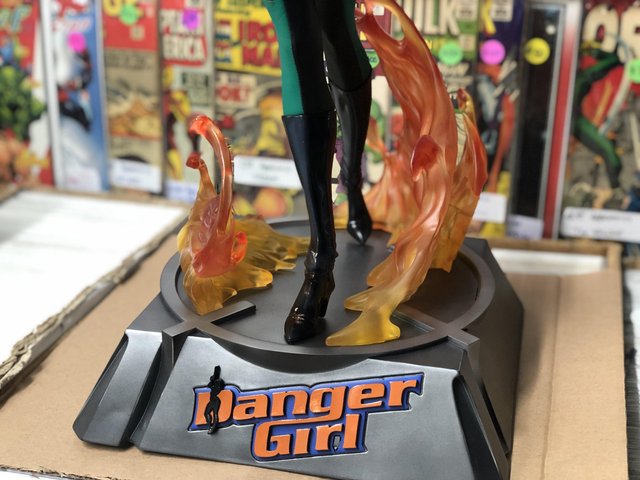 Get those into plane. They fit snuggly into the grooves and are held tight by a magnet on each.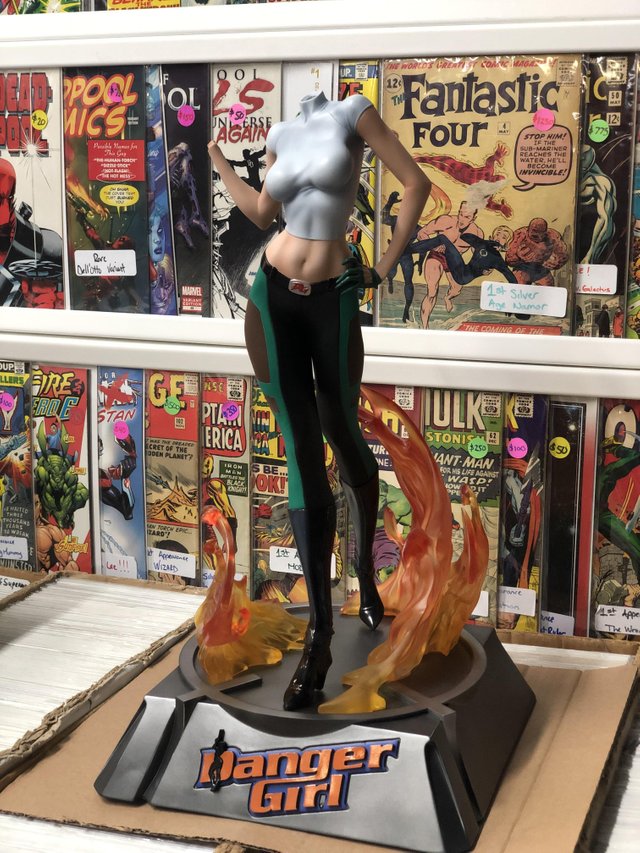 Time to finish her off. Ok...that came out wrong...let's finish piecing her together. Just a head and hand left.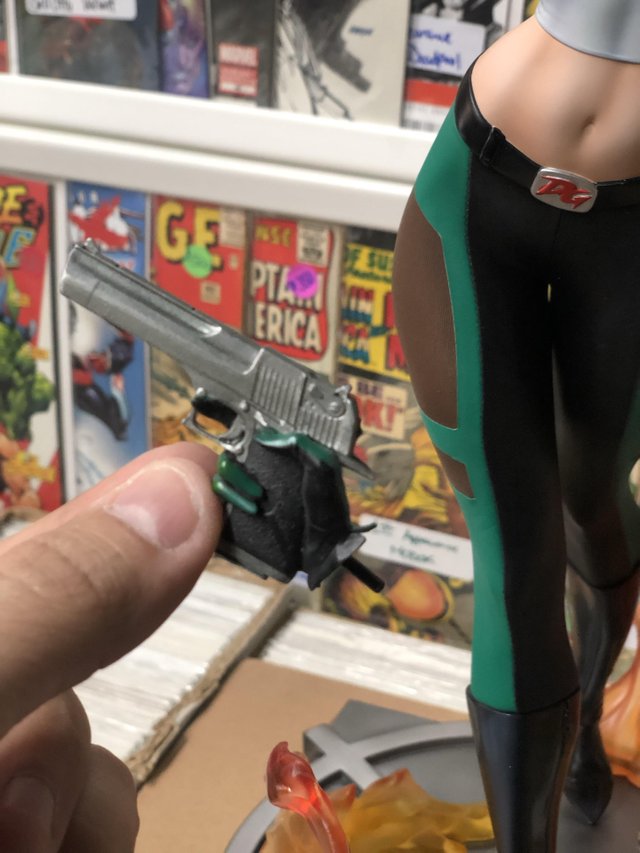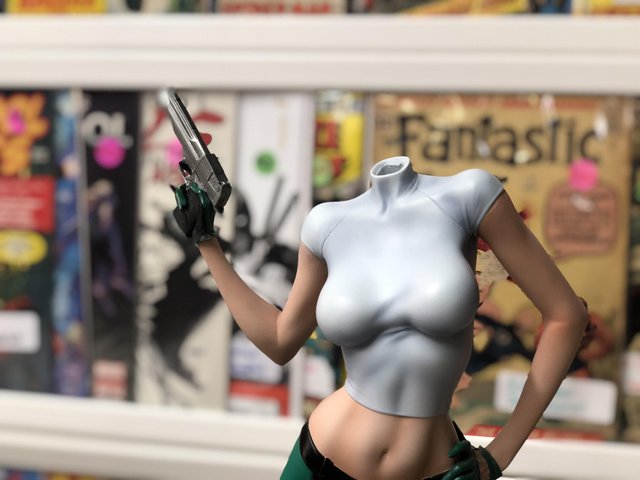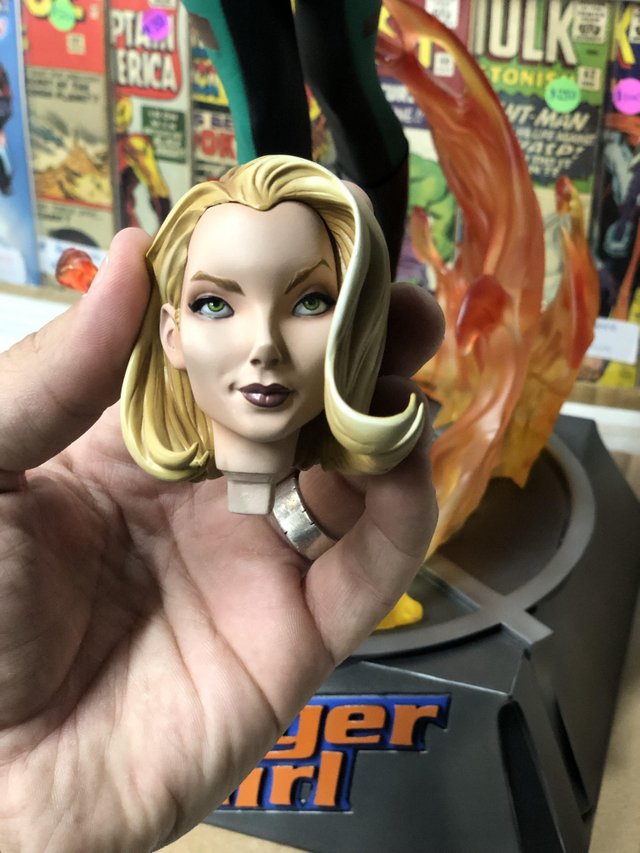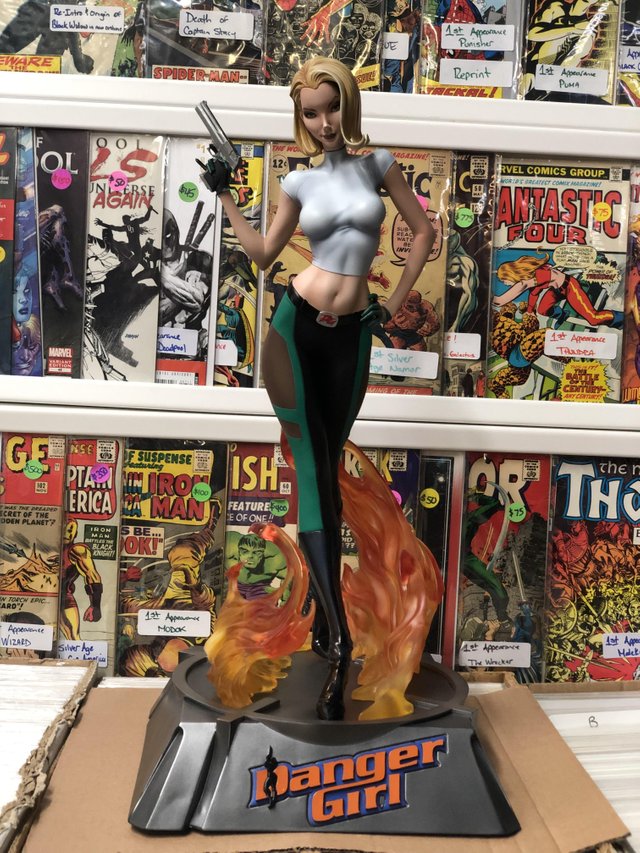 That's it. This one was easy to put together. Everything fit perfectly and snuggly. Nothing worse than dropping $500 bucks on a statue just to have a head or hand wobble or not fit in properly. Yes...it happens super often.
Anyway, not today! Abbey is complete and is ready for some glamour shots!!!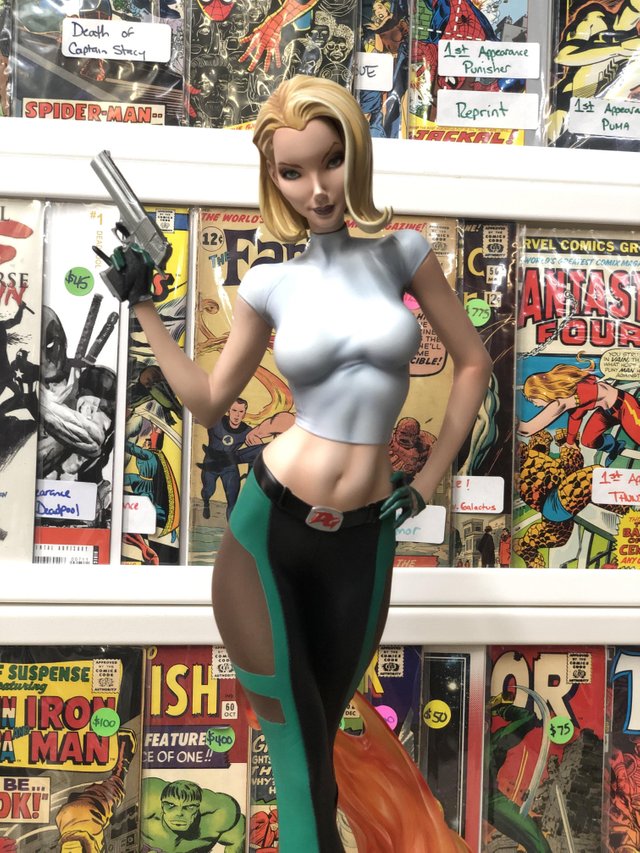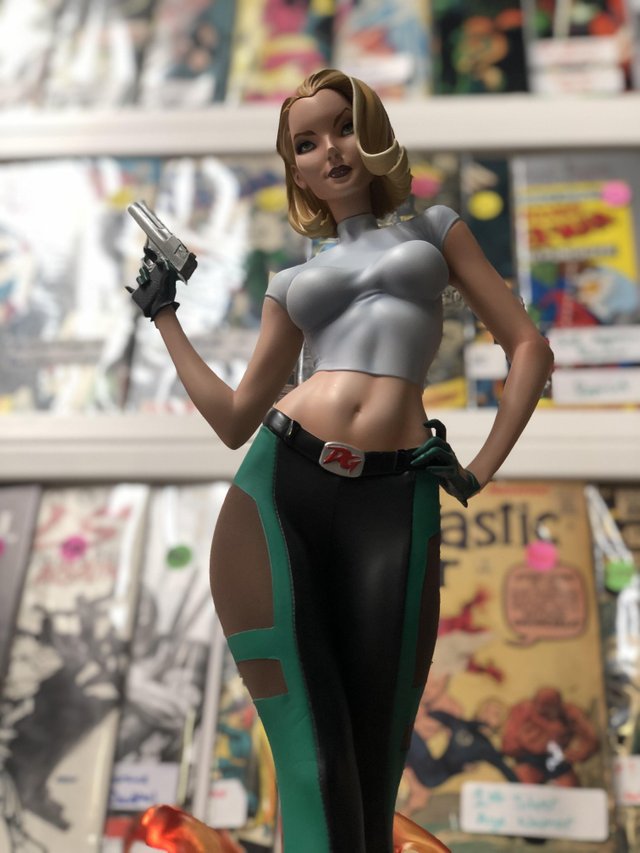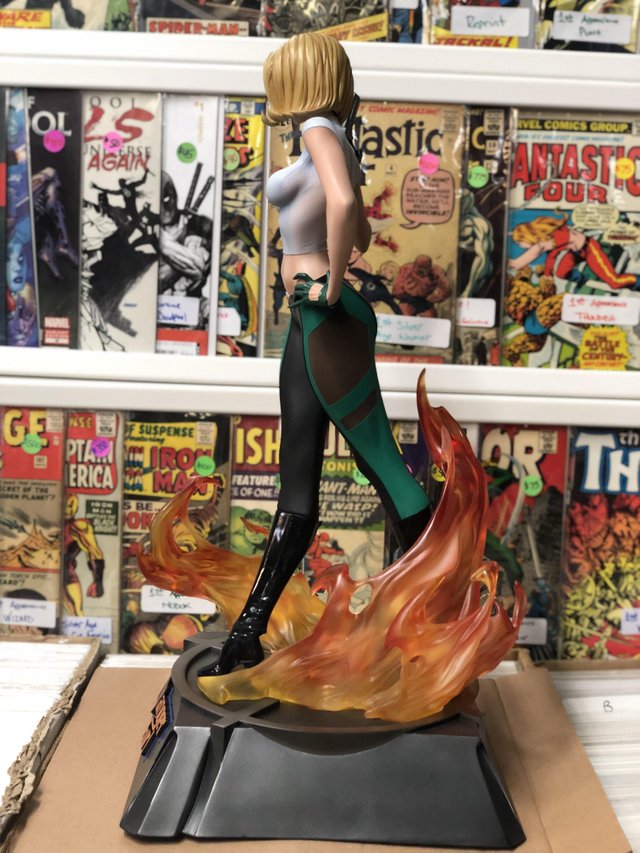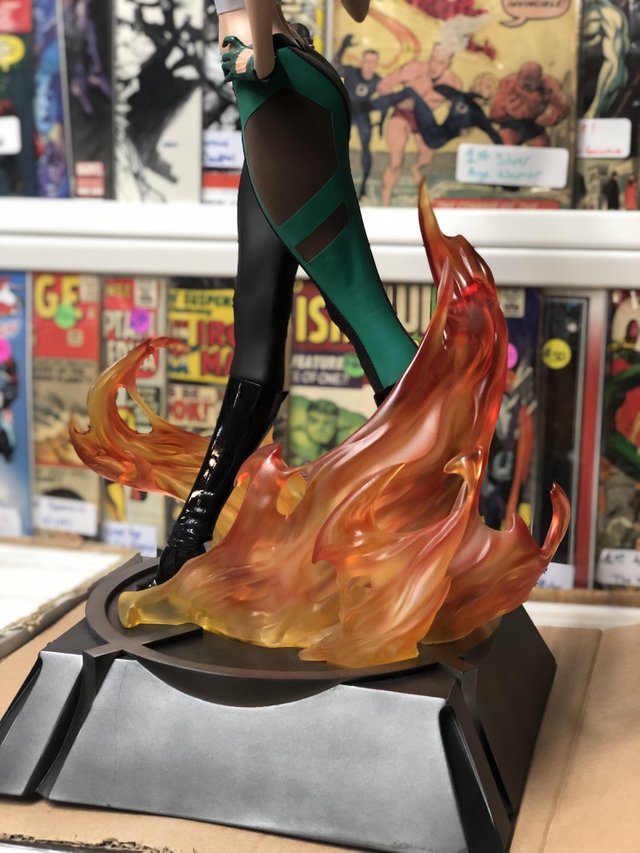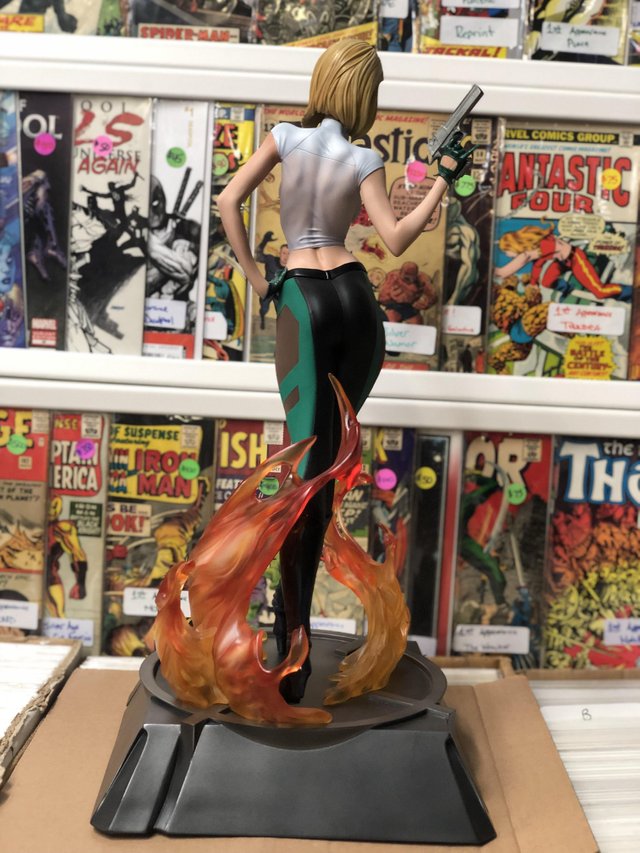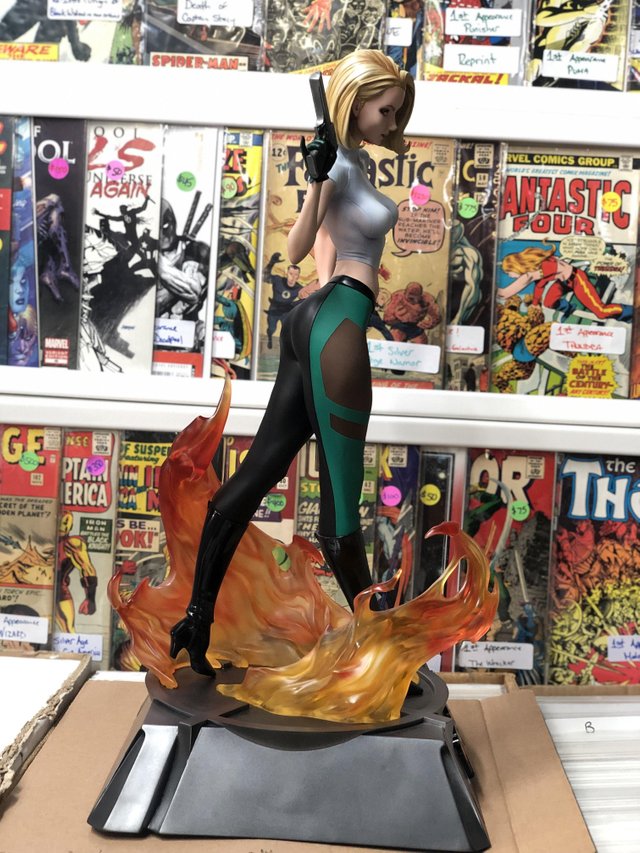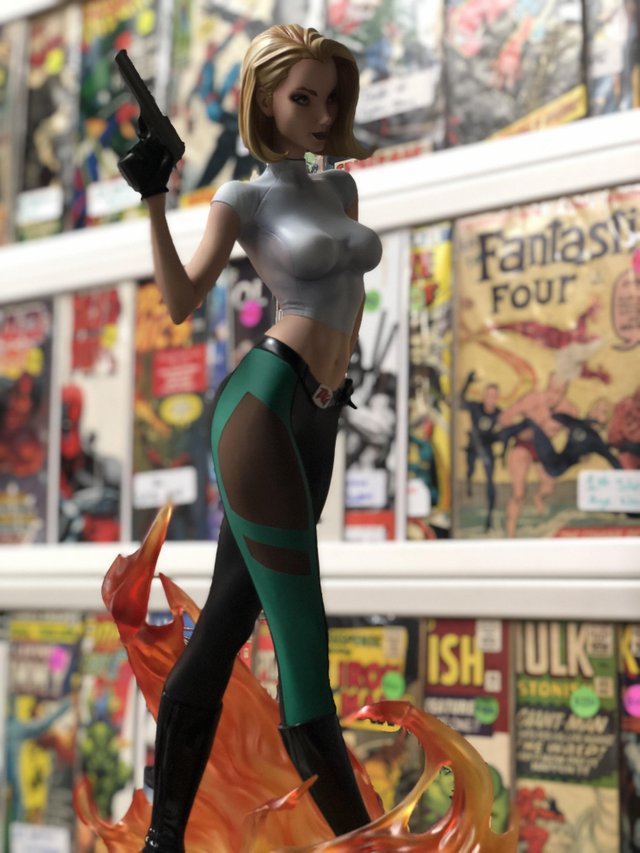 All in all, it's a really nice piece. It looks like she just jumped off the pages that Campbell crafted and is a worthy edition to any collection. The base is improved by the simple looking flames...but ultimately I stand by my assessment that the overall case is just a tad boring. Also...cut the shit Sideshow. Lose the name plate. I bought the statue. I know who she is...
She stands over 20 inches tall and almost a foot wide. She weighs around 15 pounds and will run ya around $510 bucks for the exclusive while the regular release costs $10 bucks less at $500. It just doesn't have the metal print and stand.
Well, now that it's inspected...time to box her back up for Tom to pick up. Just wanted to make sure she wasn't missing a hand or arrived cross eyed or something.
Thanks for checking her out with me!!!
See ya next time!
Blewitt