So, in case you didn't know I currently have a Kickstarter up for my graphic novel Second Wind!
I thought that while the campaign was going it would be fun to give some back story on the book.
So... I really dislike spiders. I have for as long as I can remember. I think it was because I watched Arachnophobia as a kid.
To my surprise, there is a time in Chicago called the "Flying Spider" season around mid spring. Essentially what happens is these brown orb weaver "barn" spiders set out little parachute webs and fly over Lake Michigan, from the state of Michigan, to downtown Chicago and set up shop in all of the little nooks and cranny's of the city.
You see, the Spiders think that the buildings are trees which are their natural habitat, and take over the city for about a month.
It was horrifying when I first discovered this. And one of the most horrifying moments was the photo below. One of these little beings made a massive web right outside of our apartment.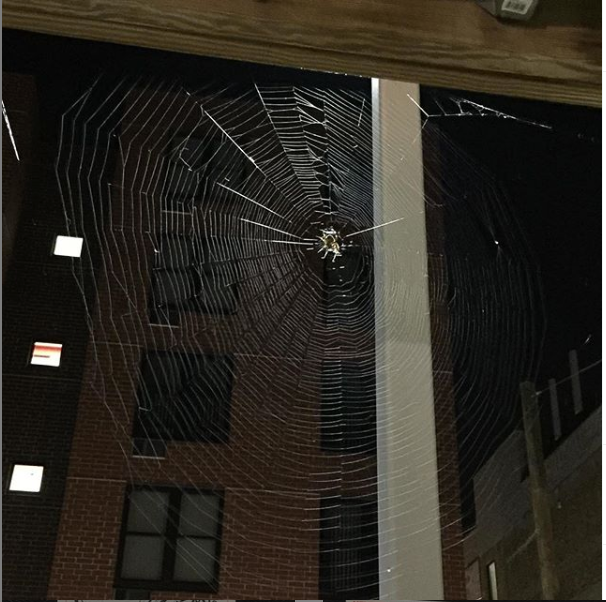 Yes, the web and spider are as big as they look in the photo. The web was from the top of the guard rail to the top of the porch.
I was freaked right the hell out, so I grabbed a broom and went out to kill it. Well... I had had a few beers that night and right before I swung at it I started to have an internal philosophical conflict about killing something that was doing no harm and just trying to survive (or something like that, did I say a few beers? I meant at LOT of beers).
Also, look at that magnificent web! I just couldn't bring myself to do it. So I let it be.
Each evening I would step out to smoke a cigarette on my porch and watch this spider weave its web. It was entrancing! And it took this spider a hell of a lot of work. Over time I named her Henry (I name all random animals I come across Henry, though the spiders that weave these webs are females.)
I started to get over my fear of spiders watching her work every night, and began to truly appreciate the life this little being was living.
She, of course, could not live forever. In true Charlottes Web fashion I came out one evening to watch her weave her web and saw her tucked up in a crevass in the porch. She never moved from that spot, and within days I realized she was gone.
Ironically enough, Charlotte from Charlotte's Web was based on this exact same type of spider (google 'Barn Spider'). I obviously am not the only once entranced by these little bastards.
So, in conclusion, this little being is why the character of the spider has her own story arch in Second Wind. I would watch her weave her web and think about life, and in turn work through why I was making Second Wind.
Her story is the final story of the book, and it ends appropriately I believe.
I have included the entire first arc of "Spider" from Second Wind for you to enjoy below!

















To see this story become a reality, check out the Second Wind Kickstarter here!:
https://www.kickstarter.com/projects/secondwindcomic/second-wind-0?ref=user_menu
And you may view the ENTIRE Second Wind story at:
https://www.vestebancomics.com/
Here is the photo of "Henry" and view from her web on our porch in Chicago. As you can see I used her and our porch directly as a reference. These are from the second, and last, story in the book.