Two days ago I found myself spending a total of three hours on porn sites trying to find a good porn video to masturbate to. Yeah, it doesn't seem like a real problem, especially when considering that a few months ago I'd have been done before the sex even started, but lately that has been a problem. I ended up actually watching a video, but not one that would get me "going"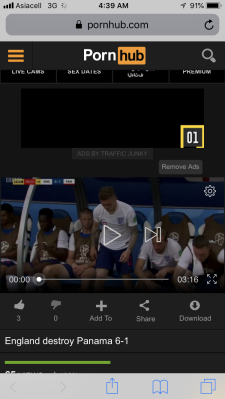 That's right. After going through porn sites for three hours, I ended up watching highlight of a world cup football match.
I don't even like porn these days, as it's very unrealistic, and I'm not talking about the plumber getting a girl to cheat on her boyfriend by suggesting he'd fix her blockage. Thanks to my ex, I know for a fact that can happen. I'm talking about the girls moaning during a blow, I mean who moans in pleasure while giving a blowjob? The whole blowjob operation takes a lot of fluids, there's the fear of premature ejaculation, as well as an over-extension that could lead to suffocation. I find it unbelievable that anyone would find time to moan with those things on their mind.
Also all the family-related porn, last thing you want to hear after ejaculating is the woman in the video saying "Stop it, son". I can't go through one page of porn videos without seeing the word mother, sister, brother, and/or father in a video, sometimes a combination of all four. Just people who happen to carry a camera around the house for some reasons walking in on their siblings masturbating with open doors and film them from outside, because apparently that's what you do when you watch your siblings masturbating, stand there and film. Then they get caught, and say some of the weirdest things like, "I'm just checking if there's anything I could to help".
Yeah, how great of a man you are, go ahead and help your sister, you're an awesome brother. I'm not judging people who watch these, to be honest, but when my first thought after finishing masturbation is "Thank god my mother is dead.", then there's something clearly wrong.
Porn has taken a drastically bad turn for me, and watching it in general brings out the worst in me, there's one minute while watching porn that is just the worst. You're completely turned on and you agree with whatever the actors say like "Yeah, that is a dirty hoe" or "Of course, she should get the extra school credit she's looking for" Or "Yes! that is a great goal"
Yes, sometimes I masturbate while watching football matches. But there's an amazing drop of self-esteem that happens right after you're done, you feel like a failure knowing that you're done with 20 minutes remaining, and you just look at the porn star like "Oh, that wasn't enough for you?" and find out that once again you have sexually disappointed a woman.
I have to say that part of my problem with porn comes from the lack of plot twists. I wish for once the plumber would just fix the sink and go home, or maybe they end having a spiritual bond that transcends sexual actions and he'd actually help the woman fix things with her husband because I have to say that while on the short term, the sex seems good but in the long term I feel bad for the husband for being cheated on and the woman did seem nice and maybe this wasn't worth ruining a marriage over.
Porn just seems a like a trap for me these days. I spend hours researching a good scene, and through the thumbnail they all look good. Once you start them it's too late to close it, as you have already brought out your gun with the intent of shooting.
I mean now every time I hear a girl talking about her step-brother my immediate thought is "They must be sleeping together". Porn completely ruined families for me, as every time a family hosts me I keep thinking about who's sleeping with who.
The drastic turn for me has started once the Japanese entered the game, which to their credit they entered it with that Japanese spirit of topping everyone else. Now, every now and then we have to watch teens dealing with creatures that have 14 penises. I mean how many holes does an anime teen have? In my opinion porn isn't supposed to be such a heavy competition, but everything nowadays seems like a challenge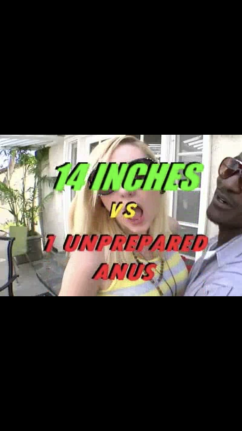 I mean why does such a drastic measure need to be taken? And why can't wives just have sex with their husbands these days? Or better yet, can't girls find a sexual partner that isn't related to them by blood or by a parent's marriage? I want to see a video where the teacher punishes a student by detention. Like I get it, no student should talk during class but shouldn't there be a measure between doing nothing about it and spanking them and sexing them up? Maybe complain about them to your wife and she'll have sex with you.
Those are my thoughts every time I go searching through porn sites, my criteria of videos went from any DVD I could get my hands on as a teen, to a very complicated system. Sometimes I find myself watching a video just to ensure it is masturbation friendly. Porn provided a perfect escape for me growing up in rejection land, it used to be a way of dealing with rejection like "Yeah, you rejected me, but I'll masturbating while thinking of you and there's nothing you can do about it". I was empowered by it. But now that I'm approaching 25, that is no longer a good escape as I keep thinking about all of my relationships and the way I present myself. I mean after all, a gardener shouldn't getting more action than me. Maybe my quest for the perfect porn is a self-reflection of my quest for a better social life.
I'm closer to being a drug addict than I am to a regular porn watcher. There's a study that shows masturbation kills 100 Germans each year And I don't want to hurt the Germans any longer. The way things are going I'm steps away from autoerotic asphyxiation. The problem is that I live alone and it's early in the month so I don't want the landlord to walk into my apartment later in the month to find a hanging fat body swarmed by flies with its dick out.
I nominate @jerrybanfield and @belemo to see where his obsession with boobs might lead him.