CoinCollector V5 - Multi-Faucet Autoclicker

Multi-Faucet Autoclicker
I was requested by a ton of customers to add CoinCollector to this awesome site, .. So, .. thats exactly what im doing.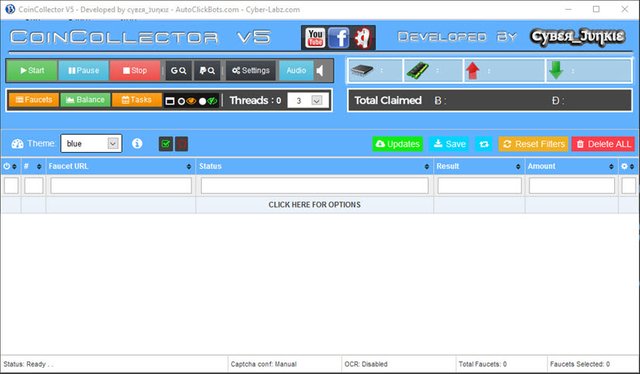 CoinCollector V5 will auto collect Bitcoins, Dogecoins, Litecoin, Dashcoin at UNLIMITED compatible faucet sites and now comes with an ePay Scraper, iFaucet Scraper, Google Scraper, BCRotator Scraper built in for you to easily find compatible faucets.
Brand NEW Task Scheduler allowing you to run CoinCollector at scheduled intervals with ease.
CoinCollector V5 now comes with a built in OCR.


Features :


4 Faucet scrapers
Built in OCR
Custom faucet section
Scheduler
Captcha server stats
Latest faucet list checker
User set Max Wait time
Public and Private proxy Support
HMA VPN Support
Enable/Disable CPU Monitor
New options menu
9KW support
Auto login (If site requires)
UNLIMITED "compatible" Faucets
New design
CPU/Net etc usage stats
Balance check section
Audio On/Off (Bots audio ONLY)
Thread Control (1-18)
Run ALL sections from 1 screen
Total claimed during session (reset on next bot load)
New Settings panel
2Captcha implemented
Manual Captcha WITH Refresh (Only works with 1 thread *Beta)
Save settings for next bot load
Re-coded a ton of the bot
Bot now lightweight to save memory usage
Added longer timeouts
Auto refresh bot memory every 10 mins
Save login details via "Settings" menu
Retry if failed login
---

Use Captcha Services For Fully Auto OR Manual
---

Other Captcha Options
*Captcha Sniper

GSA Captcha
( = Working but low success rate)

IMPORTANT*
Other captcha services can be used by using either Captcha Sniper or GSA Captcha Breaker as a tunnel
(So if the captcha service you want to use is not supported by my bot then you can run one of the above software's and use any of the captcha services listed as backup within CS or GSA settings)
---

How to Install OR Update from V4 :
---

Need To Know !
Is it buggy ?.... Yes
Is it going to make you rich over night ?.... No
Can you quit your day job with this bot ?..... No
Is it better and easier than doing them all manually ?....... YES!
---
Common Fix Steps
Please Try These Before Posting a Complaint !
If you have problems getting CoinCollector V5 to run
please try these common fix steps "1 BY 1" :
some simple steps that fix most common issues :
(eg. Stuck on "Loading...", wont open, crashes etc etc ....)
Try Running CoinCollector with AND WITHOUT "Administrator" privellages

Install this (C++ Redistributable) https://www.microsoft.com/en-us/download/details.aspx?id=48145

Install this (.NET 4.5) http://www.microsoft.com/en-us/download/details.aspx?id=30653
-> Alternative working .NET Frameworks :

Make sure your AV and Firewall are not blocking, add the bot to any whitelists
-> Add the following to ALL Antivirus/Firewall Allowed/Whitelists :
*.autoclickbots.com
*.cyber-labz.com
---
​

Licenses are FREE until further notice !​
**Yes CoinCollector is STILL FREE, **
Please consider a donation to enable me to keep this bot free, donation buttons are at the top of each section, and thank you to those that do :)
Get your license here :
http://autoclickbots.com/content/ccbot-tbn-special
Once you have submitted your details you will receive your license in the email address you provided, then you will be taken to the CoinCollector Download page, Direct link to this page is further down this page.


---
Installing / Updating Coincollector to V5
CoinCollector V5 - New Features
Quick Setup