Hi all! Yesterday, I reviewed my first post in Steemit, and suddenly aware that I have been in Steemit for around a month! Well, it is of course not a long time compare with most of you here, so that may not be a big deal for most of you guys XD.
大家好! 昨天我在回顧我過去帖子的時候,突然之間發現原來我已經加入了Steemit一個月了。當然,相比大家來說這只不過是一個很短的時間,沒什麼大不了。
When I suddenly realized that a month has been pasted, I really want to share my user experience about Steemit for the last month. I think which could help Steemit to give better user experience in the future. I know I cannot provide those professional advices for Steemit. However, I would like to provide some suggestion in the point of view from a newbie. Hope it can also help to build the community better.
當我發現一個月已經過去的時候,我很想寫一點自己在過去一個月中對Steemit用戶體驗的一些建議。我希望這可以對Steemit將來的發展有正面的影嚮,可以讓大家有更好的用戶體驗。我知道我不能像一個老用戶一般提供一些專業的建議。但,我希望我這種新手的建議也可以為社區的發展出一分力量。
Friend List | 朋友圈
The first suggestion is friend list! As we all know, we have to follow different Steemain in order to get their latest post in the feed. However, what if you followed too much? Take me as an example, I have around 10-20 real friends of mine who joined the community and will update their blog time to time. But I have more than 100 following at the moment (which is not much already). So, every time when I want to check any update from my friends it takes time to search them one by one.
第一個建議是朋友圈。我都都知道要在Steemit獲得資料,我們都必需追蹤不同的用戶,而用戶的更新會顯示在首頁中。但若是我們追蹤得太多了會怎樣?以我來作個例子吧,我有大概10-20個現實中的朋友也有在玩Steemit,他們都會不斷的更新他們的帖子。但是我在Steemit 上追蹤了超過100個用戶 (已經不多了),所以每次當我想要看朋友的更新時我都需要特別的一個一個去找。

So, I suggest that Steemit to add a feature for a friend list which I can add all of my real friends into it. Or maybe not exactly a friend list, just let us create different list for those following in order to let us obtain update more easily, which may be even better.
所以我建議Steemit可以加一個朋友圈的功能,好讓我們把親近的朋友都加進去。也許不一定是一個朋友圈,也可以是一些不同的名單,好讓我們可以更方便的獲取各種更新,這個也許會更好。
Bookmark Function | 書籤功能
Second is the bookmark function. There was no official bookmark function created in Steemit. I know we can always bookmark by ourselves in the browser. But it is not so convenient for those multi-platform or multi-computer users. I don't want to sync the bookmark every time when I back home and move to the computer from my mobile phone. And which may even cause the version problem.
第二個建議是書籤功能。我在目前為止還沒有找到一個官方的書籤功能。我知道我們是能夠在瀏覽器中把頁面加入書籤,但對於使用不同平台,跟不同電腦的用戶來說,這就很不方便了。我可不想每次回家都要同步我的書籤,還有這可能會產生書籤版本錯誤問題。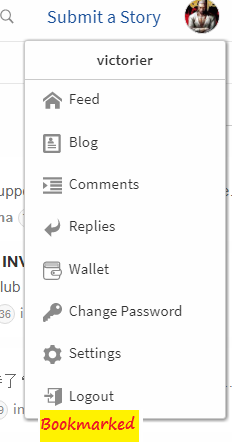 Voting Power Allocation Function| Voting Power 分配功能
The third one is the voting power allocation function. I just saw the post of @guyverckw which showed us that there are voting power allocation function for those over 500 sp steemain. But which was disabled to those under 500 sp. To be honest, I don't know the reason behind. Maybe the vote for those steemain under 500 sp is just relatively too light, such that Steemit suggest us to make a 100% vote every times. However, as we all known, after HF19, the steem power consumed much faster than before. So, even for minnow, a proper control on the voting power would be need somehow.
第三個是voting power的分配。這是我在看 @guyverckw的帖子時才知道原來在sp大過500的時候,系統會自動開啟voting power的分配功能。而這個功能對於500sp以下的用戶是無法開通的。坦白說,我不知道這個安排背後的原因。或許是因為500sp以下的用戶的vote太輕了,所以Steemit建議我們都100%vote下去就算了。但大家都知道,硬叉19之後,用戶們steem power都用得比之前快上很多。所以即使對於新手來說,voting power的分配也都變得很重要了。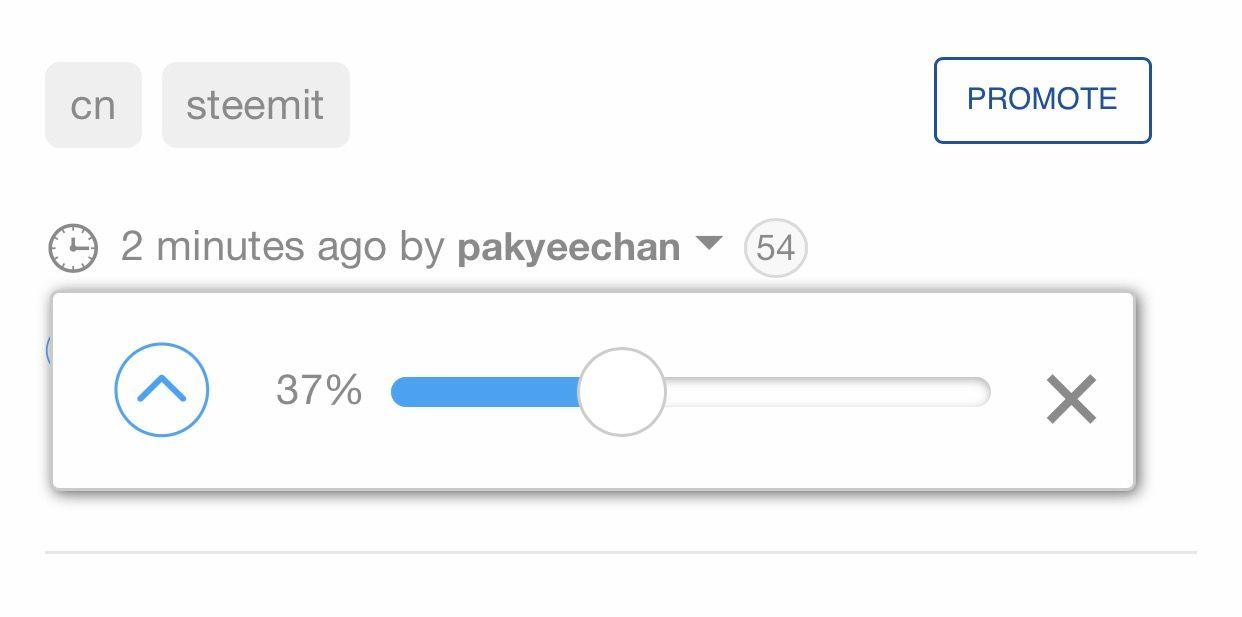 Exchange Rate for Purchase History | 交易記錄的滙率顯示
The fourth one is I think we should be able to see the record of exchange rate we paid in the internal market. I know that we will only buy the steem or SBD according to the rate we inputted. But sometimes we just forgot. The current format we see in the wallet transaction as below:
第四個是關於我們在內部市場上過去交易的滙率顯示。我知道內部市埸會跟據我們輸入的滙率來進行交易。但是,我們很多時候都會忘記了自已昨天用了多少來買。下面是現在我們在錢包中看到的交易記錄: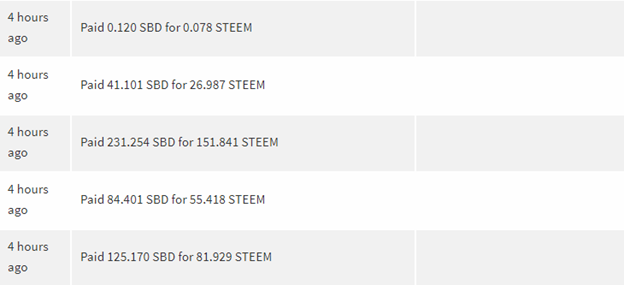 That is fine; we can use the calculator to calculate the exchange rate. But it will be better if the exchange rate is included such that we don't have to calculate again.
這當然很好,我們可以自己用計算機去算一下我們買進的滙率。但若是在這裏有相對應的顯示的話,我覺得會更好。
---
And the above is the suggestion according to my experience for Steemit since last month. I know that Steemit is still in his early stage and will become much better in the future. Hope my suggestion can help.
以上就是我在過去一個月在Steemit上覺得可以改善的建議。我知道Steemit還是在他的初階段,他將會越來越完善,越來越好。希望我的建議對這個社區有幫助。
Source/ 來源: 1
---
Thanks for reading, I hope you enjoy it!
And please follow me and see my other post if you like it: @victorier
感謝你的閱讀,希望你會喜歡!
如果你覺得不錯的話請你追蹤我,也可以看我其他的文章: @victorier