Where was that blockbuster movie "Jaws" filming place?(Original Photo) 当年轰动一时的电影大白鲨拍摄地(附原图) by @vandadream
This article was written by @vandadream / 本文由 @vandadream 撰写提交
About the authour / 关于作者:
Follow the author @vandadream to find the other great articles from him/her.
请关注/追随作者查看他/她的其它优质文章。
Original text/原文如下:
---
Thanks @someone for posting my travel experience! I hope you all like it and I will share more my travels!
非常感谢 @someone 帮我发表我的游记!希望你们大家都喜欢,我会分享更多的游记!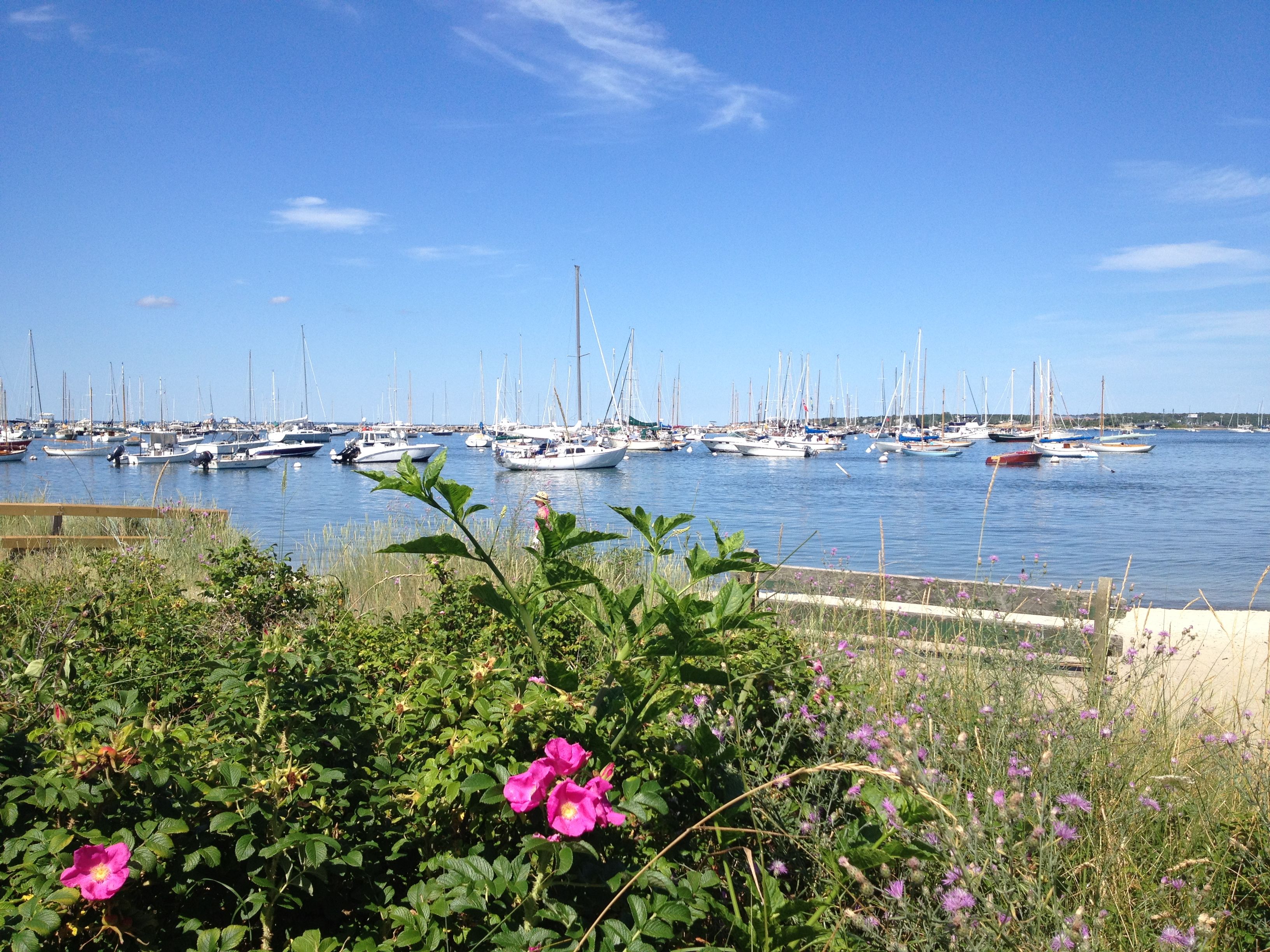 Where was Steven Spielberg's blockbuster movie "Jaws" filming place? It was filmed in Martha's Vineyard MA. This movie did not stop people visiting there because of shark. Quite the reverse, that film made the island famous. Thousands and thousands of people went there for summer vacation, including some celebrities and some US presidents too. I liked it there a lot and I would like to recommend a few nice places in the Island to visit.
你知道当年大导演史蒂芬·斯皮尔伯格的轰动一时的电影《大白鲨》拍摄地吗?就是在麻州的玛莎葡萄园拍摄的。那部片子并没有阻止人们去哪里度假因为海里的鲨鱼,反而这部片子让玛莎葡萄园一举成名,吸引了成千上万的游客去度假,也成了一些名人以及美国总统们的度假圣地。我也非常喜欢那个小岛,推荐几个觉得还不错的地方!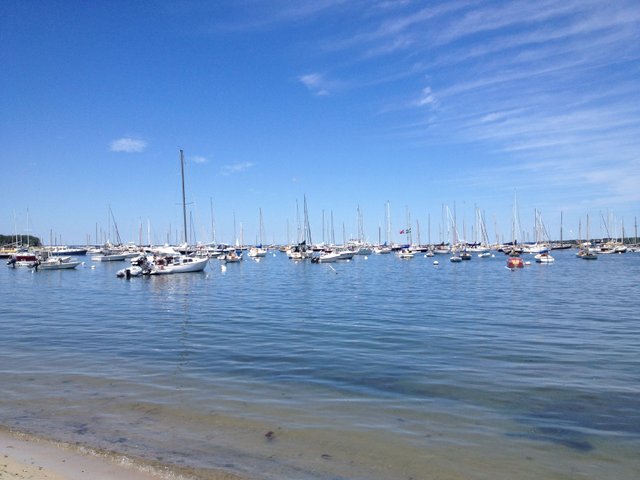 Edgartown
Edgartown was used as the main shooting location in Steven Spielberg's movie Jaws. Many landmarks and buildings were filmed in the movie could still be seen today. The most popular spot is that Edgartown Bridge, many people were jumping into the ocean from that bridge, even there was a sign said, "no jumping or diving from bridge". The beautiful Edgartown Lighthouse is near the harbor, it was filmed in that movie too.
Edgartown是史蒂芬·斯皮尔伯格那部电影《大白鲨》的主要取景地,目前的风景和建筑基本保持的和电影里一样。那里还有一座非常热门的桥,听说是当年拍《大白鲨》海里取景的地方。好多人都喜欢从桥上跳进大海,虽然旁边还立有一个牌不要往下跳。美丽的灯塔靠近海边,它也是在电影里面常出现的。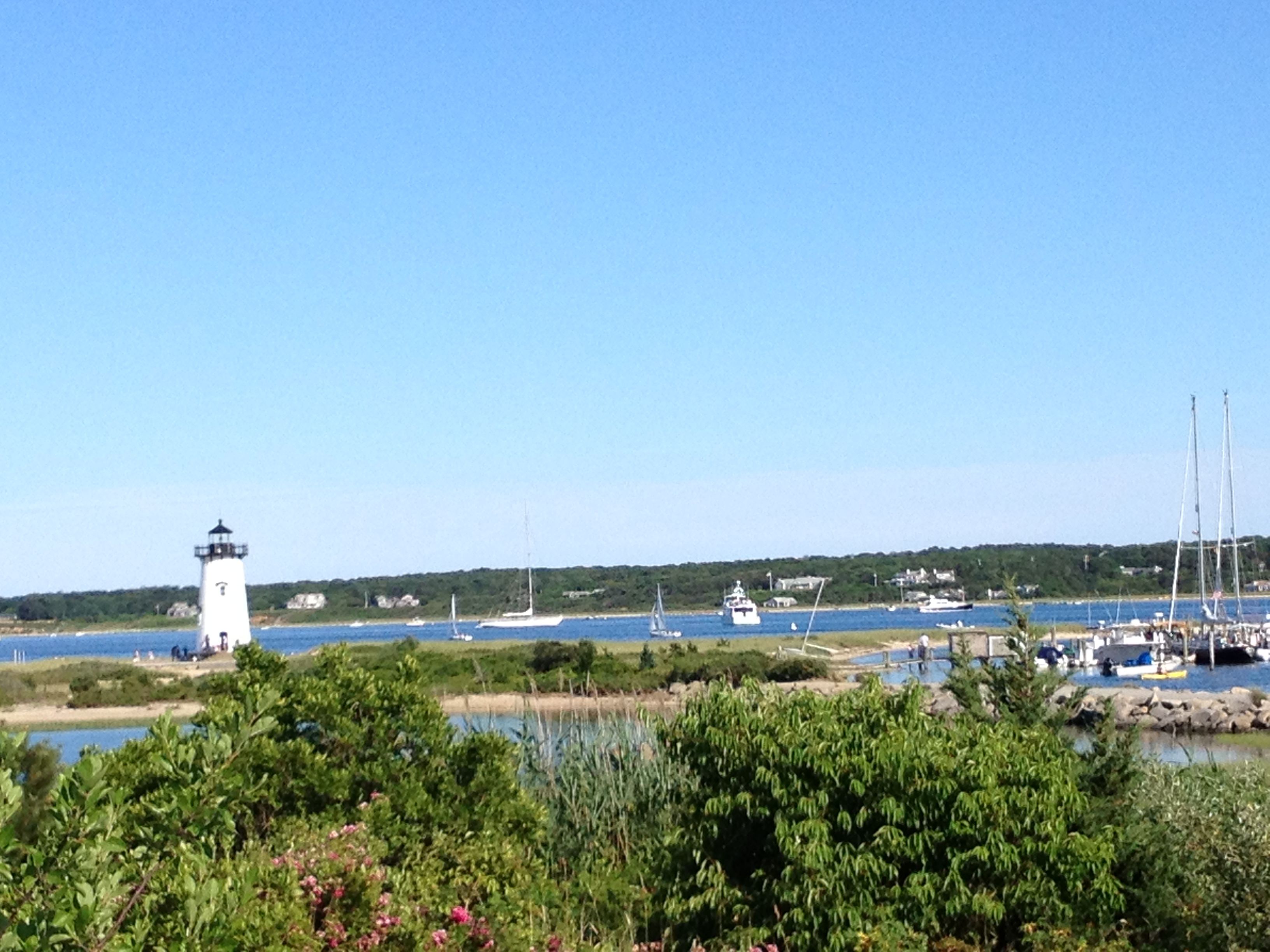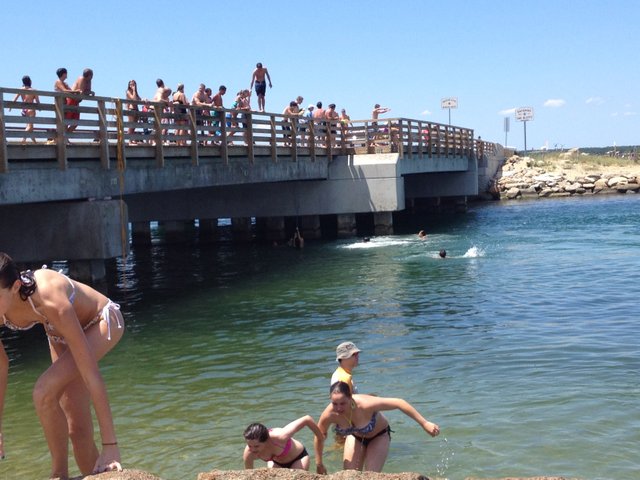 Beaches
I love beach, beach, beach! There are lot of public beaches and some private beaches. North point beach, Edgartown Light house beach……My favor is South Beach, it is about 3 miles long. It offers a rumbling surf and rolling dunes, that sand is so soft and it reminds me the sand in Caribbean Islands.
我非常喜欢海滩。这里有很多对外开放的公共海滩,也有一些私人的海滩。北角海滩,上面提到的灯塔旁也有一个海滩……我最爱的还是南边海滩,三英里长的沙滩,那里有隆隆的海浪和起伏的沙丘。柔软的沙子让我想起了加勒比海的海岛。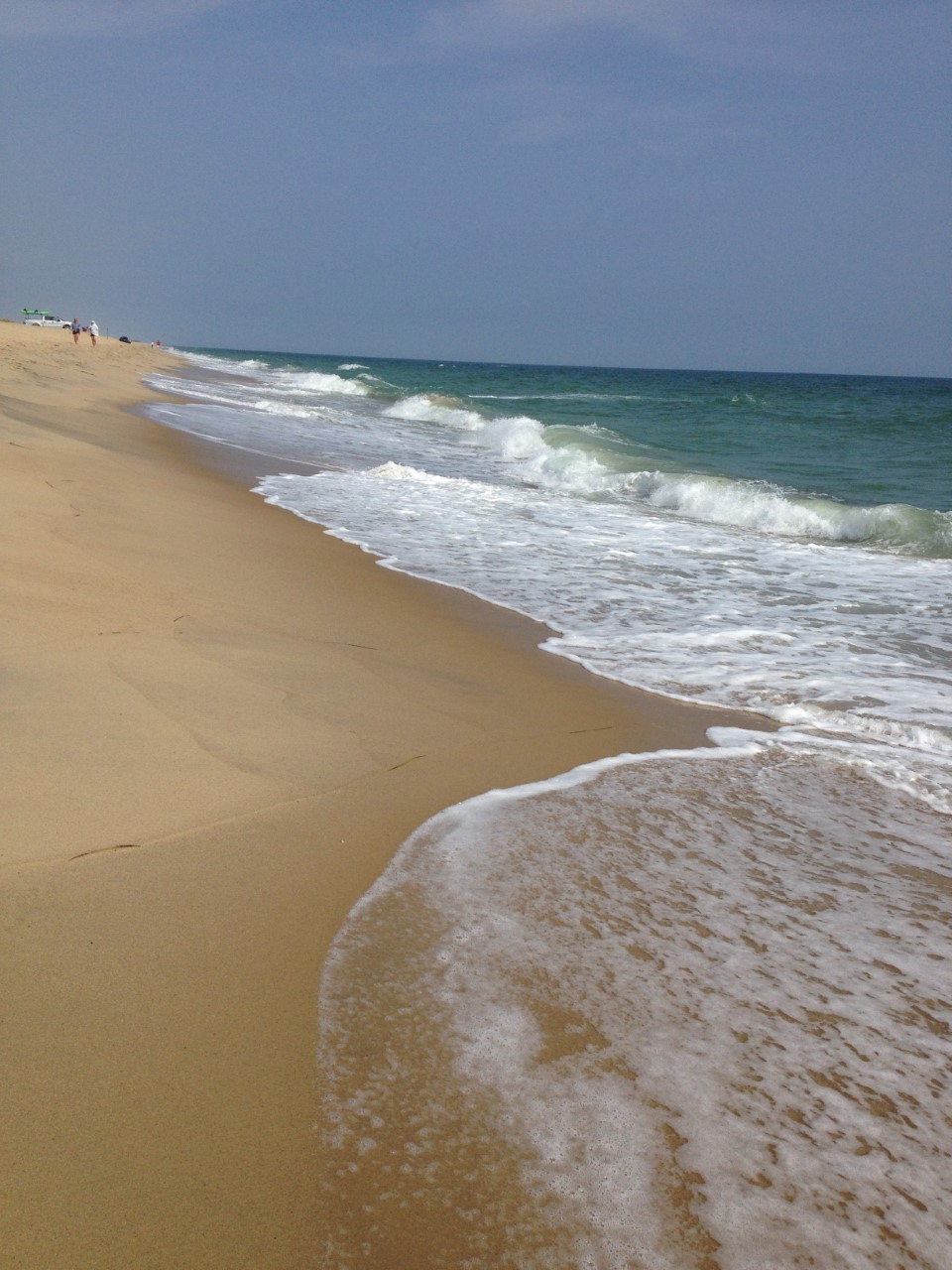 The Aquinnah Cliffs
The Aquinnah Cliffs (Gay Head) is one of Martha's Vineyard's most-visited tourist spots. It is very quiet place away from crowds, beautiful clay cliffs and quiet natural serenity. I like to listen to the sound of the surf on that seashore!
阿奎纳悬崖也是玛莎葡萄园上值得去的一个地方,避开了拥挤的人群,那里有美丽的峭壁和自然的海景。我喜欢在那海边听海浪拍打的声音!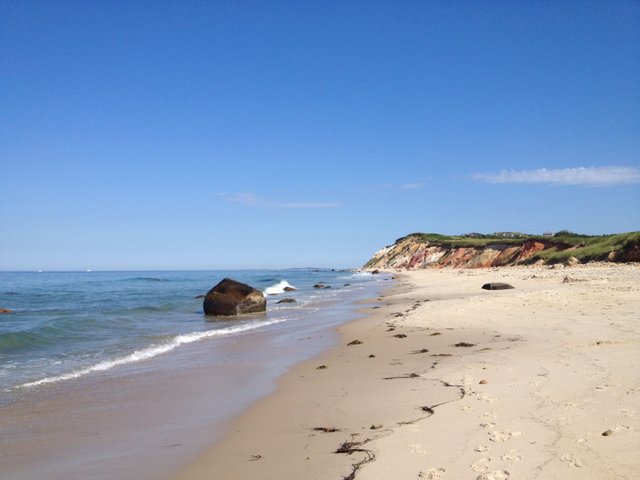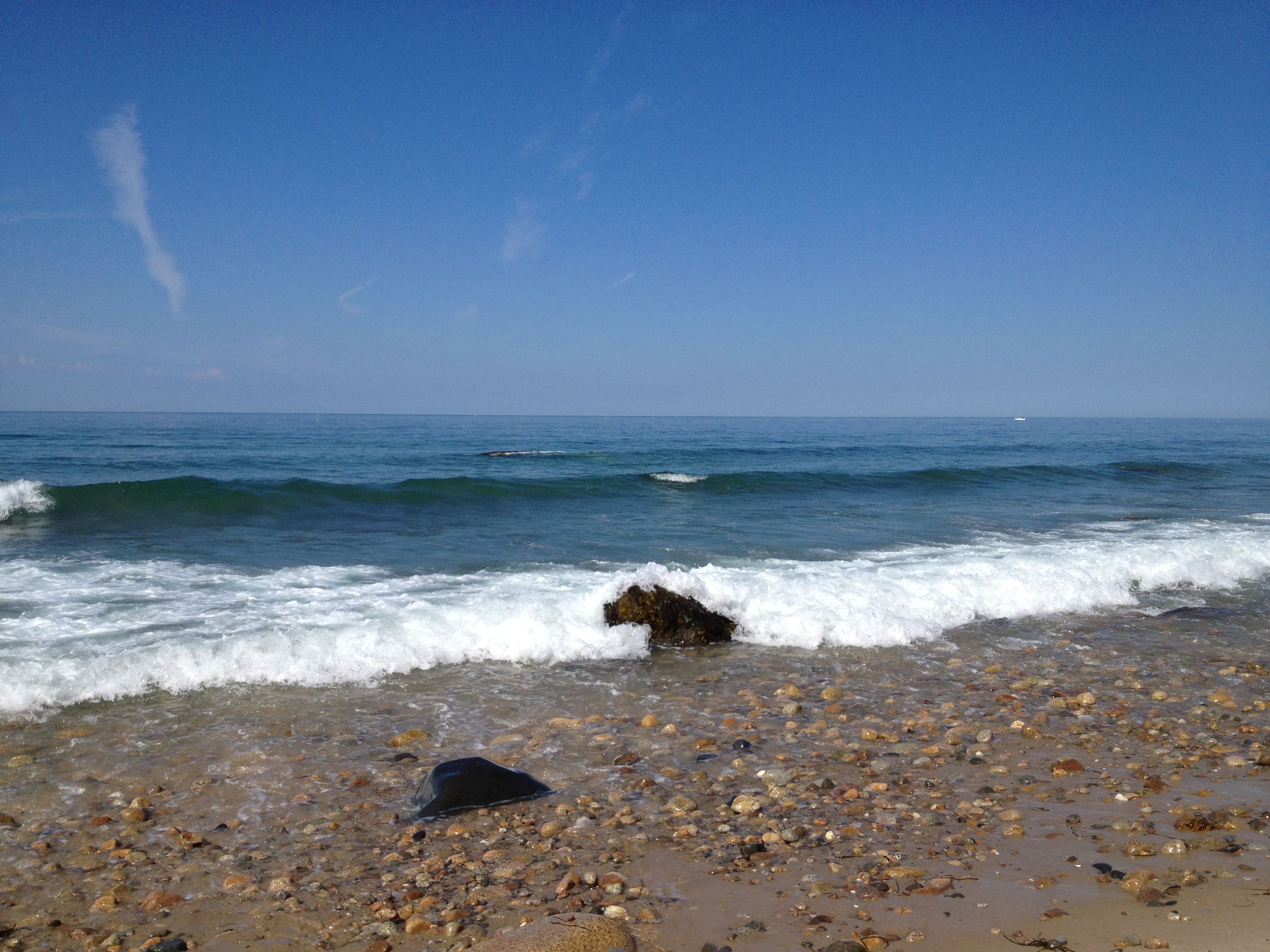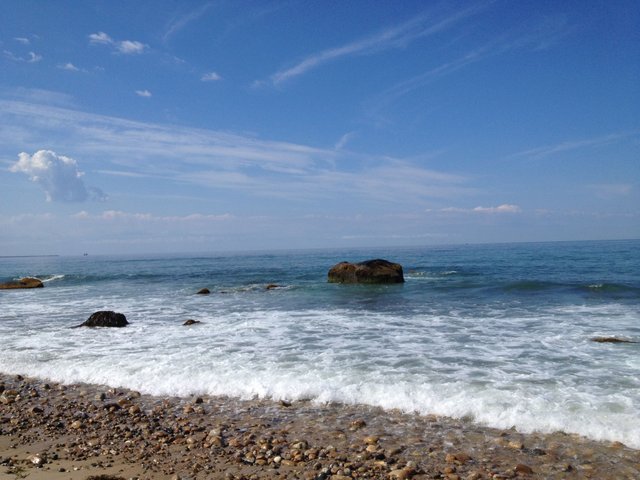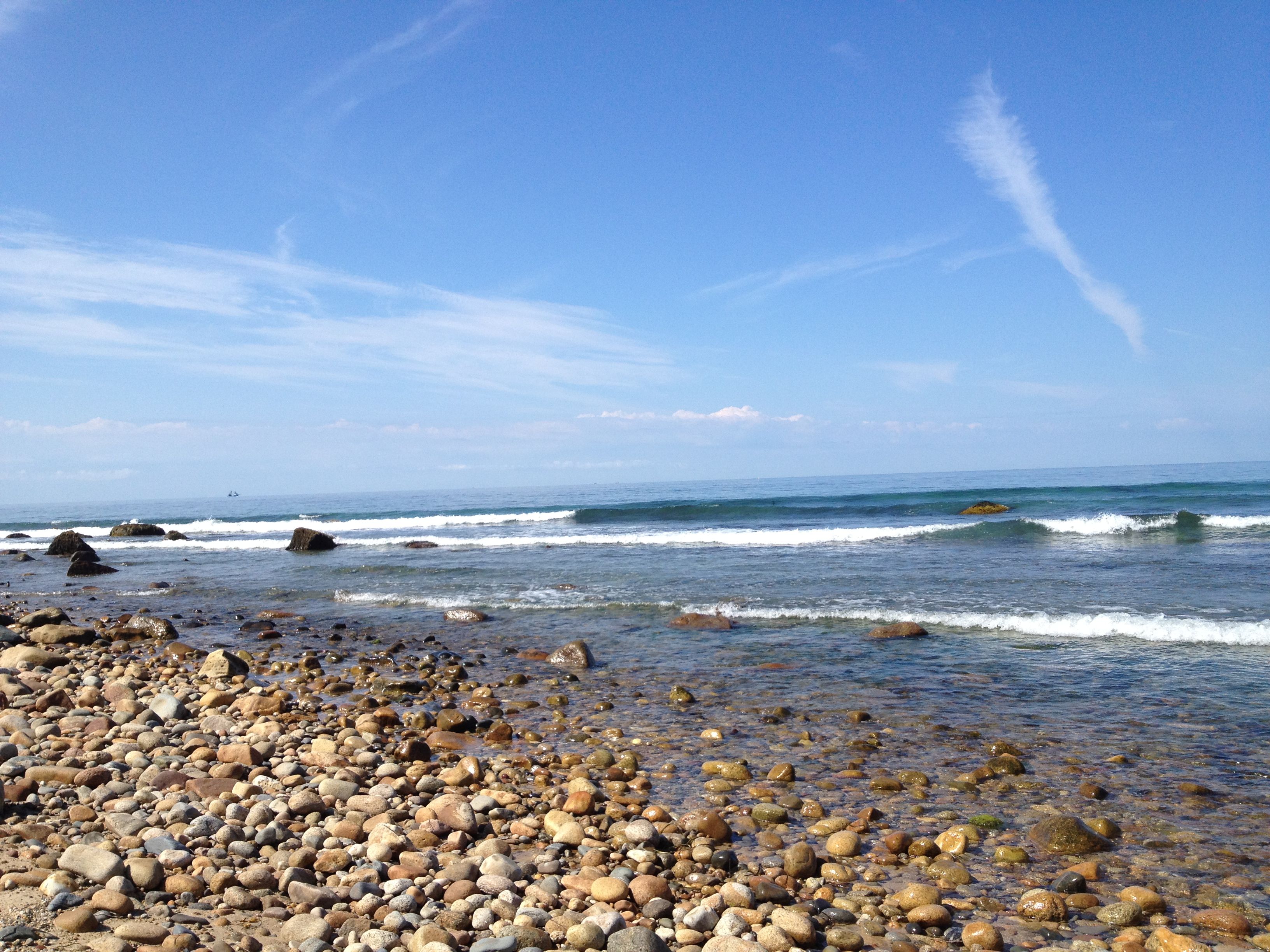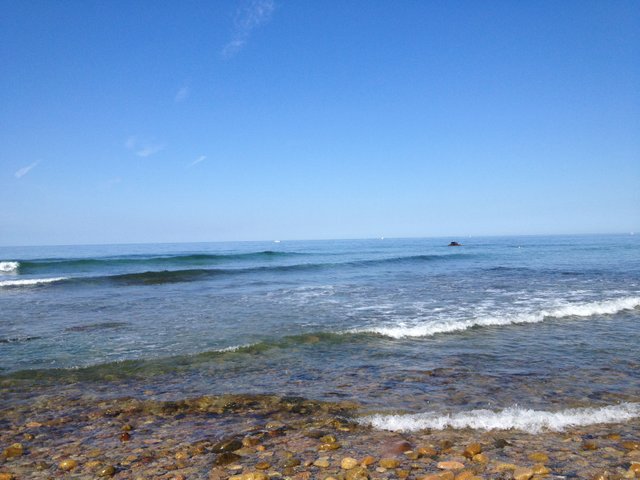 Gingerbread Cottages in Oak Bluffs
When I saw those Gingerbread Cottages with blooming flowers, I did feel I was in the fairytale movie. These delightful mini-homes are so cute and delicated!
当我见到那些姜饼小房子配上绽放的鲜花,我真的觉得像是到了童话世界的电影里面。非常可爱和精致!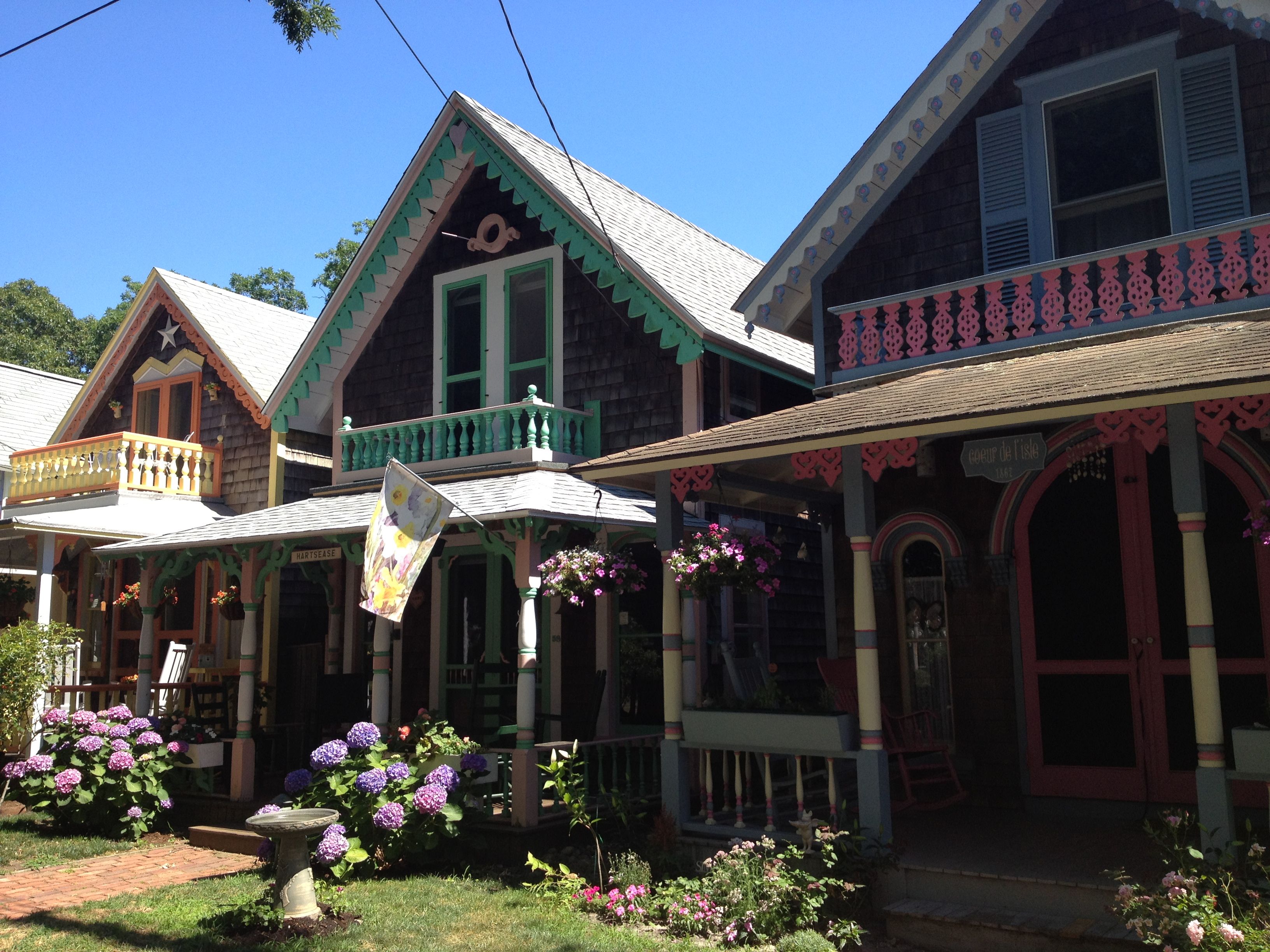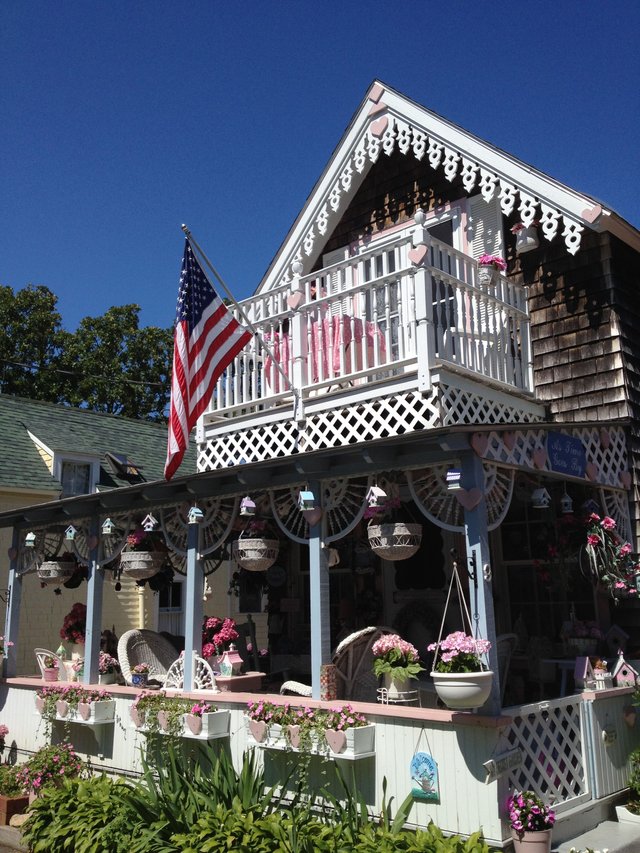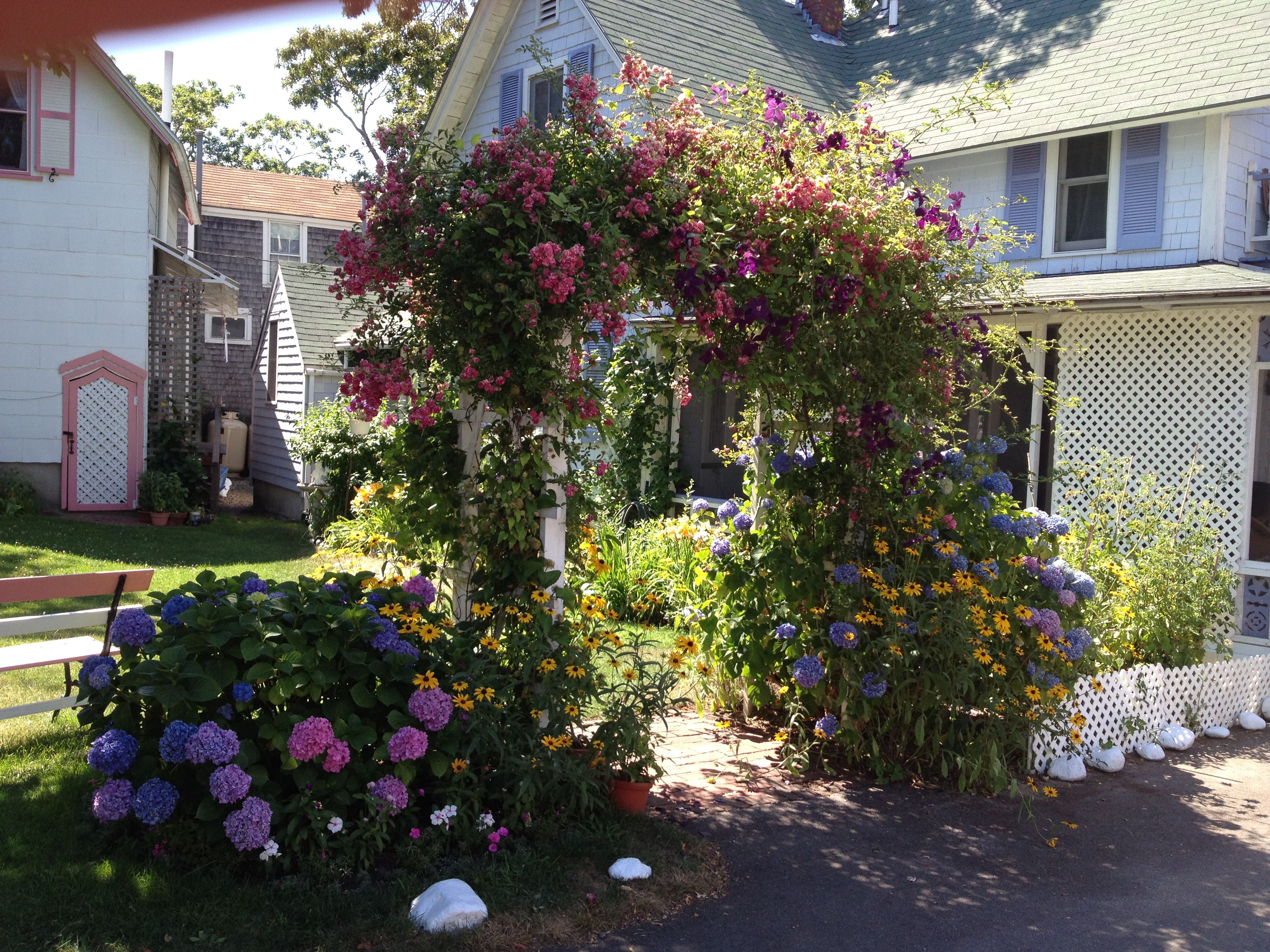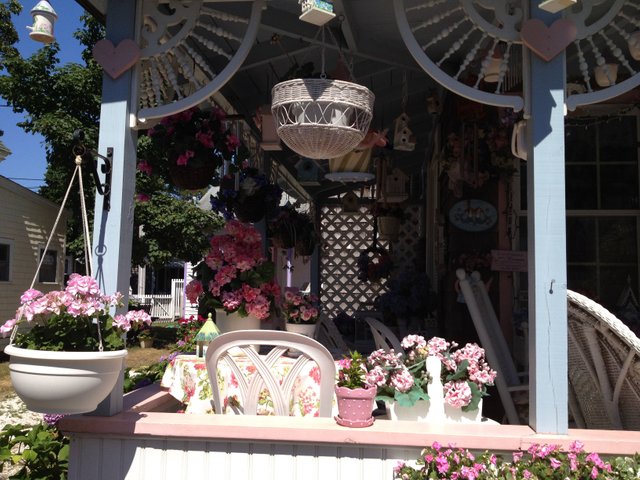 Flying Horses in Oak Bluffs
The Flying Horses Carousel is the oldest functional carousel in the World. Taking a ride and felt backing in the old movie.
那里的老式的旋转木马可是全世界上最古老的还可以坐的旋转木马了。坐上去感受一下在怀旧电影里面的感觉.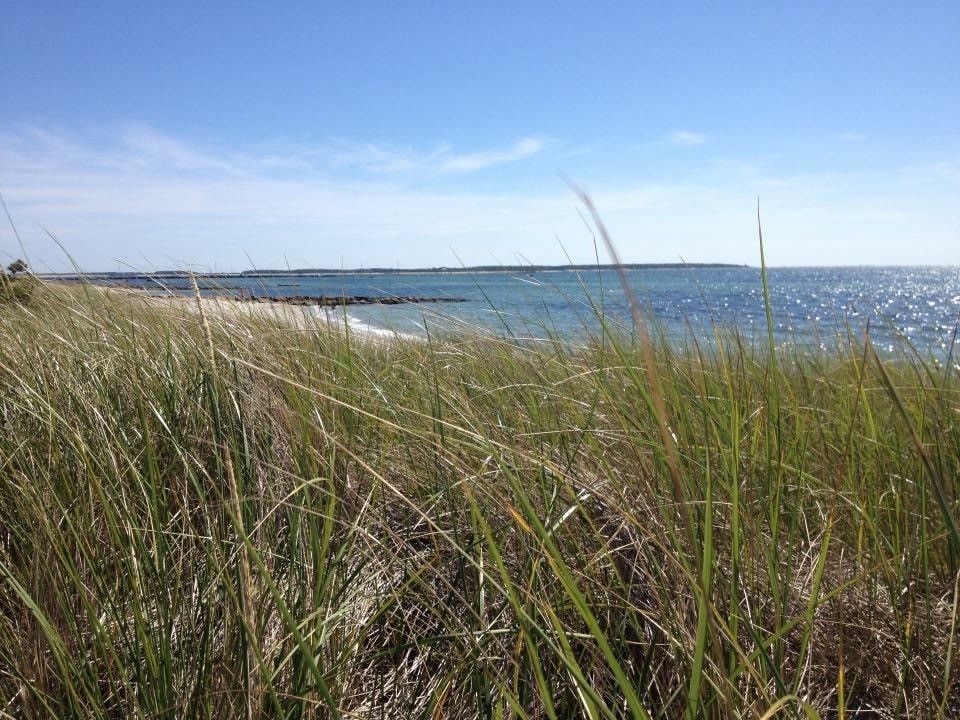 If you did not bring car to the Island, the public transportation is very convenient there. You can take the bus to all the places. There are so many activities you could do in the Island, bike, kayaking, snorkeling, sailing……
岛上的公交非常方便, 尽管你没有带车过去。你可以坐公交车去岛上每个景点。在岛上可以参与很多活动,骑自行车,划皮艇,潜浮,帆船……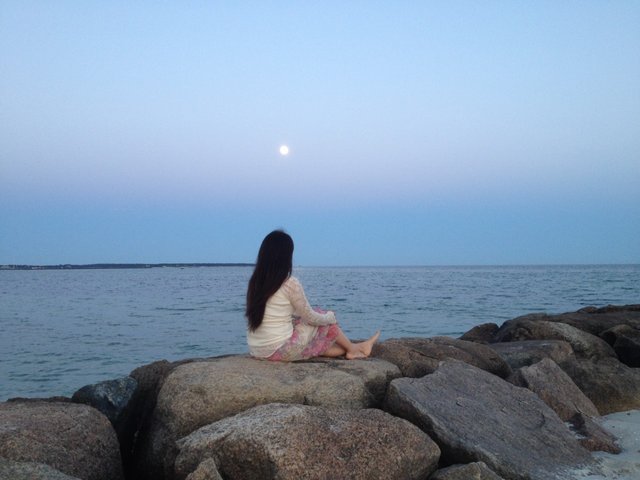 ---
Author @vandadream, Posted By @someone