Escape from Miami part 3 逃离迈阿密 第三部分 by @seabearflying
This article was written by @seabearflying / 本文由 @seabearflying 撰写提交
About the authour / 关于作者:
Follow the author @seabearflying to find the other great articles from him/her.
请关注/追随作者查看他/她的其它优质文章。
Original text/原文如下:
---
刚刚过去的九月,带着家人去迈阿密玩了一周。本计划着好好放松几日,但是不曾想到,遇到了近几年最大的飓风艾玛,一场疯狂的逃亡记便就此拉开了。
In this September, I travelled to Miami with my family for one week. My initial plan is just relax. However, we met the terrible hurricane Irma which we never think of. A crazy escape journey just started then.
本贴是本系列的第三贴,更多详情请关注本系列第一帖,以及第二帖,欢迎拍砖。
This is the third post of this series, please see the first post and the second post for more details.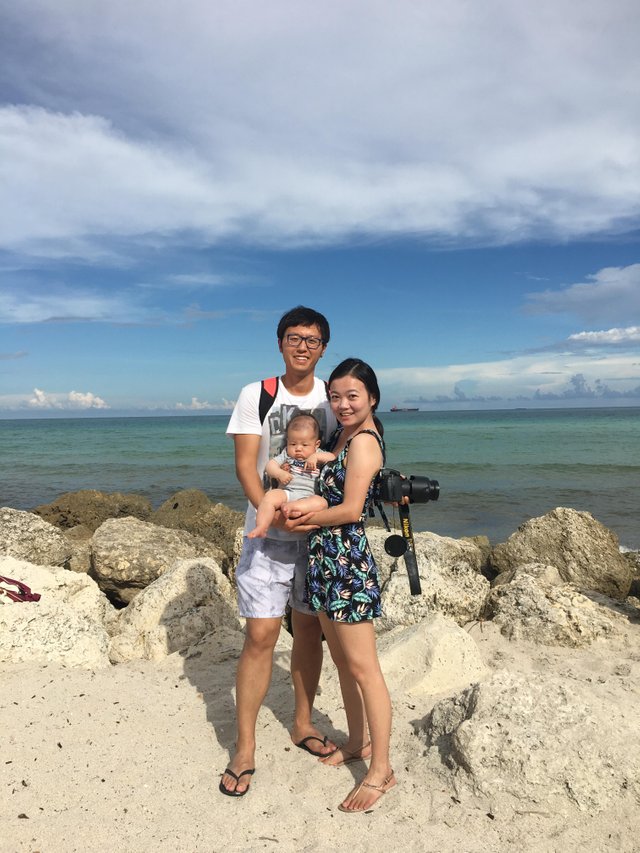 日光悄悄撒进房间的时候,时钟还未至七点。我蹑手蹑脚的套上衣服出门,赶个早,在stock 岛把油箱补满。才发现keywest的许多加油站都已被加空,挂起了免战牌。
When the sunlight spreads into my room, it is still not 7 o'clock yet. I wore up my clothes quietly and got out of the room. Finally, I got my oil tank refilled on Stock Island instead of keywest. Because most of the oil stations in keywest are empty and closed.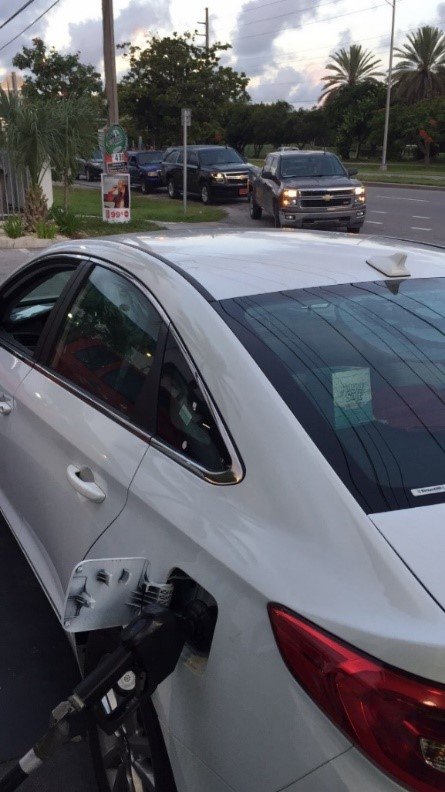 回到酒店退房。服务生小黑哥们已经开始收拾东西,不慌不忙地把游泳池边的沙发,遮阳伞往里搬。
When I got back to room, I found that the staff in hotel were packing things up, like the coach by swim pool or the sun-umbrella.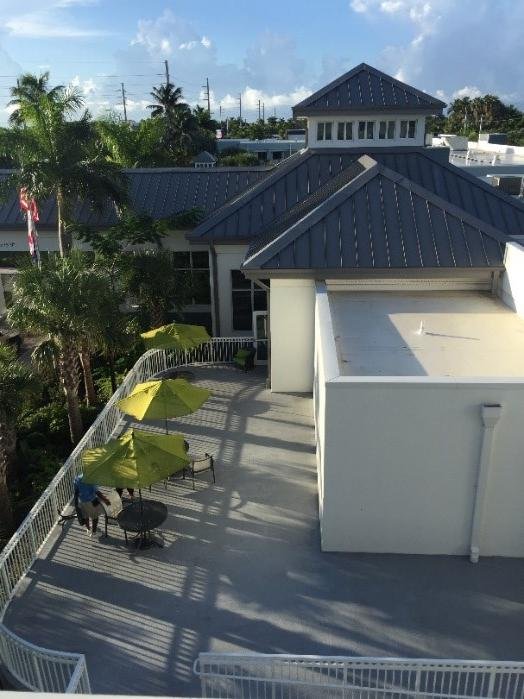 早上八点,我们从西礁开始撤退。那时我怎么也没想到,这竟然就拉开了2000公里逃亡的序幕。从key west到迈阿密的回程,一路还是碧海蓝天,阳光明媚,放着欢快的歌,我心想,到了迈阿密应该就没事啦。
We began to leave keywest t around 8 o'clock. At that moment, I never think of that it is just the beginning of an unbelievable escape of 2000 km. The weather is pretty lovely when we leave. The peaceful music surround us, making me feel like we gonna have a nice day in Miami.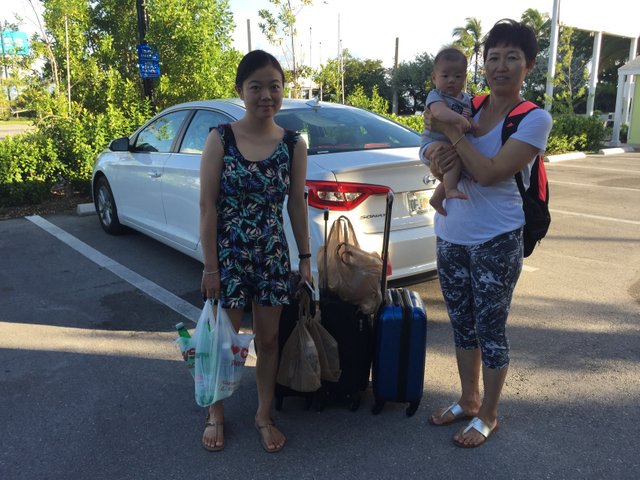 途径7 miles bridge,阳光下的玉带一般闪耀。还有人开着摩托艇在平静的水面上飞骋。gps显示些许路段出现了轻微滞后,我想肯定是美国媒体太敏感啦。作为厦门人,表示台风年年有,这都见怪不怪。
The 7 miles bridge is pretty nice, just like the Jude belt under sun. There still have relaxed people playing water scooter. The gps shows that some of the route have delayed. I still believe that the media is so sensitive for this hurricane. Actually I met typhoon every year in my hometown and I never experience so-called evacuation.
其实比起油,我略微有些焦虑的是饮用水。路过加油站休息的时候,跟老板娘聊天,她说早上她们才刚刚补给了80箱水,现在已经搬空了。她指了指旁边搬着一大箱可乐的人很无奈的耸耸肩。不过老板娘说,让我去旁边的cvs试试看运气,去了一看,这里果然还有存货。立马搬了三箱上车。
Compared to gasoline, I worried more about the water. When I took a break at the gas station, the cashier told me that they just got the water supply of 80 boxed of bottle-water which have been sold out now. She cannot help but to point to the man purchasing a box of coca cola. However she also nicely told me that the CVS next to station may still have water coz they got supply as well this morning. So I just stop by CVS by luck. Fortunately, they do have some. So I bought 3 cases (72 bottles in total).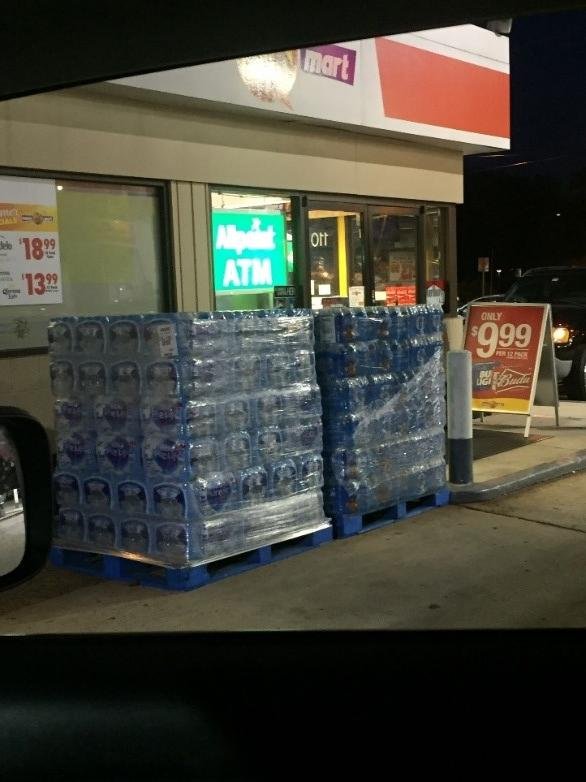 这下好了,水的问题也解决了。我感觉瞬间放宽了心。继续向前,今天下午的既定计划是key largo的glass bottom boat。明早前往everglade看草泽地的大鳄鱼。妻子分别打了电话过去。得到一致的"取消"消息!我的心情真的是down到了极点。那我们还能玩什么呢?思来想去,我们决定把第二天的outlets之旅提前。今天就先好好休息,在迈阿密晒晒太阳。
That is really perfect. The problem of water has been resolved. I feel much better now. Let's keep going on. The original plan is the glass bottom boat in Key Largo Island this afternoon and go to everglades national park to see alligator. Considering the bad condition today, my wife decide to call them to double-check the availability first. The extremely disappointed news strike me that both of them are canceled. I feel down to the bottom of Atlantic Ocean. What else can we enjoy!!! After thinking for a while, we decide to visit the outlet tomorrow which is the plan for the day after that.And take a good rest today like enjoy sunshine in Miami.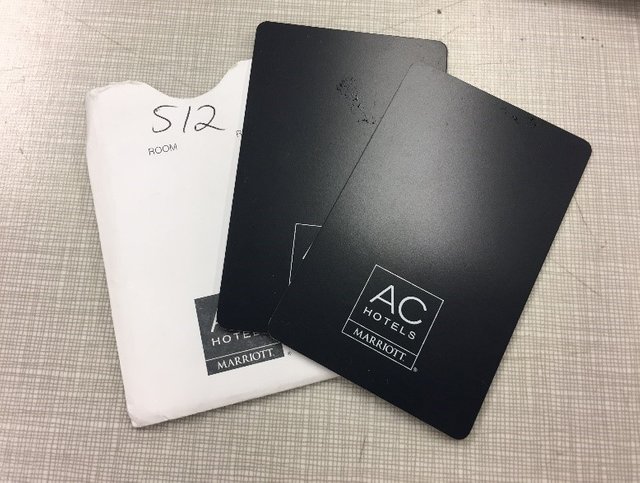 午饭后到达迈阿密,一路上到处都在施工建设,路坑坑洼洼的,好不容易来到酒店,花了20刀小费,升级海景房。酒店的游泳池可以窥见白沙滩的一角。酒店前台的小妹妹热情又温暖的提示,你们真的太幸运了。后天退房的时候,这里就要全部疏散了哦,我们现在就在做准备工作。我顺着她手指的地方看去,工人们正匆忙地为迈阿密海滩一线房屋的一楼安装防浪墙,一米多高的铁板一块块连接起来,我曾经在电视里看过这样的阵势。很难想象会不会不久之后这里是一片泽国。
After lunch, we arrived at Miami. Almost everywhere is under construction and the road condition is suck. We spent 20 bucks as tip to upgrade to the best room of the hotel. The view of swim pool in hotel. The white sand beach is visible. The girl reception kindly remind us that: we are so lucky that all the hotel in Miami Beach will be evacuated by the day after tomorrow. That is the date we plan to go back home. The girl also told me that all the hotel at Miami Beach are under the construction of wave wall which consists of uncountable 1 meter tall stainless steel plates. Actually I admit that I have ever seen this kind of thing in TV. But it is still impossible for me to believe that this place will become ocean couple days later.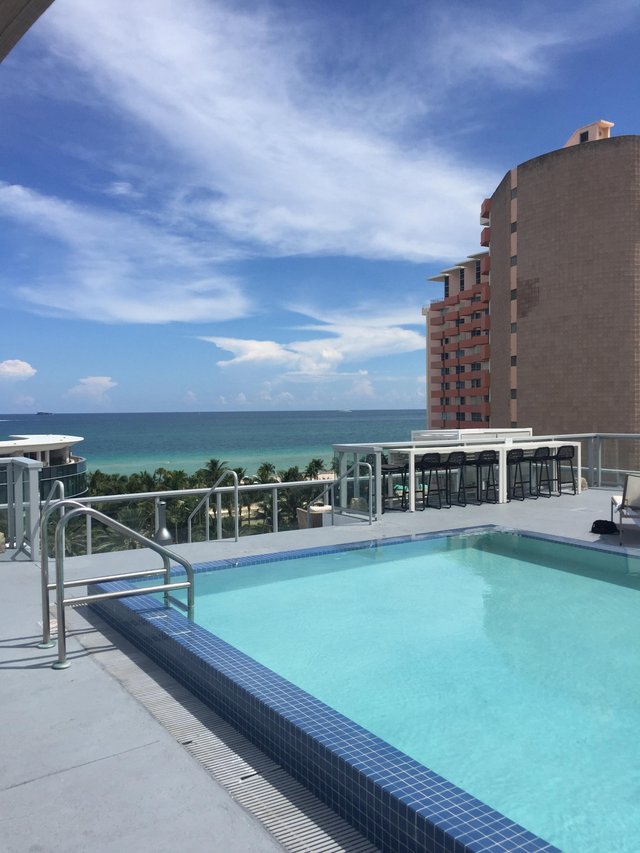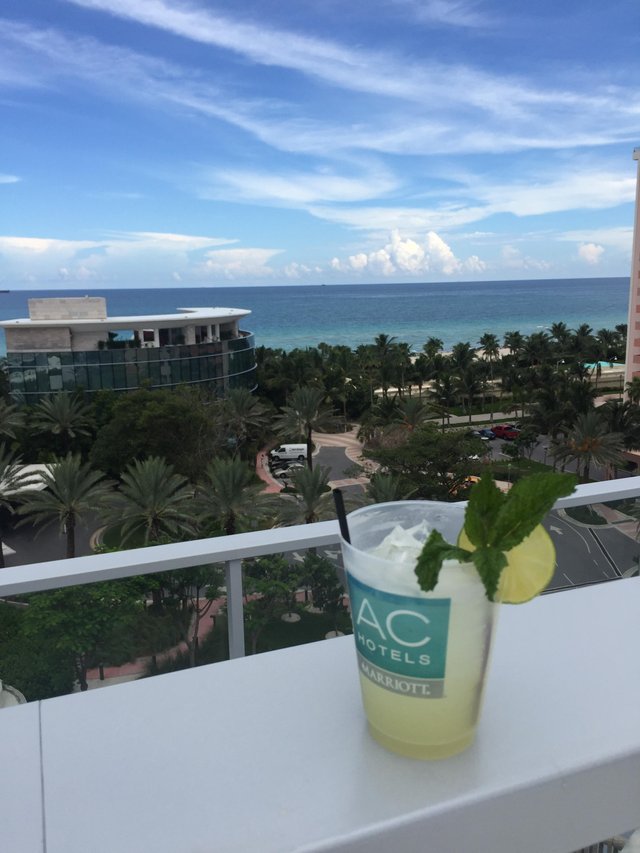 傍晚,在海边走了走,拍了些照片,沙滩远不如厦门的细腻,直硌脚。
By sunset, we walk around on the sand and took some pictures. The sand quality is bad which is too rough.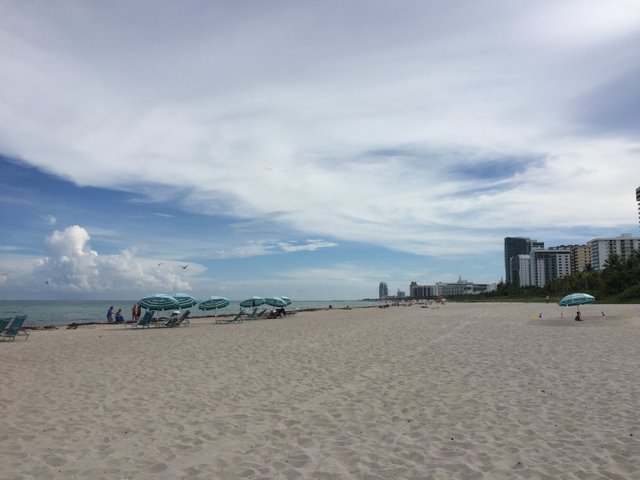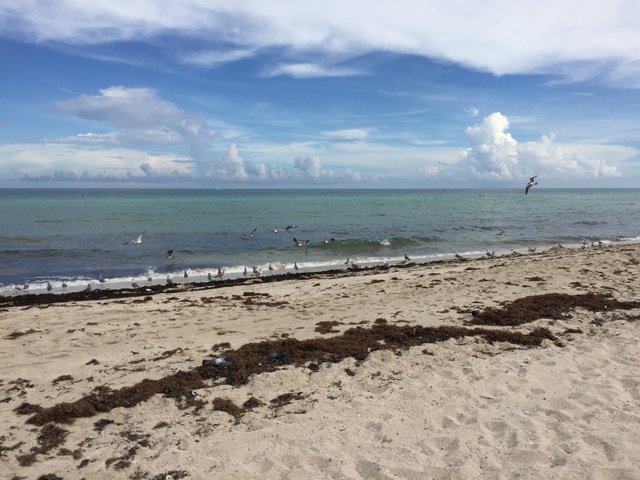 晚餐吃了久负盛名的小古巴。客人稀稀拉拉的,比服务生还少。他们操着飞速的西班牙语在后厨插科打诨,几个壮汉已经放下手中的活给玻璃窗安装防护铁网。
We have the dinner in a famous Cuba restaurant. Not too many customer there, even fewer than servers. The servers were communicating with fast Spanish and some of them are busy with installing this kind of metallic protection for glass windows.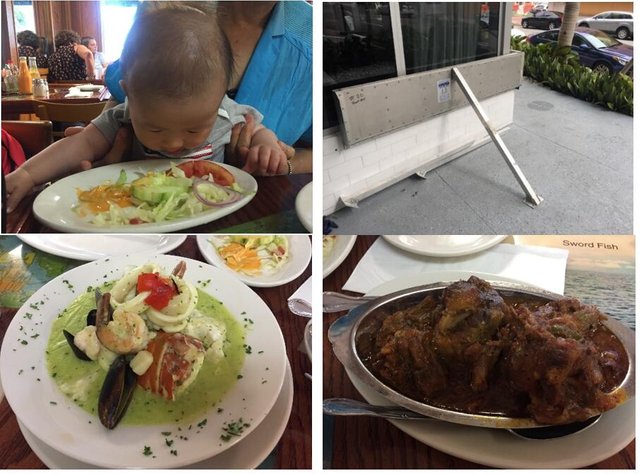 街上的人真的越来越稀落了。不知何处而来的风窜梭在街头巷尾。晚上吃完饭回来,前台小妹突然叫住我说,实在不好意思啊,根据最新消息,这里明天就要疏散了。11点之前,Miami Beach沿线的所有酒店都要疏散游客。
The people on street become less. The wind comes from somewhere unknown and seems to go somewhere unknown. When we reached hotel after dinner, the girl at reception stops us and told another bad news: All the hotels at Miami Beach has to be evacuated tomorrow before 11am.
All of us!!!!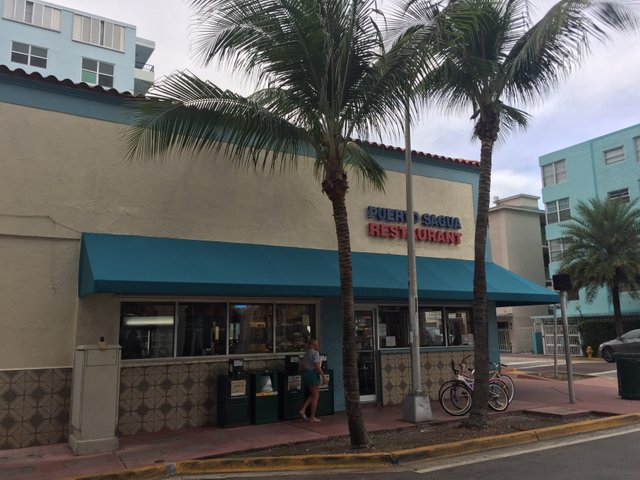 那一刻我瞬间懵逼,这窗外月朗星稀的一片大好,哪来什么飓风。那我明天要去哪里住,还能做啥?回房给妻子商量,基于暂时还没有收到后天航班变更取消的消息,心里还抱有幻想,我们决定赌一把能飞,明天暂时去机场附近的酒店。给expedia打完一小时的电话更换迈阿密第二天的酒店已经是晚上九点多了。我躺在阳台的躺椅上,温柔的月光映着铂在海平线上的巨轮。远处的天空隐隐约约出现着闪电。母亲跟妻子换班哄女儿睡着。我内心其实特别愧疚,回想这几天旅程,几乎没有什么轻松玩乐的时光,不是跟女儿的瞌睡虫玩躲猫猫就是跟焦虑着飓风的美国人玩。她们都安慰着我说没事。微信里BBB说:无论如何,最重要的是在一起。如此想,心底当真宽慰了不少。
All of a sudden, I felt really astonishing. Look at this stary night!! How come the hurricane has such tremendous influences!! Well, where can I go and what can I do tomorrow!! I went back room and discuss with my wife. Considering that we haven't received the news regarding the cancel of our flight, we decide the bet that our flight will be on time. So we book a hotel closed to airport and spent another one hour to contact expedia to cancel the hotel tomorrow we are living in. When everything is done, it is almost 9 o'clock. I am lying on the beach chair in the balcony and stared at the wheel on far end of the ocean. The lightning comes out frequently but I cannot hear the thunder. My mom and wife took shift to comfort my daughter to sleep. I felt so guilty to them. Recalling the last few days, they never have a good time to enjoy this journey. They are both struggling with my baby and hurricane. They comfort me that it is totally ok. My friend also wechat me that it is all good as long as you stay with your family.
十点多了,我正准备睡下,妻子摇醒了我说。来邮件了。航班取消了。我感觉就像睡梦中被人倒了一盆冰水。之前的撤退计划再次流产。我心中转念浮出了好几个备选方案。去其他城市坐飞机?哪个城市?哪里的航班后天怎么样?。。。在迈阿密机场酒店等航班恢复?那要多久?我们给AA 的agent打电话,他们也是迷糊的感觉,答复说最早最早也要11号才能飞。妻子问他说你确定11号能飞?她笑笑说,天知道。。。那要不然,租车?。。。开回Indiana?这个想法其实之前在我脑子里盘旋闪现了好多次,最后真的走到了这一步,最后到了下定决心拍板的时候,心底真的是没有底。美国灾难片看多了,高速大堵车,油慌,水慌,休斯顿的惨剧就在昨天。这事儿,今天就摊在自己身上了。
It is almost ten o'clock and I am getting ready to sleep. A sudden, my wife wakes me up and said slowly, SEE THE EMAIL, OUR FLIGHT IS CANCELLED!!!! I just feel like a man pouring a bucket of iced water from my top until bottom. That means our previous plan done 1 hour ago has to be totally revised!!! What is the alternative? How about take flight in another city? Which city? How about the flight status there? How about just stay in Miami airport hotel until the flight is back?
How long it gonna take? We call American airline again and the agent gave the feedback so blurredly: the earliest flight I can changed to is around 11th. My wife ask: are you sure you definitely can operate it on time by that day? The answer is no. god knows. How about renting a car and drive back to Indiana? Actually this idea has been in my mind for couple times. However when I have to face it directly, I am not 100% sure. We all watched tons of American-style catastrophic movie, the traffic jam on high way, the shortage of oil, water, and even the tragedy of Houston just happens. I really hate it which happen on me.
谷歌地图打开,回程是20小时,1300 miles。考虑到女儿太小,容易累。我们决定把形成划分为4天。第一天的道路设计就成了困难。原本最近的路应该是75号公路,穿过奥兰多,到达Gainesville.可一看酒店,早被预订一空。最后只能选择了北上,先到Jacksonville。在网络上,我也看到了有人pose出来的逃亡路线图。只是个简单的二选一即可。
I have no choice but to open google map. The way back to my home, Indiana is around 1300 miles, 20 hour unstopped drive. Based on my baby's condition, we plan to divide the trip into 4 days. However, the first day trip becomes a problem. The shortest way is to take route 75 and pass through Orlando to reach Gainesville. Unfortunately, the hotels there are all fully booked. So we choose to drive toward north and reach Jacksonville. See this escape map posted on internet.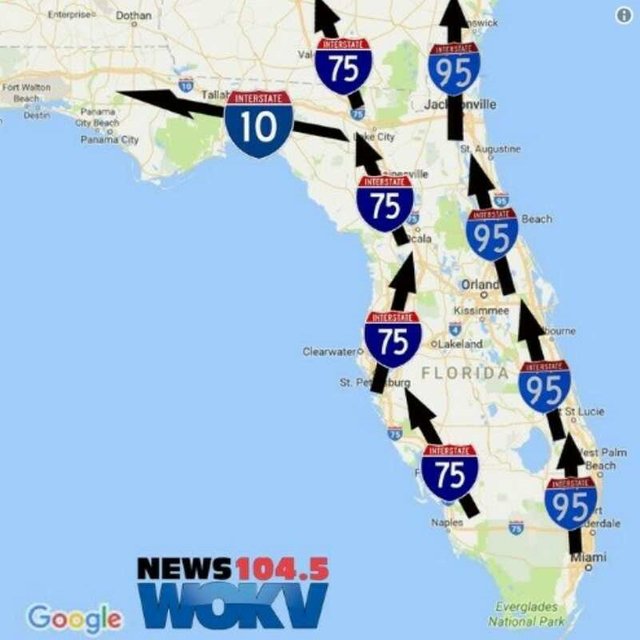 ---
Author @seabearflying, Posted By @someone