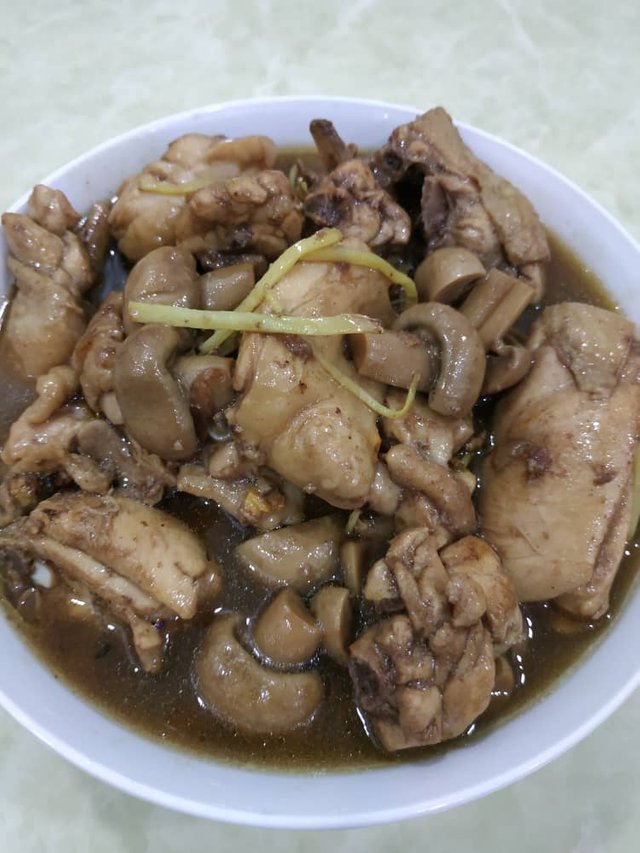 Today I will be sharing my cooking as well. Its a family recipe, my grandma used to cook it my mom when she was young. So, eventually i took a liking towards this dish. This dish consist of only 3 stuffs. Chicken (of course), ginger and mushroom.
Ingredients:
Chicken (chopped into pieces)
Mushroom (canned, cut into half, most importantly drain it before cooking.)
Ginger (slice into stripes)
Salt
Dark soy sauce
Corn flour
Steps:
Heat the wok with medium heat, when its hot, fry the ginger until golden brown (without oil).
After ginger is golden brown, add the chicken into the wok (without oil as well), fry the chicken, make sure flip it every few minutes to avoid burning.
Fry the chicken until the chicken is cooked on the outside but raw on the inside.
Add half cup of water and mushrooms.
Fry the chicken and mushrooms for few minutes and cover the wok and simmer for 5 minutes.
Add salt and dark soy sauce to taste.
Mix 1 small teaspoon of corn flour with some water and pour into the wok while flipping the chicken.
Voila, Ginger Mushroom Chicken is served. Hope you enjoy!
Thank You!!
嗨!大家好今天我又介绍我的食谱了。这是我妈妈的娘家,也就是我的外婆其中一道最拿手的好菜。姜丝蘑菇鸡肉香!只是妈妈把姜片改成姜丝,因为妈妈喜欢吃姜丝不太喜欢吃鸡肉!如果你喜欢吃 potato (土豆,马铃薯)也是可以加入的。个人口味的喜爱。
材料有;
鸡肉或是鸡腿剁成块状
罐头蘑菇一罐(大粒的可以切成一半)
姜切成丝(如果喜欢切成片也是可以)
调味料;
盐~一点
味精~一点
鸡精~一点
生抽~一点
黑酱油~一点(颜色)
薯粉~一大汤匙(让汤汁浓稠)
现在是煮法;
把锅烧热,不需要倒入任何的食用油,用中火把姜丝炒至金黄色收起备用。
现在把鸡肉倒入锅里爆香用中大火。爆香的同时不要忘记翻炒鸡肉。
当鸡肉爆香至金黄色时可以加入半杯的水,罐头蘑菇可以加入了。
继续的翻炒一下鸡肉和蘑菇,加盖继续的焖大约三十秒。
现在可以把所有的调味料加入,再盖上锅盖焖至鸡肉全部熟透。
最后可以倒入大薯粉了。
可以上桌了。