Collect some Steemit mention tool and Steemit voting bot | 介绍几个Steemit提醒工具和点赞机器人
Steemit 提醒工具
Steemit mention tools
很多时候,我们并不是能够整天在电脑面前,可以随时打开网页刷Steemit。尤其是我们在外的时候,并不能及时收到别人的回复或者点赞或者是自己喜欢的帖子,所有其实使用一个Steemit提醒工具可以解放我们,就算不打开浏览器刷Steemit,也能在手机待机的状态下第一时间收到别人给你的评论或者点赞。
In many cases, we are not able to be in front of the computer all day that we can open the web page to browse Steemit at any time. Especially when we in the outside, and can not timely receive others reply or some praise or posts that oneself like, all actually use a Steemit remind tools can liberate us, even if not open a browser to browse Steemit, can also be received in standby state for the first time someone give your comments or some praise.
GINAbot (Developed by @kemane and his team)

Ginabot可以通过我们的设置来过滤收集更新的区块。如果Ginabot得到我们感兴趣的东西,她会直接向我们的Discord账户发送信息。

​

Ginabot can collect the updated block data and filter by our setting .If Ginabot get something we are interested in ,she will send a direct message to our Discord account

Ginabot支持的功能如下:

​

Ginabot has a powerful function as list below:

New information of our preferred Platform

Comments our posts

Mentions us

Every word you prefer to motice

Follow, Unfollow + Mute on us

Resteems our post

New post from any author

New post with any tag

Blacklist user(s) and/or tag(s)

Upvotes, downvotes and cancelling of votes

Transfers

Delegation

Curation and Author Rewards (NEW)

​
---
Steemmention (Developed by @ety001 )

Steemmention是一个平台,它可以通过发送电子邮件到我们的邮箱来提醒我们的帖子有新评论,在Steemmention平台上,无需注册任何其他帐户。

但Steemmention平台只支持评论,但点赞或者转发等其他功能都不支持的。

​

Steemmention is a platform that can reming us by sending a email to the email bind on our Steemit account without registering any other account.

But Steemmention platform only supports comments while not reminding us if our posts got a upvote by others.

​
---
Wechat mention bot (Developed by cha0s0000)

这个工具是我目前自己开发测试的。当你在你的帖子上收到点赞的时候,机器人会直接向你的微信账户发送信息。

​

This mention tool is developed by me .When you receive a upvote on the your post ,the bot will send a direct message to your Wechat account.

show like below
对这个提醒机器人有兴趣或者希望通过微信得到Steemit的提醒的用户可以添加以下二维码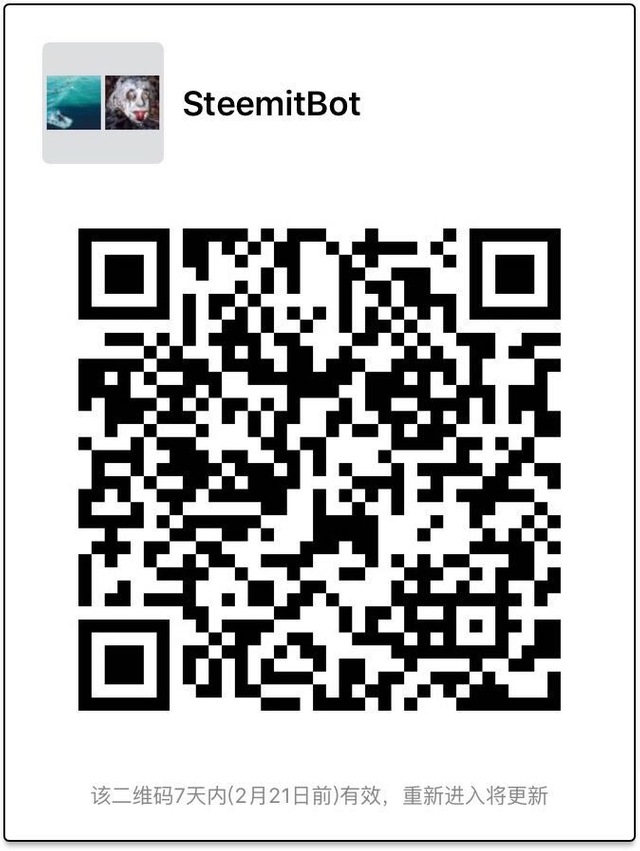 ---
Steemit点赞机器人
Steemit voting bot
点赞机器人大部分是需要你先转一定数量的SBD或者Steem然后留言一个帖子的url,机器人在SP恢复到一定程序的时候,就会自动给你点赞,点赞的力度是根据你支付的SBD或者Steem来确定的。
Steemit点赞机器人有部分的声望是很高的,所以,支付SBD或者Steem来获取点赞
一来可以获得收益
二来可以推广你的文章
三来可以迅速提高自己的声望
对小鱼的成长有很大的帮助。
Voting bot is mostly need you to pay for a certain number of SBD or Steem then leave the memo with your post link , then when the robot SP recover to a certain procedure will automatically give you upvote according to your SBD or Steem you paid.
Some Voting bot have a high reputation, so pay SBD or Steem to get upvote .
First ,you get the benefit.
Second, you can promote your article.
Third, you can quickly improve your reputation.
It is very helpful for the growth of small fish.
介绍几个点赞机器人:
Introduce some voting bots:
....