Freedom! (Monthly newsletter)
Hello brothers and sisters! 😃
Freedom!
God has been setting me free from a religious spirit! Shortly after I turned to God in 2014 I became "burdened again by a yoke of slavery" (Galatians 5:1). My ascetic striving proved that I forgot about Christ (Galatians 5:2). God set me free from sin in March 2014 but I then quickly became a slave to the law.
Early on I heard and believed the lie that God is distant and that we have to do certain things to draw close to Him. This lie of a distant God is pagan in origin and has been taught for thousands of years. This lie has shaped much of what we (largely, as the human race) believe about God.
I think that many are trapped in what I have recently been freed from and hope that by declaring some truth, many will experience freedom! :)
The pages of the Old Testament are filled with God continually working with people who understood Him in a very incorrect way. When Jesus came, He revealed what our Father is really like. But these wide-spread lies still infiltrated the early Church and became known as "(Greek) Gnosticism." The heresy of (Greek) Gnosticism is what Paul was fighting against in the letter to the Galatians.
"(Greek) Gnosticism"/dualism teaches that the "spiritual" realm is "good" but the physical/"unspiritual" realm is "bad." Gnostic practices look like spending lots of time in "spiritual disciplines" like fasting and prayer—out of a place of thinking that these dead works will "earn" them something. The truth is that God is already pleased with us—before we do anything—good or bad! 😃 This sets us free from a performance mentality! 😀 In fact, the only way we can actually separate ourselves from God is to try to get nearer to Him through our own ascetic striving! We couldn't get closer to Him even if we wanted to! We are in Him! And He is in us! :) "You who are trying to be justified by the law have been alienated from Christ; you have fallen away from grace" (Galatians 5:4).
Gnostic practices try to detach oneself from the physical realm and enter and remain with God in the spirit realm. Taken to the extreme, Gnosticism can look like mental gymnastics like trying to concentrate on God 24/7—at the expense of ignoring and shunning everything in this physical realm.
In the incarnation, God showed us how He designed us to enjoy life in His created world—with no separation between God and man, the spiritual and the unspiritual, heaven and earth.
The new covenant declares how we start from a place of union! We've already arrived! :) This is the good news! Its all about just enjoying what Jesus has already done—not trying to re-accomplish the finished work of the cross. "I do not set aside the grace of God, for if righteousness could be gained through the law, Christ died for nothing!" (Galatians 2:21)
Soon after I turned to God, I was strongly influenced by the mystics of the Church (like the Church fathers) who experienced God in incredible ways. While their intimacy with God is something to be desired, some of them had really bad theology and turned enjoying relationship with God into a work. Some have taught formulas, techniques, practices and steps that look a lot more like the prophets of Baal in the showdown on Mt. Carmel than the simple, childlike faith of Elijah (1st Kings 18:20-40). This kind of teaching (formulas, techniques, practices, and steps) is still prevalent in the Pentecostal/Charismatic streams. "Are you so foolish? Having begun by means of the Spirit, are you now trying to finish by means of the flesh?" (Galatians 3:3)
After God finally convinced me that I was pursuing dead works/religion/Gnosticism, I finally abandoned these obscure spiritual practices. In His own way and time, God has encountered me in wonderful ways!
For example, contemplative prayer/soaking worship/practicing the presence of God is an effortless, wonderful gift available to everyone! But some have turned this enjoyable privilege into a work. "A little leaven leavens the whole lump." (Galatians 5:9).
A couple years ago God began telling me to cease my striving and enter His rest. Trapped in religion, I could not. So He has been making me lie down. God has been exposing the lies I believed and has shown me the truth.
After a couple years of resistance, God has finally convinced me why rest is important. Rest reminds us that we are saved by grace, not works. Rest helps prevent a religious spirit. God has broke down the sacred/secular divide I used to have in my mind and is helping me rest in Him instead of focusing on trying to earn something.
Ironically, without rest, growth is stunted. God showed me that proper rest is actually essential for optimal growth. "There remains, then, a Sabbath rest for the people of God; for anyone who enters God's rest also rests from his own work, just as God did from his" (Hebrews 4:9-10).
Below is a picture of me practically combatting this religious spirit of gnostic dualism last week by playing "king of the raft" with my sister Kayla LOL! 😝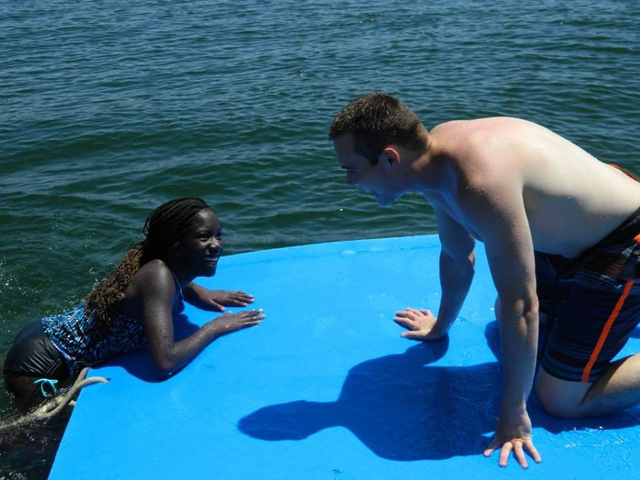 I got to enjoy 2 weeks of fun and games with my family this past month! 😁
Teaching!
On Monday nights at the HOPE we've been doing a series on night and day worship/prayer. A couple weeks ago I taught on the passage of scripture that we've been meditating on this past month: Isaiah 56:7. Below is a link to a video of me re-recording this teaching (the original recording was hardly audible):
https://www.facebook.com/ben.mercer2/videos/10160843186010085/ Here are my notes to: https://www.facebook.com/notes/benjamin-jacob-mercer/god-lives-in-you/10160843222200085/ Its super dank! 😆 I didn't want anyone to miss out!
Healing!
Praise Jesus for the mighty work He did on the cross! 😃 By His stripes I was healed (1st Peter 2:24). I am experiencing this reality more and more! 😄 Every day I am feeling more and more "normal" in both my mind and body as wholeness is being restored to me! :) Praise the Lord!
Moving!
God opened up a sweet door for me! In a couple weeks I am moving into a house with some friends from the HOPE and University Christian Outreach! 😀 Its a wonderful setup! Praise God! My new address is 519 N Pine Street, Lansing, Michigan, 48933.
Prayer requests:
That Holy Spirit would teach me more about who I am in Christ.
That God would help me believe that I have a sound mind.
That He would increase my financial partnership team.
---
---
---
Thank you so much to all who have prayed for me! I really appreciate all of you so much! 😊
And thank you to everyone who has partnered with me financially! You play a huge role in everything that I do! Together, we are bringing God's kingdom here! :) Do you want in on the action? If you want to be a part of continuing the work that God has me doing you can give online or in the mail:
Electronically:
https://www.paypal.com/cgi-bin/webscr?cmd=_s-xclick&hosted_button_id=2RED68AZQNG6J
Mail:
Make checks out to Spirit of Christ Church and send them to:
Benjamin Mercer
519 N Pine Street
Lansing, MI, 48933
(Please include "for Benjamin Mercer" in the memo)
Thank you for your prayers and financial partnership! 😃