#A CALL TO HOLINESS#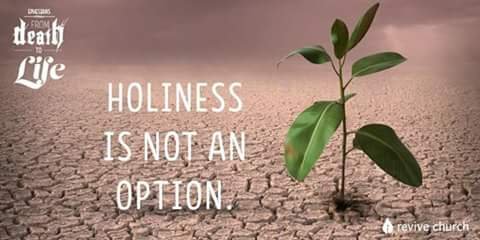 In Ghana, the Akans have a saying which goes like this: "a crab does not give rise to a bird🐦." What this means is that, what a crab is, is what it gives rise to & what a bird🐦 is, is also what it gives rise to. Just as a bird🐦 cannot give rise to a crab so a crab cannot give rise to bird🐦.
The God that we serve is a God of holiness; God is holy & holiness is God. Holiness is that which defines the very essence & being of God.
The Prophet Isaiah puts it in Isaiah 6:3 when he says "Holy, holy, holy is the Lord of hosts." We proclaim this holiness of God whenever we celebrate Holy Mass & participate in other devotions.
In the last line of today's first reading (I Peter 1:10-16), God through St. Peter tells us to be holy when He says "You shall be holy, for I am holy." This invitation is not just limited to the Clergy, Religious or Seminarians, but to all.
A holy person is not just a person who cannot sin, but a sinner in need of grace; a person who gets up after falling. May be you do not have a good reputation; may be you do not see yourself in a positive light, but the Lord is calling you to a life of holiness.
My dear parent, brother & sister, you have what it takes to be holy. Holiness is indeed a struggle & with the help of God's grace we can surely get there.
NB:
DON'T ONLY EXHIBIT HOLINESS IN CHURCH, BUT WHEREVER YOU FIND YOURSELF ELSE THIS WOULD LEAD TO EXHIBITIONISM.

HOLINESS SHOULD BE REAL & NOT FAKE.

HOLINESS SHOULD NOT SEEK TO PLEASE PEOPLE, BUT GOD.

HOLINESS IS A MUST FOR YOU; IT IS NOT AN OPTION.

HOLINESS DOES NOT END IN THIS LIFE, UNTIL DEATH.

YOUR HOLINESS MUST MAKE YOU A BETTER PERSON & IMPROVE THE QUALITY OF LIFE OF OTHERS.

HOLINESS IS A GIFT FROM GOD (cf. Pope Francis); PRAY FOR THIS GIFT NOW.
May God overshadow you with His presence, may the holiness of God be made evident in your life, the Father & the Son & the Holy Spirit.