✴️ IS THE CRYPTOCURRENCY CORRECTION OVER? OR ARE WE IN FOR A "MAJOR" PULLBACK?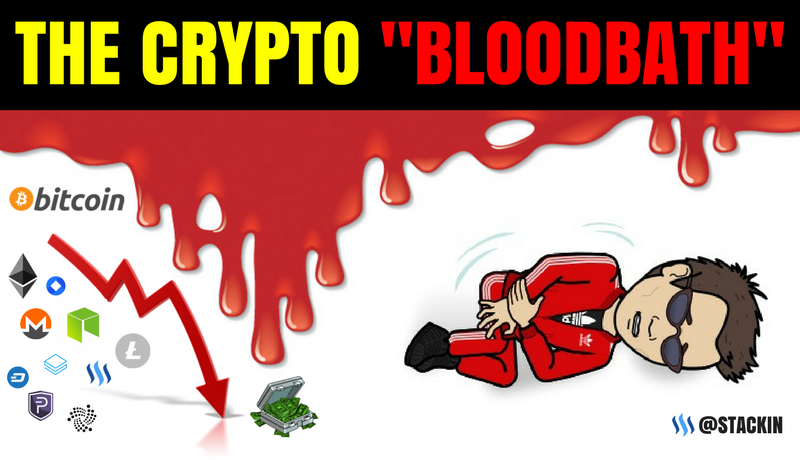 "HODL is a slang term and Internet meme that is used in the Bitcoin community when referring to holding the cryptocurrency rather than selling it."
What's Up Late Night Crypto Lovers! 
For the last few months, I've been having a pretty tuff time sleeping due the excitement of the Cryptocurrency markets. There were many times that I was checking coinmarketcap.com every hour on my iPhone to see where my favorite "Cryptos" were priced at. 🤣
I thought it was only me but soon realized it was almost everyone... All my "Social Media" friends where posting and talking about cryptocurrencies about how much "Gainz" they were getting 24/7. 
Things kinda shifted last week, it seems to me that almost everyone got completely silent when the markets to start turning red. 😂
This tends to happen all the time in the markets, when people see things going straight up... everyone gets excited but when it turns negative, they get quite. I guess thats how it goes.
I seen it happen in 2006 with the real estate market, everyone was panic buying at all time highs and everyone said its the "best time to buy" until the crash happened in 2007 and it got quite again. I was looking at all of them cross eyed 🤨🤣
The same things happen to Silver in 2011, Silver was mooning from $18 all the way to $49 in several months and I couldn't even scroll through my facebook newsfeed without seeing a "Silver" post. Then a year later, Silver dipped all the way back to $20 and no one said anything again lol
I'm no way implying that this is going to happen to cryptocurrency markets, it's a totally different game here. However, I want everyone to realize anything can happen these days.
When things get quite, it's time to pick up positions if you believe in the company or technology. We may even see Bitcoin test $3000-$7000... who knows, no one has a crystal ball... just an opinion. 🤷🏼‍♂️
The next few weeks will be a very rocky one in the markets and I think we can test the Bitcoin price of $8,000, taking the whole alts coin with it. 📉
I hope I'm wrong, but the charts and sediment is telling me so... and if that is the case, awesome! I can buy some more on the dips. If not, I will still have all my positions. 💰
So do you guys think the"Bloodbath" will continue or are we about to "bounce" to all time highs? For those who does not know that lingo, it means everything turns red and start dipping to"lows" that people thought they will never see for a while. 😎
One other note, just remember you are not losing anything until you sell. Once you sell your positions for a loss, that's when you really do lose. 🙇🏼‍♂️
"Keep On STACKIN" 💞

---



---