✴️ DID I JUST GET SCAMMED FOR OVER 650+ STEEM!! BE CAREFUL!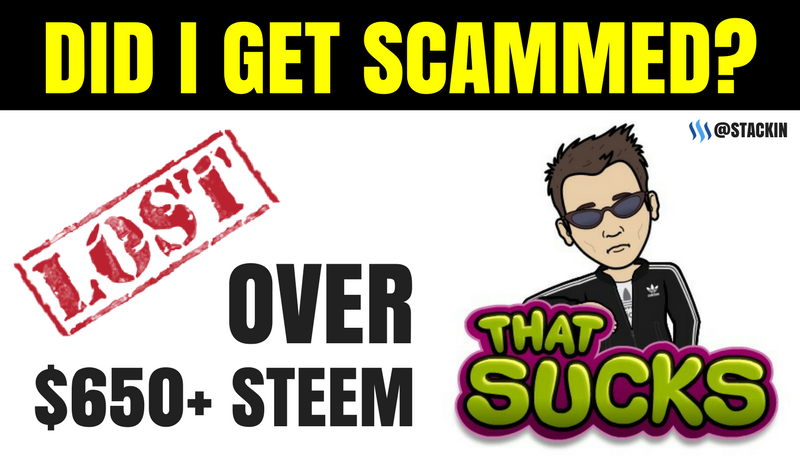 Always take full responsibility for every decision you make in life, learn from it and move on ~ Charles Fuchs.
What up Steeemians, It's been a while... I've just been busy with the craziness that is happening in the cryptocurrency markets and the family holidays. 
As you guys my have seen on Steemit the last several days, there was lots of drama going on with @zeartul (the owner of @bellyrub) for taking off with everyone Steem investment that promised a 45% APR return on investment to be used to fund the bot voter. 👨🏼‍💻
You guys know me, I'm a very well drivin' Steemit community kinda guy so when @zeartul asked privately to invest, I didn't think twice. 💁🏼‍♂️
So 3 months ago, I invested over 650+ Steem (+250 extra) and as being a nice guy... I even voted him for Witness 😳 
Before I jumped to any conclusions and said my 2 cents about the subject, I wanted to wait and see what the community had to say first on what just happened with this so called "Scandal". 
I'm the kinda guy who takes full responsibility for every action and decision I make in life... I just don't have that "Victim" mentality. 
However, I can afford the loss as the crypto market gave me huge gainzzz this year but for all those people who fell for this "scam" that can't afford to lose, I feel for you. ♥️
It sucks to be "Scammed" and "Lied" too in life but let this be a learning experience for all of us and move on to greater things.
Also, I want to give a big shoutout to my boy @neoxian as he stepped up in the Steemit community to help give back 30% to all the victims who got hosed.
MAD RESPECT for you Boss for doing this!
You can visit @neoxian article here explaining it more on what he is doing to help (while you're there, vote for him as witness)!
https://steemit.com/scam/@neoxian/zeartul-bellyrub-scam-compensation-effort
So guys with that being said, be careful out there. There are lots of wolves in sheeps clothing... always looking for their next victim.
.... but guess what, the people of Steemit and the community will always have your back!
STEEM ON FOR LIFE!

P.S. For those who are interested in following my daily activities that I do in very "short form" called "Micro Blogging" on Steemit.
Follow me there: @charles-fuchs. 
---



---