Charitable deeds, let's crowd-fund for kids in Bangladesh, fruits and snacks every week, nr. 59
All liquid STEEM from this post will still go to the @SchoolForSDG4 project but the STEEM power will stay in my (@lindahas) account.
A week from now I will be writing to you from a different place. For the next two months, I will be living with my aunt and trying to figure out everything that is left. As it often happens, when things change, an individual (me) gets confused. And right now is the time when I am really doubting all of my decisions. But we will see. I think I will be better. I just need to get to my new destination.
Here is the @SchoolForSDG4 steemit page
Also, @fundition is supporting our favorite charity school on the platform. Feel free to check out their page dedicated to @SchoolForSDG4 here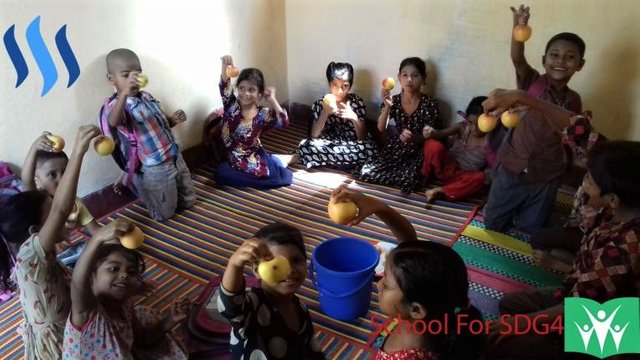 This week the school life continued its course. The kids had apples for the Weekly fruit program and are studying to become the best of the best. I wonder how these apples taste? Right now it is that time of the year when you can get garden apples anywhere here. In farmers markets, in the garden, on the side of the road, where someone sells them to you or if an apple tree is leaning over the fence. Hey! It is free real estate!
I am just wondering what flavor these apples have. Is it sweet or sour? Mushy or hard? Fast filling? Let me know your guess in the comment section!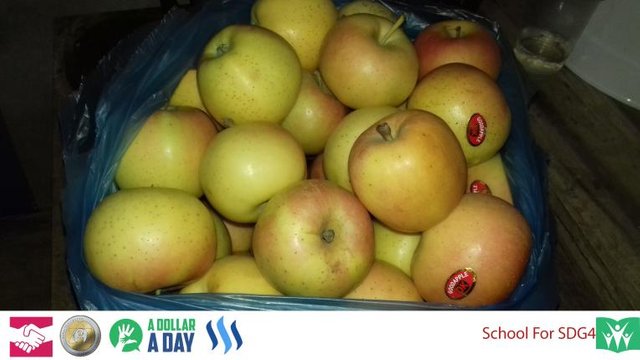 For the next week, Mohammed (@Azizbd) has a plan to take the children to the chicken farm. To work as volunteers and learn the tidbits of the business. I hope they learn loads about farming as it is a very important occupation that none of us can live without. After all, it feeds us! Literally.
I am sure we will have loads and loads of pictures to look at. And, maybe, the experience will inspire future business rulers! On top of their respective field.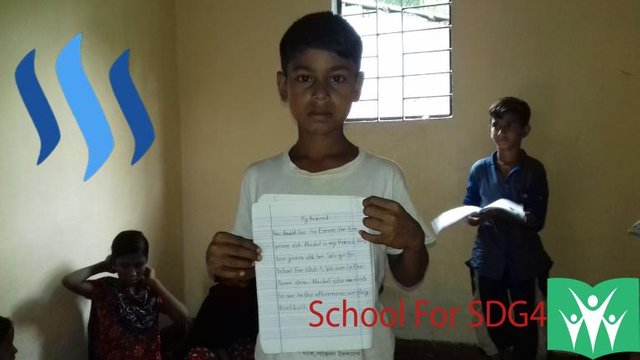 In the picture above you see Emon. He is studying in grade three at the moment and wrote a story about his friend. What a neat handwriting he has! Let me tell you, I was horrible at this as a child. I wrote with the ugliest of handwritings and was one of the last kids in class that received a pen to write with instead of a pencil.
I love to see personal pictures with stories behind them. How about you? Don't you think they are so much more dear and interesting?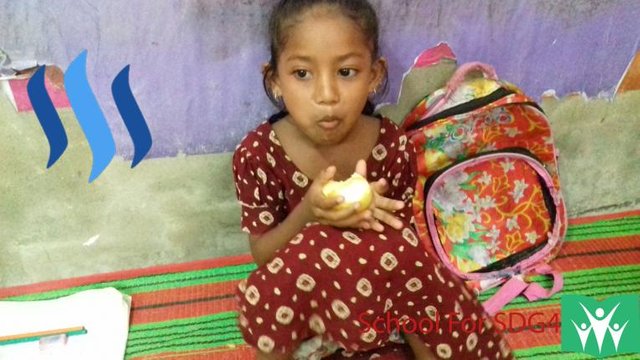 The school also has its usual ups and downs. A student, Alal, was skipping school for a couple of days but is going again after Mohammed visited him. He had been sick before so he wasn't attending but he was also selling sugar canes and earning 0.60 cents a day. I know how kids find ways to earn little moneys and it would not be so bad if he did so, but Alal worked 10 full hours which means this was an overtime gig!
Another schoolboy, Arif, left the area and is no longer coming to study at #SchoolForSDG4 which is sad. But I believe in him and hope that he will make it!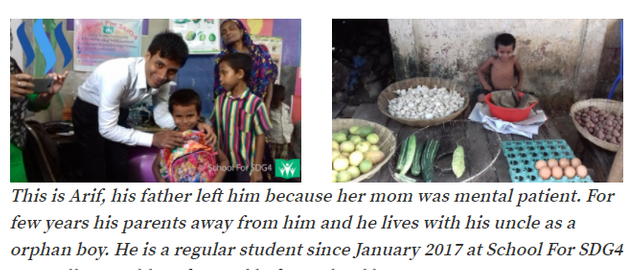 A snippet from the past
Another news is that concern Mohammed is that his family might be getting land through the court of law. For those of you who do not know, Mohammed's family has been in court for the past years as another family illegally claimed their land. Not it seems that the court is coming to an end and the outcome should be very positive as @Azizbd's family has all the proof and documents that should tip the scales of justice in their favor.
Also, another steemian might go to Bangladesh before I do, to help out at the institution. Crazy, right?!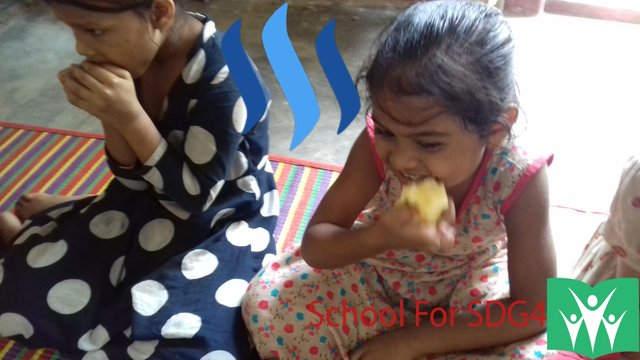 ---
All the pictures are recent and provided by @azizbd, any questions about the project can be resolved with him, he will be happy to answer any questions if you are interested to help this project and have any idea about how to make it better. Heck, he will even get up at 4 AM just to talk to somebody about ideas. Here is a link to his steemit chat: https://steemit.chat/direct/azizbd
If you would like to contribute by making a post, you can contact Mohammed (@azizbd) and he will provide pictures for you, anyone spreading the word is welcome. The income from the post can be sent to @schoolforsdg4, if you think you deserve any Steem for your hard work making a post, keep a dime, even a small donation from your posts means a lot to those kids.
If you have any Steem to spare, donations are welcome. @schoolforsdg4 is where you want to send them.
If you can't spare any Steem, because I know everybody has their lives to live and expenses needed to be covered, a simple up vote is very much appreciated, a resteem is encouraged. :)
Not all funds from this post will go into the school account. The SP will stay on my account so if you want to leave maximum impact, head over to @SchoolForSDG4.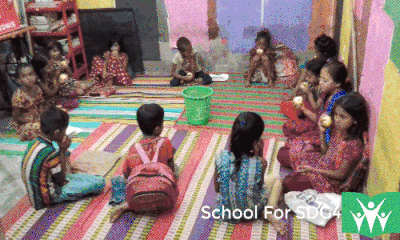 Wishing you an amazing day! Today, tomorrow, and forever.
Linda