Charity and generosity in chain!
Hello dear readers!
What is charity about and why join it? / What is the use of helping? / I am not responsible for this! / This is a matter for governments!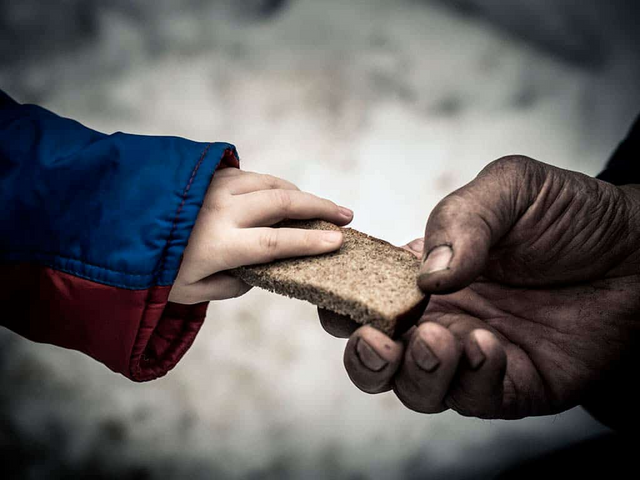 Fuente
These are questions and affirmations that usually arise when necessary. According to the ONU global food program, approximately 821 million people suffer from hunger worldwide, figures that you can find in a report published in the Hunger Map of 2018, an update that they make every year and that you can find below:
---
---
---
There are several reasons why there are so many people suffering from hunger around the world, this is being studied worldwide trying to identify causes but try to reduce this shocking figure.
In Venezuela this problem was accentuated by an economic and social crisis that takes several years, with a hyperinflation that consumes the salary of people who see helplessly as money does not reach them to buy the most essential and basic food products, this has caused the largest exodus ever recorded by our pee in its history.
We can do something?
From @hope.venezuela we are convinced that we can help improve the situation in some homes, providing food to people in need in Venezuela.
In @hope.venezuela we are aware that with this we will not change the world but we will make a difference for some families in Venezuela, so we encourage you to join and help us bless these families, supporting us with resources for this SDB initiative , STEEM, with other currencies or delegating steem power to our account, you can vote for this post, leave your comment and give resteem.
---
BTC: 14VpubY4M3X3sJdMGv3ZkDVEoUGV1LH5Vf
ETH: 0xC5bC511d852Be63Bc7d46e3cD9AbE57f18F12Bc6
LTC: LbncEfubydyJvJZcfCP1k587PjZibxWyg6
DOGE: DChQwidZGK2pZFgUNpqwnqnNUoc235qFwp
---
What is Charity:
"The attitude of one who works selflessly, in favor of others, without expecting anything in return is known as charity. As such, it can be understood as synonymous with altruism, philanthropy, generosity or solidarity. The word comes from the Latin carĭtas, caritātis.
In this sense, charity is applicable to the different solidarity actions through which support is provided to those who need it. Offering food and shelter to the homeless, providing clothes to victims of a natural disaster, donating a certain amount of money to charitable foundations, are all charitable actions. "
---
To learn more about the project, he sent you to read this introductory publication: Account separation !!! Charity project, Food donation in Venezuela.
---
| Food donation | Food donation | Food donation | Food donation |
| --- | --- | --- | --- |
| | | | |
---
Special thanks to our friend @wakeupkitty who joined this solidarity campaign, making this publication Dpoll 3: Do you give 1 Steem? that takes you to a survey at dpoll, in addition to the support of those who join, collaborating which will be mentioned in the next update of the project after the delivery of this December 27.
For us and families in Venezuela, any support counts, it may seem little to you, but your help will serve to bring food to the table of families in need in Venezuela.
---
Join and become a bearer of hope!
---