New slots available in help.venezuela program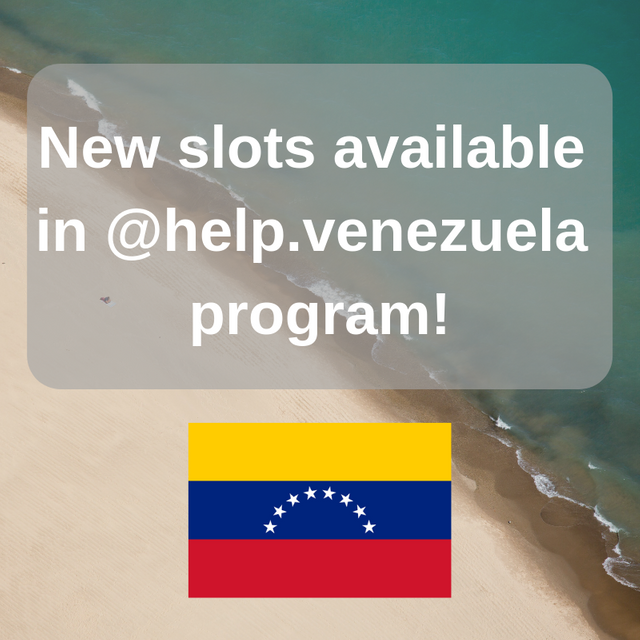 @help.venezuela has been created in December 2018 by @achim03 to support people from Venezuela by upvoting systematically their posts on steemit. Venezuela is in a state of hyperinflation and food and other products are very difficult to come by. In Venezuela every cent counts and with this program we want to give a contribution to make the lives of some people a little bit better.
A sustainable project
We wanted to create a project that helps in the long term. So we use the collected steem to power up the account in order to give significant upvotes. We always try to make sure that voting power stays as high as possible. We also try to increase the voting power by selling upvotes that are not used at certain times to smartsteem (-> use this link if you are not on smartsteem yet to support @help.venezuela). Like that we manage to increase the SP over time and can provide the help in a sustainable way.
So far the following people have received 100% upvotes from @help.venezuela (each upvote was worth around 0.02$)
source: https://steemyy.com
New slots available thanks to delegations
We have received amazing delegations lately and this allows us now to extend the program to more people. A huge thanks to the following people for their delegations:
Are you from Venezuela and would you like to be taken into the program ?
If you are on Steemit and you are from Venezuela, then you can apply now to be taken into the program. All your posts would then get a systematic upvote from @help.venezuela. To apply just write a comment to this post. In order to provide meaningful upvotes, the number of people that can be taken will be limited. We will favour people that write quality posts regularly and have been on steemit for a certain time. The people who are not taken now, will stay on a waiting list. If we get further delegations, we will be able to add them to the program at a later stage.
Do you know people from Venezuela and you would like to enrol them?
Feel free to write the name of people from Venezuela that you know as a comment.
***

Support this project to help people from Venezuela to fight a catastrophic economical situation: