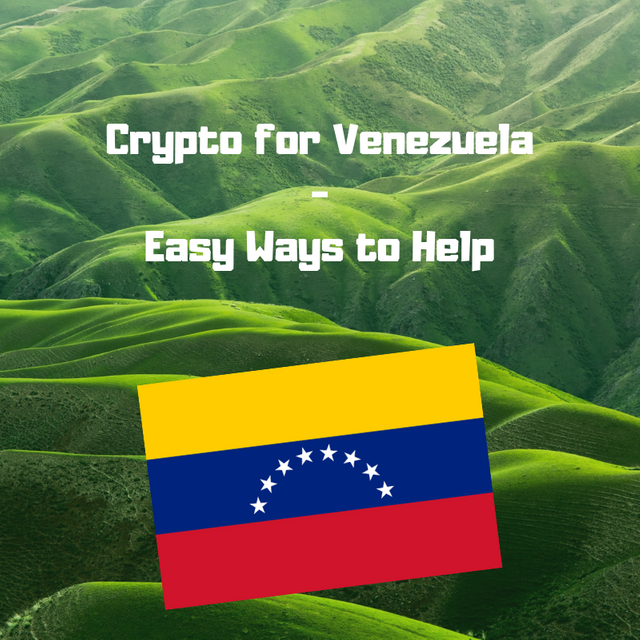 I started the project @help.venezuela 3 days ago. So far we could give 23 upvotes with 100% to the beneficiaries of this program. This is a nice start but it shows that for the moment it is not possible to add more beneficiaries to the program without reducing the voting percentage or the voting power. So we need more steem power...
read what this project is about here
Solutions how you can help to increase the Steem Power of @help.venezuela
I tried to figure out ways in which people could help this project without having to give anything from themselves and I believe I came up with a good idea ;-)
Step 1
A bitcoins address over block trades that transforms bitcoins automatically to Steem Power
A part from the obvious ways to use steem to help the account (upvote, delegate, etc...). I thought it would be a good idea to open this project not only to people on steemit. So I created an account with block trades and generated a permanent bitcoin address. When people send coins to this address the bitcoins are automatically exchanged into Steem Power and credited to @help.venezuela. This is the btc address 36Ac584ZEkHYroGb1TNmXgzg1K9mkCEkKc

source blocktrades.us
Step 2
Creating a system that allows you to earn free coins and at the same time support @help.venezuela
I linked this bitcoin address to faucethub.io which is a microwallet service. I now selected a couple of bitcoin faucets that give free bitcoins to its users and come with a referral system. If you now claim free coins from these faucets using the referral links below, you will generate referral revenues for this account. So you can now earn free coins and at the same time help this project!
To be able to claim from these faucets, you will need a free faucethub.io account. Check out this tutorial to understand what faucethub is and how it works.
The referral links
https://claimfreebtc.win/?r=36Ac584ZEkHYroGb1TNmXgzg1K9mkCEkKc
http://www.fautsy.com/?r=36Ac584ZEkHYroGb1TNmXgzg1K9mkCEkKc
https://claimbtc.in/bitcoin-faucet/?r=36Ac584ZEkHYroGb1TNmXgzg1K9mkCEkKc
http://zetabitco.com/BITCOIN/?r=36Ac584ZEkHYroGb1TNmXgzg1K9mkCEkKc
http://bitco.world/?r=36Ac584ZEkHYroGb1TNmXgzg1K9mkCEkKc
Step 3
Checking the progress and transfer to steemit
You can check the income of the account on faucethub at any time using the following link https://faucethub.io/balance/36Ac584ZEkHYroGb1TNmXgzg1K9mkCEkKc.
Please be aware that due to the fact that faucethub does not allow several accounts from the same IP, I had to link this wallet to my existing account. I also use this account to cover the payouts of my faucets and the available withdrawal account comprehends all btc addresses linked to this account.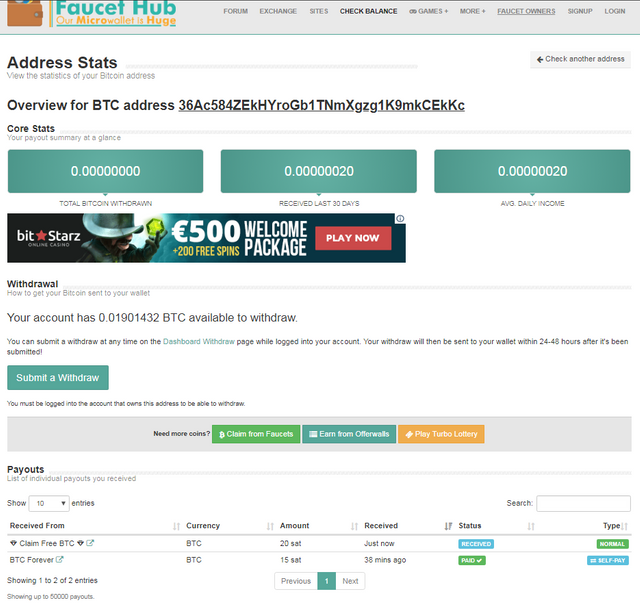 source: faucethub.io
Every 30 days, I will withdraw the bitcoins that have been generated by this wallet address. It will then automatically be transformed into steem power and associated to the account of @help.venezuela.
If you have some time to spend, please claim from these faucets to help us develop the project and earn some coins at the same time!
***

Support this project to help people from Venezuela to fight a catastrophic economical situation: