Quiero enviarles un Caluroso saludo desde el corazón de Venezuela, Calabozo Estado Guárico.
Este post es muy especial, porque me quiero tomar el tiempo para contarles el inicio de un.... "Y vivieron felices por siempre!"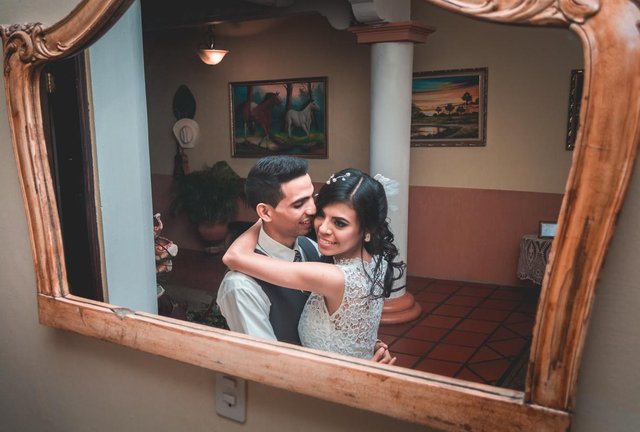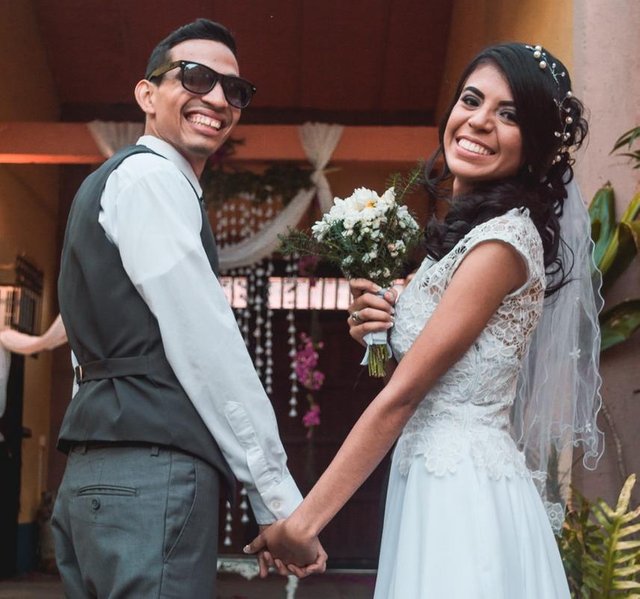 Ustedes han sido testigos fieles de nuestros inicios en esta Red Social
#Steemit
, y han sido un apoyo fundamental para nuestras vidas. Hablo en plural porque ahora somos dos en uno!!! El dia 17/02/2018
@Saulrico
y Yo, contrajimos nupcias. Y para nosotros fue hito en nuestro micro universo, fue un logro en el cual pudimos estar mega acompañados, mega apoyados. Ustedes formaron parte de este sueño, sinceramente jamas imaginé que las cosas sucederían así, pero Providencialmente así debió ser, en el momento preciso. Por esa razón he decido desarrollar es post, pido disculpas de ante mano si se torna largo, pero creo que valdrá la pena compartir las fotos de un día tan importante para nosotros y del cual ustedes formaron parte.
Les cuento... Nos Casamos Tres veces!! El dia 15 de Febrero nos casamos por el civil, a las 11:00 am. Ante la ley nos convertimos en Marido y Mujer. Luego celebramos una Boda Infantil y el día 17 de Febrero realizamos la ceremonia final!
Les prometo un post con las fotos de la segunda boda!!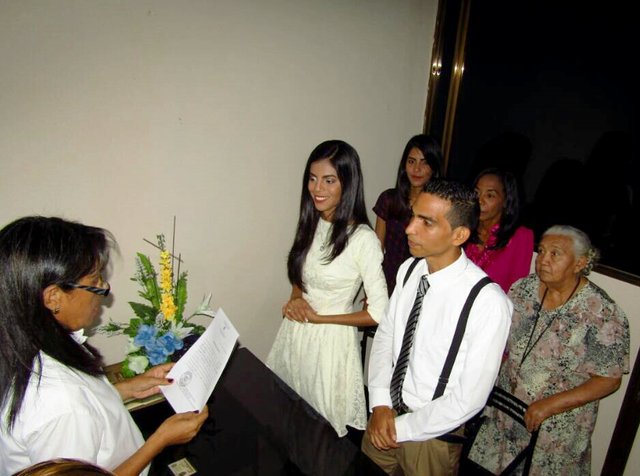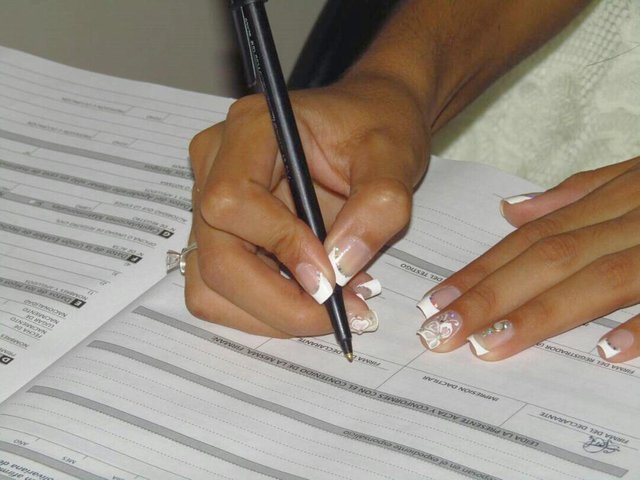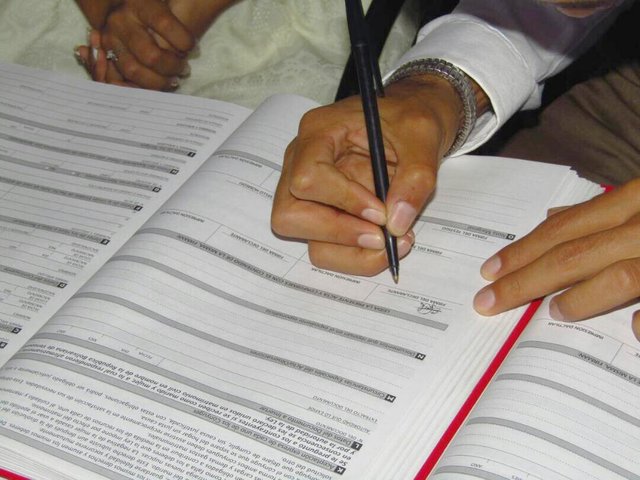 El 17 de Febrero fue el gran día!! Donde celebramos la ceremonia del matrimonio!! Realmente Fue un día mágico lleno de muchas emociones, llevábamos 8 meses preparando todo para que saliera a la perfección, gracias a la ayuda de mi cortejo, los preparativos finales estuvieron listos dos días, así que pude pasar el día de la boda relajada en casa, mientras las otras personas hacían lo que les correspondía para ese momento, me refiero a la decoración y últimos arreglos!
Nuestra boda fue realizada en "Posada La Colonial del Carmen" Sitiada en pleno centro de la ciudad de Calabozo. Todo inició a las 5:30 pm puntual!! No fui la típica Novia que llega tarde a su boda! Por motivos preferenciales deseamos casarnos justo en la apuesta del sol, dado lo romántico del momento y porque nos encanta salir a contemplar el atardecer.
Nuestra boda fue al estilo Vitange, y muy colorida. Realmente los colores cremas fueron un toque muy tierno para esa tarde-noche.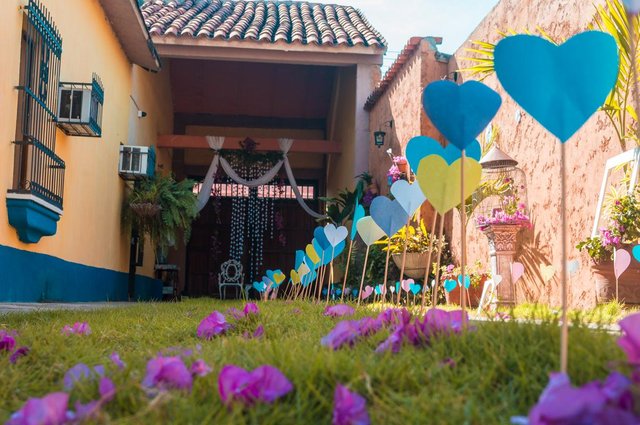 La personas llegaron temprano y pudieron disfrutar de la decoración y lo ambientado del lugar mientras yo era maquillada en una habitación de la Posada.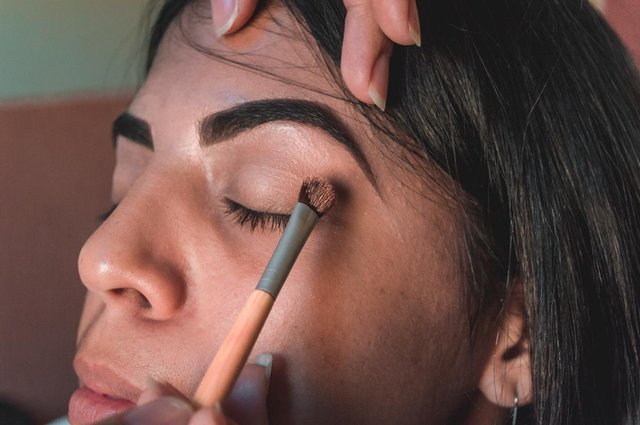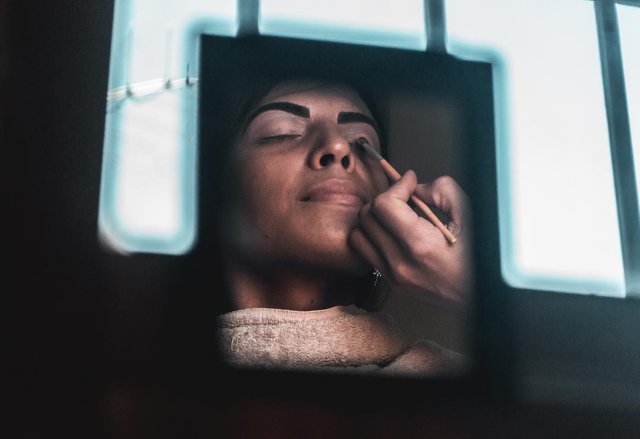 Mientras tanto el Novio estaba poniéndose Hermoso también.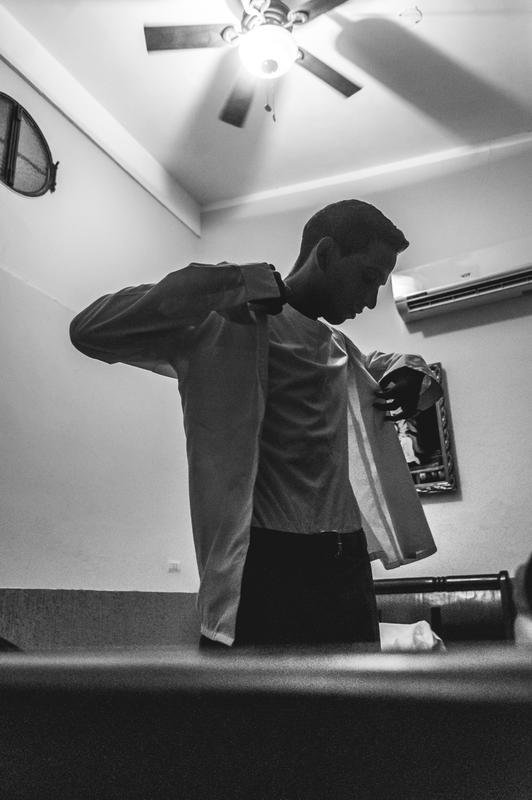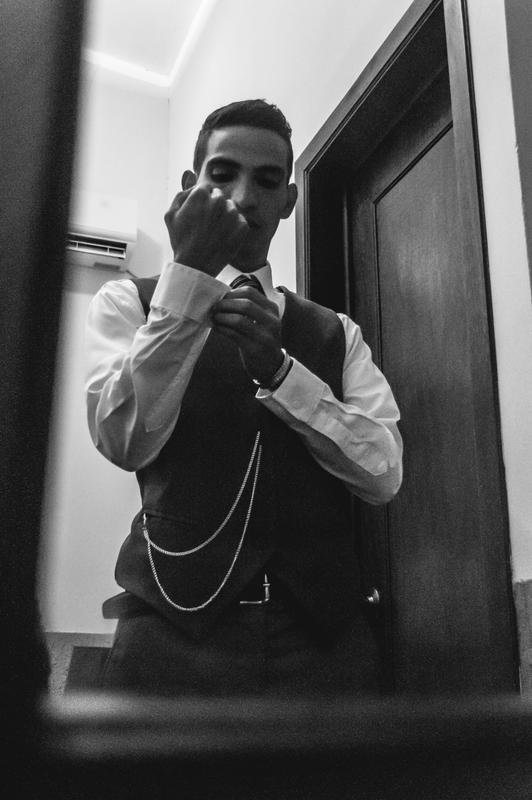 Bien... Como les dije a las 5.30 pm Hizo entrada El violinista interpretando "I see the ligth" de la película de Disney Enredados, el cortejo, los niños con los anillos, la dama de honor...
@Saulrico también hizo su entrada!!!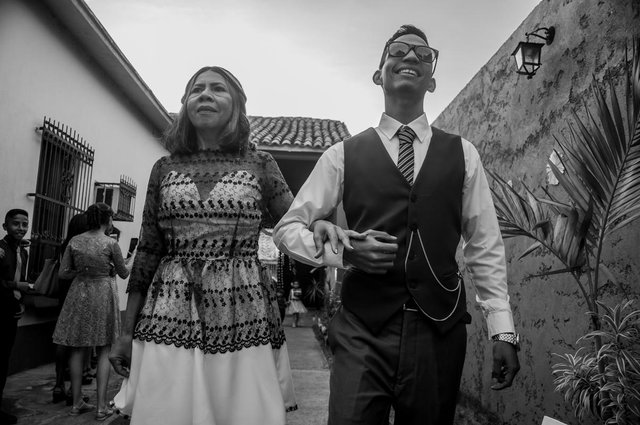 Y... luego me tocaba a mi... Llena de mil emociones y tomada de la mano de la mujer mas linda! Mi madre Rosa Ysabel... Caminábamos entre las nubes!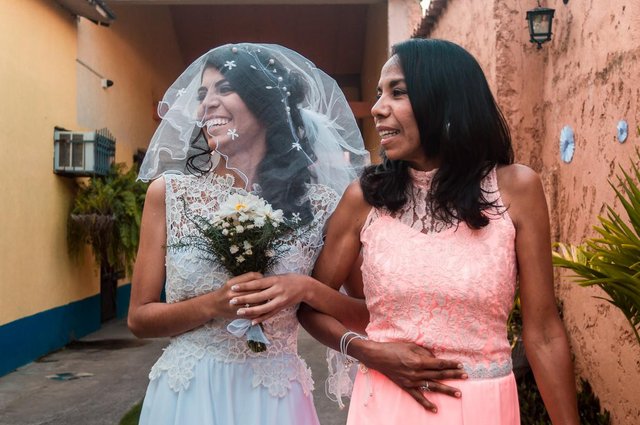 Debo decir que amé mi cortejo... Los chicos parecían sacados de la película... Hombres de Negro!! A manera de anécdota: @Saulrico se animó a que todos usaran lentes a última hora y yo pensaba que no iba a quedar bien para la entrada pero luego que ví los resultados finales... Me encantó!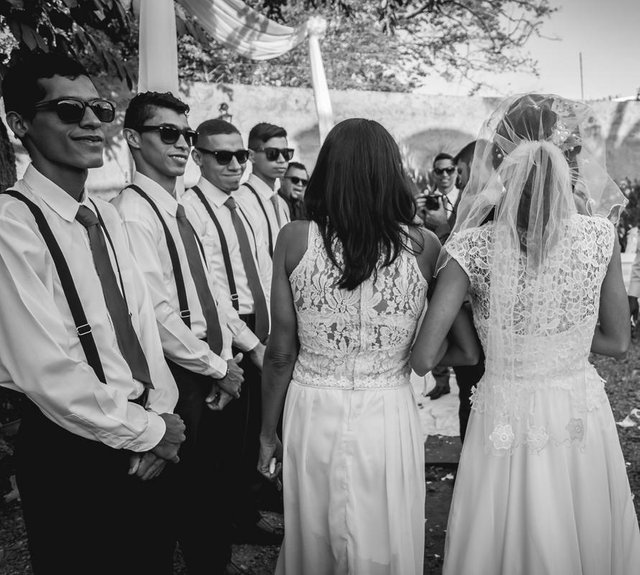 Y allí estábamos...En presencia Dios y de todos los seres queridos que nos acompañaron ese día!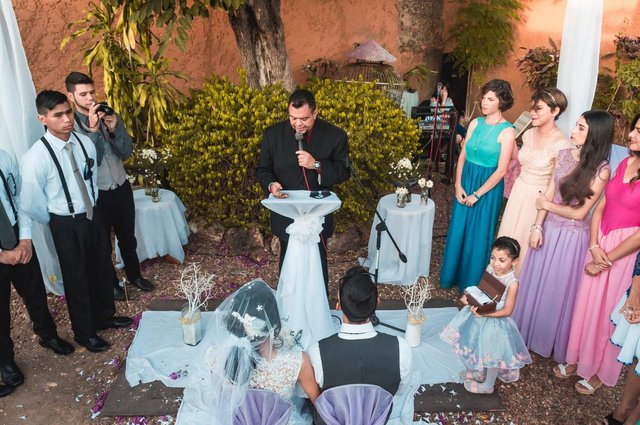 Justo en la apuesta del Sol... cada uno pronunció sus votos... Creo que la felicidad se podía sentir en la atmósfera del lugar... Todo era demasiado tierno! Y dijimos Sí aceptamos!!!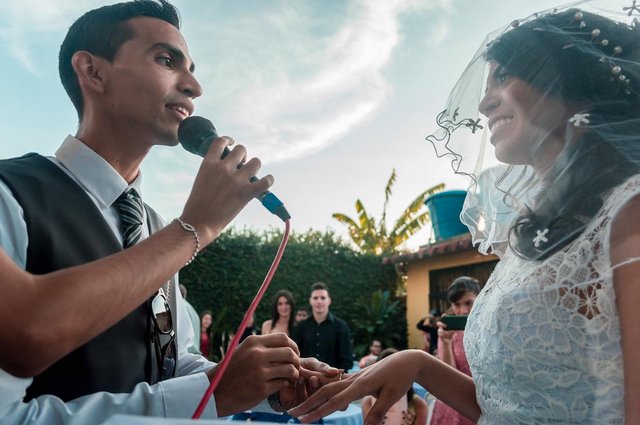 Ya puede besar a la Novia!

Oh Dios mío! jajajaja que Nervios!!!!.

El fotógrafo capturó el momento en tres hermosísimas fotos!

Y allí venia el cortejo completo detrás de nosotros! Todos estaban perfectos!

Ahora les mostraré algunas fotos más, son los momentos mas alucinantes de la boda...

Las tortas estaban deliciosas!

Nuestro Baile! The one last dance de Us the Duo!! hermosísima canción!

Bailamos una coreografía con las chicas del cortejo!! Fue demasiado divertido!

La biblia Nos enseña a ser a agradecidos... Y todo lo que Mi esposo y yo hemos alcanzado, no ha sido solos... Primeramente Dios es el motor de nuestro amor y unión!! Esas personas que nos aman y nos apoyan!! Pero tambien están esos desconocidos que extrañamente se vuelven familia y aunque sea difícil de creer se convierten en el dia a dia nuestro... Y son ustedes

#Steemit

y

#Cervantes

! Wow! Debemos agradecerles porque en los últimos días antes de la boda su apoyo fue clave para dar un feliz término a una boda de ensueño! Cuando veo la fotos, pienso... "Tal y como lo soñamos".

Mil Gracias #Steemit por abrirnos las puertas a este mundo fantástico...
Mil Gracias #Cervantes...

Gracias por cada concurso en el que nos apoyaste...
Gracias por cada voto...
Gracias por los comentarios...
Gracias por cada post que nos has leído.
Otra vez Gracias!

Nuestra Historia de Amor Ysabel y Saul.

Planifiqué MI BODA! Cervantes... !Me casareeeeeeé pronto! ¿Cómo Cervantes ha cambiado tu vida? #Reto!

@Saulrico: Cervantes casi me quita a mi novia!! #Reto @cervantes: ¿Cómo Cervantes ha cambiado tu vida?