Katuxa el cariño de un animal / the affection of an animal
Los domingos, parece que por definición, son días perezosos, cuesta levantarse de la cama, tardas un poco más de tiempo en ponerle en marcha que cualquier otro día de la semana y en mi tierra, Galicia, en ocasiones puede resultar un poco más complicado por la climatología, con más motivo a estas alturas de año.
On Sundays, it seems that by definition, they are lazy days, it is hard to get out of bed, it takes a little more time to start up than any other day of the week and in my land, Galicia, sometimes it can be a bit more complicated for the weather, with more reason in this season.
Hoy parecía uno de esos días, amaneció cerrado de niebla y todo apuntaba a que sería un domingo triste. Pero es curioso cómo puede cambiar todo cuando un rayito de sol, como algo mágico, se cuela por una rendija de la persiana y la rueda comienza a girar. Te levantas con cuidado de no tropezarte con nada, aún medio dormido, subes la persiana y sorpresa! pero a quién tenemos aqui?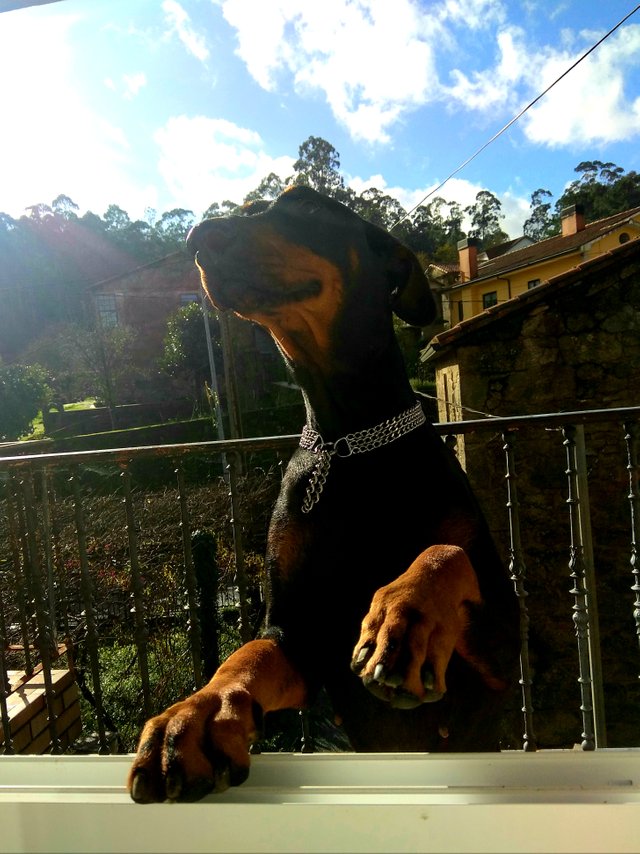 Today it seemed one of those days, it dawned closed with fog and everything pointed out that it would be a sad Sunday. But it is curious how everything can change when a ray of sunshine, like something magical, sneaks through a crack in the blind and the wheel starts to spin. You wake up careful not to bump into anything, even half asleep, you raise the blind and surprise! but who do we have here?
Todo acaba de cambiar, si parecía un día triste, ella sola tiene la capacidad de que te olvides de todos tus problemas, de repente te llenas de energía y te ves con fuerzas para afrontar cualquier cosa.
Everything has just changed, if it seemed like a sad day, she alone has the ability to forget all your problems, suddenly you get full of energy and you find yourself with strength to face anything.
Sabe que durante la semana no estás y que el domingo es el día que podemos compartir todos juntos. Así que una vez que se da cuenta de que estás despierto viene a buscarte a la ventana de la habitación para no perder ni un minuto más del día que podemos estar juntos.
She knows that during the week you are not there and Sundays are the days we can share all together. So once she realizes that you are awake she comes to look for you at the window of the room so as not to waste another minute of the day that we can be together.
Muchas personas podrían aprender de los animales lo que es amar.
Many people could learn from animals what it is to love.
Un saludiño!