As most of us are aware, there's been a culling of sorts on the internet lately.
A purge, you could rightly say.
Many notable accounts have been removed from various social media platforms, and these social media corporate monopolies like Facebook and YouTube have been behaving like they're straight out of a fascist wet dream.
The most notable casualty in this information war is Alex Jones.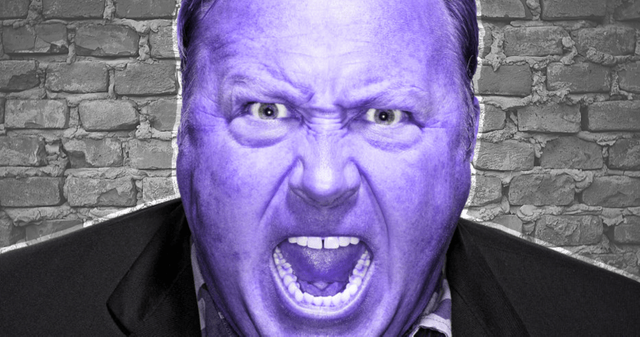 Because there are so many people being abused by these monopolies in big tech that it would take weeks to go over them all, I'll just focus on Jones because he's the biggest name around and he's clearly being used as a catalyst for the next-level censorship programs.
This has been a real shit-show. So much so that I'm not sure where to start to begin making my argument.
What I think is the heart of the matter is that the banning of Alex Jones from these platforms has created what will probably be one of the biggest Streisand Effects in history.
The Streisand effect is a phenomenon whereby an attempt to hide, remove, or censor a piece of information has the unintended consequence of publicizing the information more widely, usually facilitated by the Internet. It is an example of psychological reactance, wherein once people are aware that some information is being kept from them, their motivation to access and spread it is increased.
What happened to Alex Jones is he was banned off of Facebook, YouTube, Spotify, and Apple iTunes within a 12 hour period on Sunday night/Monday morning, and then multiple other platforms AND internet utilities have sequentially banned him since then.
YouTube, Apple and Facebook Ban Infowars, Which Decries 'Mega Purge'

The reasons that all these platforms state for banning him are very vague, to say the least. The sort of thing you would WANT to see are a list of posts or video clips, in context, that demonstrate how content has fallen under the reported categories that make it worthy for banning, such as "hate speech" and "inciting violence".
Here's a simple series of tweets of me simply requesting that someone prove claims that they've made about this, because I see the exact same claim made constantly and NEVER (repeat: NEVER EVER EVER EVER) does anyone back them up.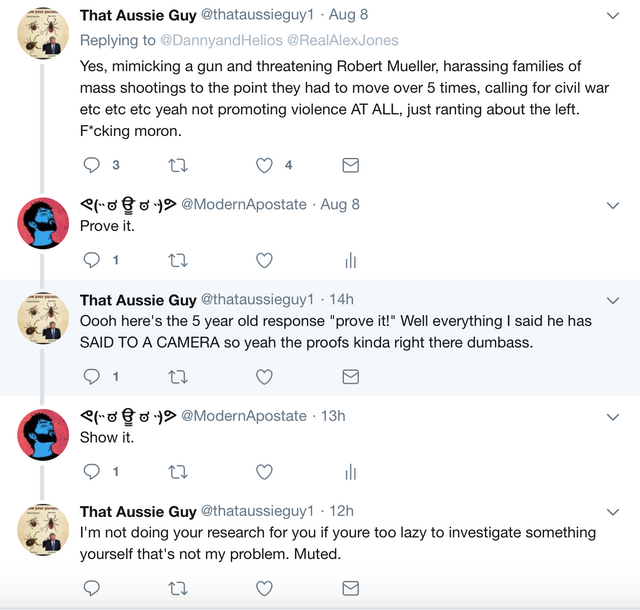 I remember the good old days when there was something called the Burden of Proof:
The term "burden of proof" is used to mean two kinds of burdens: The burden of production (or the burden of "going forward with the evidence") and the burden of persuasion.
Barron's Law Dictionary, pp. 55-56 (2nd ed. 1984); Black's Law Dictionary, p. 178 (5th ed. 1979).
Clearly, this means that if you make a claim, it is your responsibility to either produce evidence to justify the claim or to be persuasive in your argument.
Blaming other people because you don't want to accept that burden is not an excuse, and it's not an argument. It means you're wrong and probably haven't looked into the claim enough to even prove it to yourself but you were persuaded anyway because it feels good or fits your narrative.
Leftists, who have for a long time been anti-cooperation and anti-business to the point that they would want to legally force bakers to bake cakes they don't want to bake, are now suddenly everywhere saying "muh private company can ban whoever it wants!"
It's ironic how these leftists become supporters of monopolistic corporations when it suits their narrative. Funny... Not really.
The biggest problem with the "muh private corporation" argument is that on many levels, these corporations are NOT private, they are quasi-private at best. They make deals with the government, they work alongside each other, they provide intelligence and records to each other, and in many cases they are directly influenced by each other.
A few weeks ago members of Congress directly, publically, put pressure on these platforms to remove Alex Jones:
---
There's one of these with another congressman regarding Twitter and Facebook as well, but such clips are getting harder and harder to find.
The point is that members of Congress pressured the big tech platforms to remove Alex Jones, and then a few weeks later THEY ALL DID IT WITHIN A 12 HOUR PERIOD.
If that doesn't smell fishy to you, I don't know what would.
Not to mention that the mainstream media, CNN especially, is directly involved in these tech platforms banning Alex Jones.
If you simply search "Alex Jones" on Google you can see that they're still at it, harder than ever now because they smell blood in the water: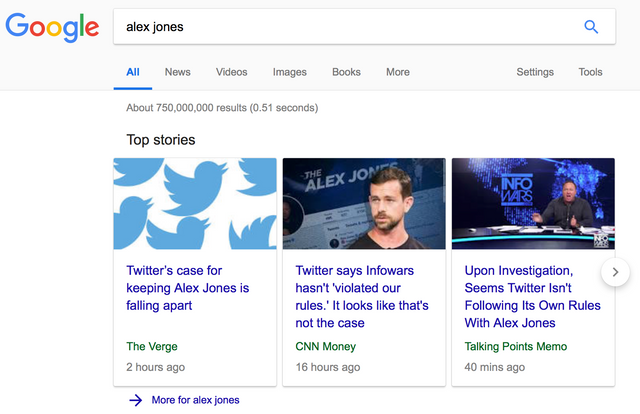 Now, it's one thing to remove someone from a platform for what they say publicly. It is QUITE ANOTHER THING when MailChimp bans people.
If you're not familiar with MailChimp, it's basically a newsletter service. It keeps a list of email addresses and users can compose emails and send them to the addresses on that list. Well, MailChimp removed Alex, too, which is a big deal to me because this goes well beyond the "muh private company" argument because a newsletter IS the other option.
See, the big tech platforms are a monopoly: if you get kicked off of one, there really isn't a comparable competitor to take you. In this case, the newsletter WAS the backup plan so that people could still get updates on what Alex Jones and InfoWars is doing. But they removed that option from him.
MailChimp bans Alex Jones for hateful conduct
As a web developer, this worries me deeply.
It makes me think about people being banned off of essential services like email, or even operating systems like Windows or Sierra.
What would happen if Microsoft suddenly decided that they didn't like what you were saying - not that it was illegal, but that they just didn't like it - and they shut off your Windows account on your laptop.
Think something like that wouldn't happen?
Well, look at what Gab has been going through: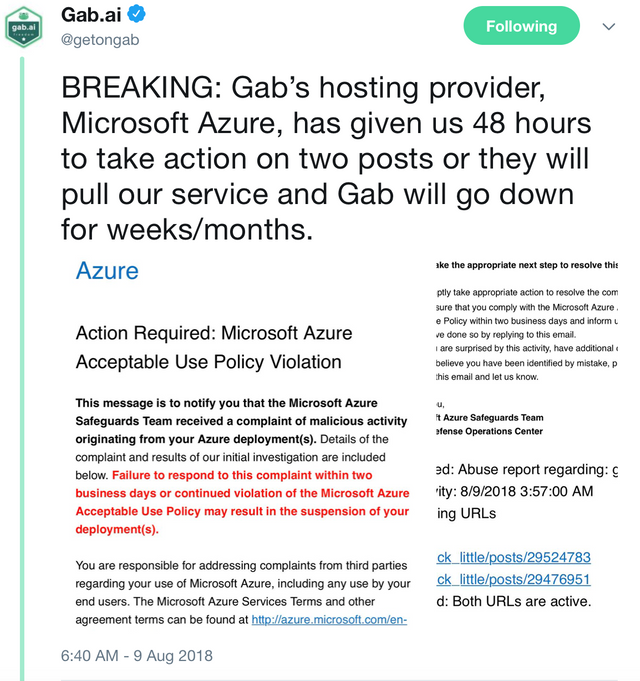 Gab is a self-described free speech competitor to Twitter. You know when people say "If you don't like it, START YOUR OWN!"? Well, this is the "your own" that's been started. And it looks like these free speech alternatives can be kicked off of their servers because of the SPEECH OF THE USERS OF THE SITE.
HUGE PROBLEM.
This means that bad actors who WANT to get the site shut down can create sock accounts and start posting death threats and incitements to violence and then REPORT THEIR OWN POSTS to Azure to get Gab shut down.
Because of this, Gab has run a fundraising campaign to attempt to set up their own system, but, honestly, I have doubts that THAT option will even be free of this kind of totalitarian unpersoning.
This is for sure the scariest time in society that I can remember. This is fascism looming its head in what is supposed to be the most legally free country on the planet.
If this is allowed to happen here, if NOBODY is allowed to say things ANYWHERE, then what happens to those offensive voices? What happens to those who decide what is and isn't offensive?
What happens to you?