Friday Emoji Contest #20 || Chinese New Year
Happy Wednesday,
This is my sample entry to Friday Emoji Contest ❷❎❿ with title Chinese New Year 😁😍🎆🎇.
As you may know 😊🤭, Chinese New Year 👲 🏮 is around the corner 😱😝😜. Chinese New Year is a Chinese 👲 festival that celebrates 🎊🎉 the beginning of a new year on the traditional Chinese calendar 📆 📅. The festival is usually referred to as the Spring Festival in modern China and is one of several Lunar New Years in Asia 🌏.
❷ 0 ❶ ❾ is year of pig 🐖according to Chinese Zodiac. Chinese Zodiac is based on a ❿ ➕ ❷ years cycle where it related to an animal 🐎🐂🐐🐕🐖🐅🐍🐓🐇🐀sign. These signs are the rat 🐭, ox 🐂, tiger 🐯, rabbit 🐰, dragon 🐲🐉, snake 🐍, horse 🐴, goat 🐐, monkey 🐵, rooster 🐔, dog 🐶and pig 🐷. So in year ➁ 0 ➀ ➈, is the last year of the animal sign. Next year ➋ 0 ➋ 0 will start from ❶ st animal sign again 😁.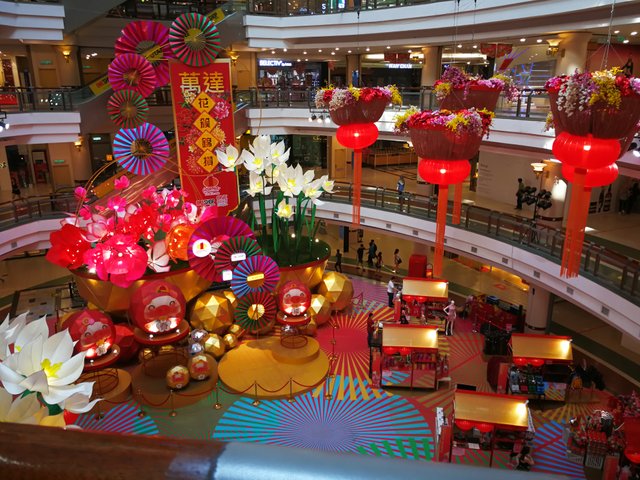 [Chinese New Year Decoration in one of the shopping mall ⬆]
What do you know 😎🤔 about Chinese New Year 🙋🤷‍♀️?
1.Spring cleaning 💦🗑😷🌪
Chinese 👲 do believe that before starting a new year, they need to spring clean their house 😆✌. This represent to clean up all the bad luck from last year and have a new start of a new year. 😄👏👍
2.Reunion 👵🧓👶👦👩‍🧓🧔👧👨Dinner 🥘🍝🍜🍲🍛🥩
New Year's Eve dinner 🥢 or Reunion dinner 🥢 is a must 👍 for each family. This feast is extremely important to the Chinese. All family members come back 🚶🚶‍♀️ and gather together 👨‍👨‍👦‍👦👨‍👨‍👧‍👧👩‍👩‍👧‍👧👩‍👩‍👦‍👦👨‍👩‍👧‍👧👨‍👩‍👧‍👦. There are a lot of symbolic dishes served during Chinese New Year eve. Each individual dish is steeped in tradition and is a homonym for a particular blessing for the upcoming year, such as "have a lot of fun" 💃🕺😁😇😜 or "make a lot of money 💱💳💲.
Name and look for each dish is symbol of wishes for prosperity, happiness 😛😋😉🙃😹 and auspiciousness. Such as,
Steam Fish 🐟 symbolize surplus and wealth🤑💰
Fish 🐠🎣is a must for the Chinese New Year. Why does fish symbolize surplus and wealth 💲? In Chinese, fish (鱼) has the same pronunciation as 余, which means "surplus" or "extra." The typical blessing is 年年有余, wishing you to have a surplus (or fish) of food and money 💲 every year.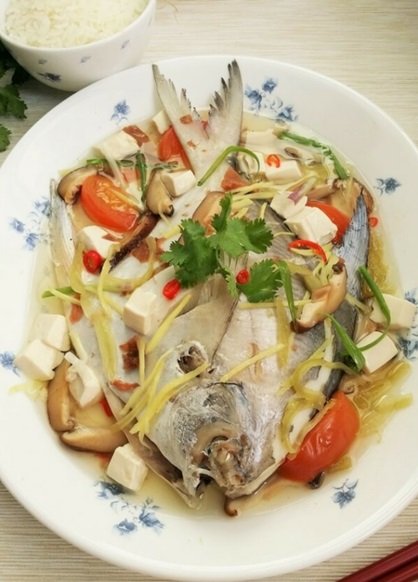 Source
Long Noodles 🍜or Misua symbolize long life 🧓👵
Long noodles 🍜 represent longevity 🧓👵. They usually are served uncut. Misua signifies long life, and the noodle is also a traditional birthday 🎂🍾 dish.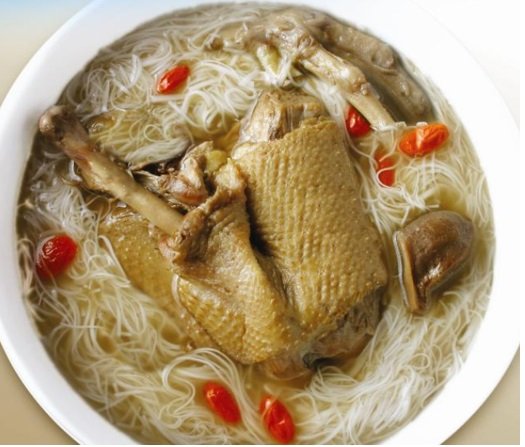 [Source] (http://www.sapporoproducts.com.ph/sapporo-misua-duck-soup/)
Rice 🍚 Cake 🍰 or Nian Gao symbolize a Higher ⇧ Income 💷💵💸 or Position
Nian gao also has the same pronunciation as 高 (gāo). It's a wish to be successful and "higher" ⬆ each year. Every year will be better than the last. Some humorous parents 👨‍👩‍👧 like to tell their children that eating this will help them grow taller ⏫ too 🤣😂.
They are either made of sticky glutinous rice or yellow rice, giving nian gao two major colors and textures.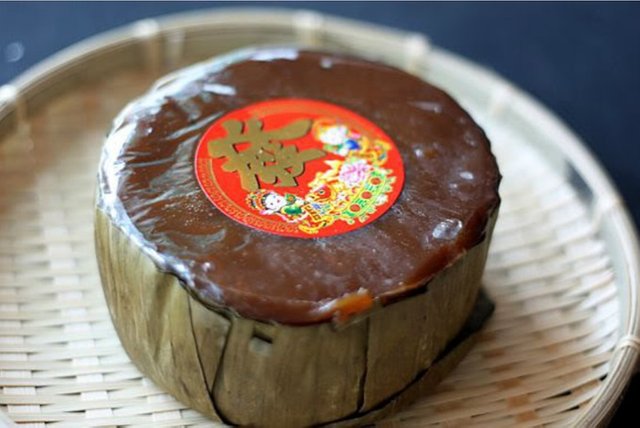 Spring roll, or chun juan symbolize wealth 💰💶
Spring roll is a dim sum dish that's named after the Spring Festival. The words chun juan literally mean spring and roll. The golden color of the fried spring rolls represent gold bars — which, of course, symbolize wealth 😚🤭.

3.Red Envelope or Ang Pow 😍😛
The money 🤑 in red envelopes is also known as 压岁钱 💟. Literally, it is "money 💵 to anchor the year." It is also known as "lucky money" or "New Year's money." Ang pow normally given by married couples 👫 and parents 👨‍👩‍👧 to children 👶👦🧒 and single youths 👨🧑👩. Red packets symbolise luck and are supposed to ward off evil spirits 😈👿. When adults give red packets to children, they will say 🗣 something auspicious by way of blessing 🤗.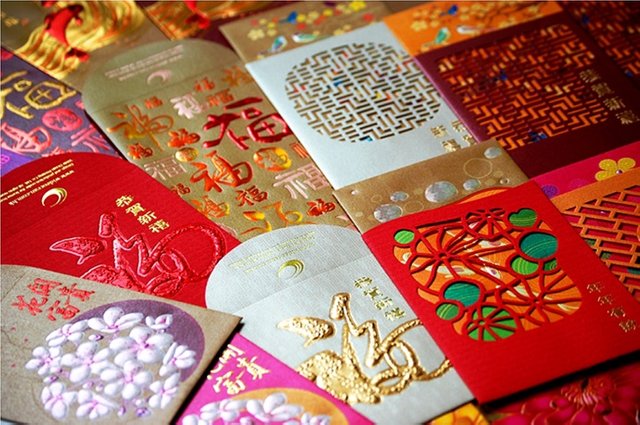 Source
So, how to Say 🗣 Happy New Year in Chinese?
新 年 快 乐
Xīn nián kuài lè!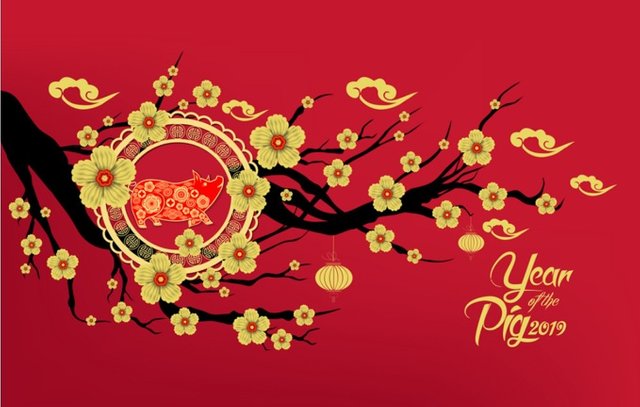 Thank you for dropping by my page
---
This is an Invitation to join #ccc for Guaranteed 👍 Daily Income 💵 and Payout 💸 for Newbies (2.0) 🐟 🐜 🐛 in #ccc 👣 and Follow 👣 the Honor Code 🏅 - the Creed (Conditions and Limits Inside)
AND
the latest update <<< please click to read.