Hello everybody,
Today, I woke up early, supervising the drillers what equipment they brought to the soil boring test project in Cebu City, specifically at Barangay Duljo for the proposed 3 storey residential building. Hubby and I just stayed at home because when I took his daily blood pressure it was 150/95, hmm it was high. He still felt sleepy so, I just let him rest while I did the never-ending household chores and prepared breakfast, did some laundry, just hand washed.
Past 11:00 am hubby's bp went down to 145/88 and he said he felt okey. He continued his report writing for the last project in Labangon using his laptop. After I took a bath, hubby said he took his report writing a break and requested I massage his legs. I told him I would just perform the relaxation massage because his bp was not really in normal state.
So, I massaged his legs about 10 mins, when I stopped he wanted I massage him for additional time. I told him, I/was tired and my head ached. He understood I must rest. I relaxed and by and by the drilling crew arrived, the project was done because the soil was a little soft. Thankful they brought food for lunch.
After lunch, still my head ached a little, so, I got my own blood pressure. Wow! shocks, higher than hubby's bp, 155/95. I just relax and slept. I woke up almost 4pm. Got my bp again. Alarming it was 166/101! I felt not good, like my eyes were banging each other, and I want to blow. I took lots n lots of water and eat two gloves of garlic with powdered milk, take high blood pill, relax again and told hubby be ready I might go to the emergency hospital.
About 5pm got my bp again, ho my! 175/ 105! I called my son to help me prepare his father. my hubby is a person with disability his balancing is not good, so, both of us used cane.
We went to the hospital. Funny because at the entrance of the emergency room, hubby was the one they alight the wheel chair for they thought he was the patient,he he he.
As usual lab test and urine test.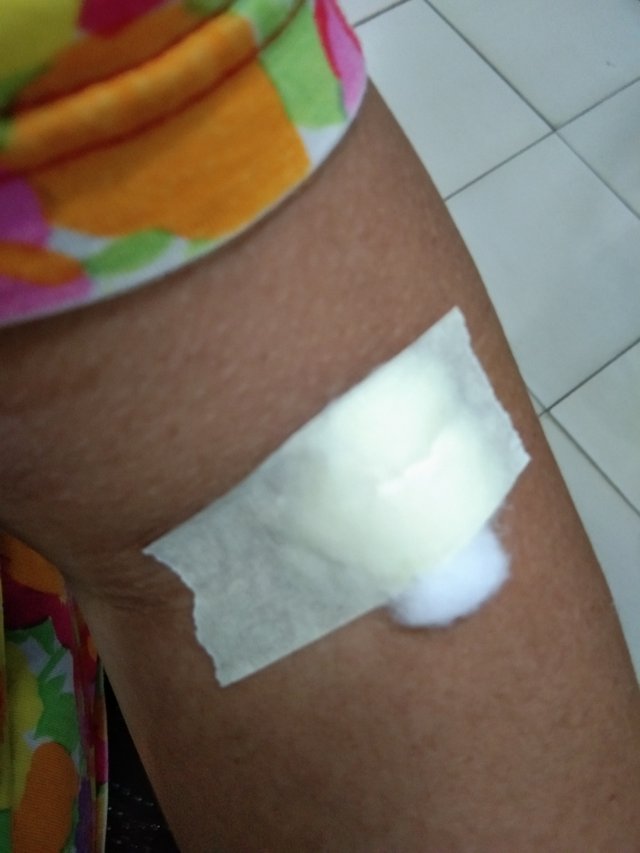 The mid-tech extracted blood sample from my arm for CBC. No pain, she was an experienced mid -tech. Thankful for her. As usual, doctor's interviewed me and prescribed the medicine.
After I took the medicine prescribed, I felt alright 30minutes after. My bp went down to 142/88. We went home. This is my today.
Thanks to @freedomshift for this contest within @teamccc
Thanks for dropping by...
@jurich60
This is an Invitation to join #ccc for Guaranteed 👍 Daily Income 💵 and Payout 💸 for Newbies (2.0) 🐟 🐜 🐛 in #ccc 👣 and Follow 👣 the Honor Code 🏅 - the Creed (Conditions and Limits Inside)
AND
the latest update <<< please click to read.