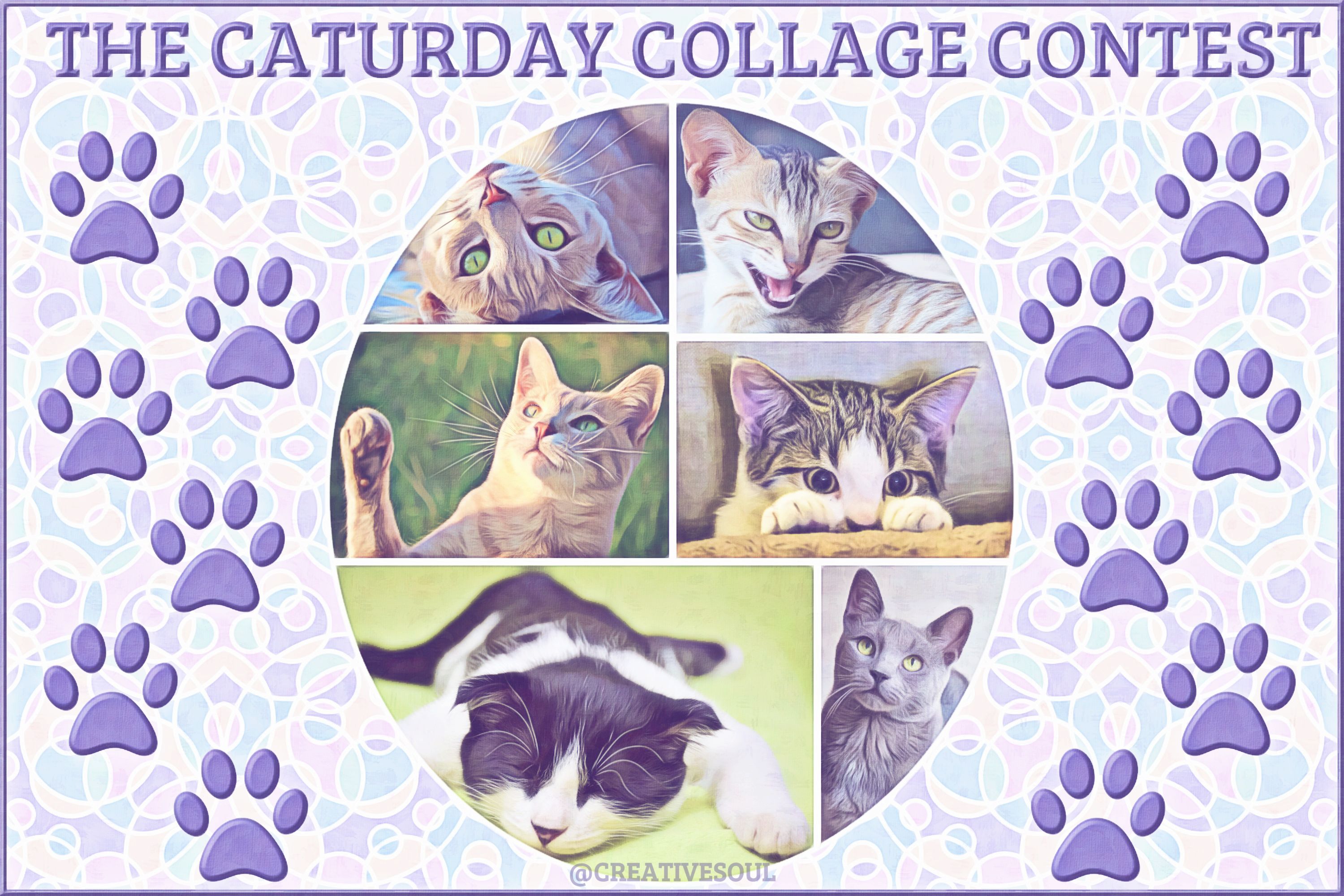 Wow! What a week it's been! Over two dozen entries on the first ever #Caturdaycollagecontest. I'm thoroughly impressed.
I've seen a lot of creative posts with so many cute cats in them pass by; it's going to be very hard to choose a winner.
I will anounce the winners of Caturdaycollagecontest #1 in a separate post later today, which can be found here
---

---
That being said, you've all probably noticed the new graphics! I asked if somebody could design a logo for the contest and was pleasantly surprised by @creativesoul answering the call almost immediately.
---

---
Enough thank-you's for now, let's get into the next contest!
For those of you that have not have the pleasure of competing yet, I will explain what we're doing here.
You know how you love to post pictures of your fuzzy furballs each Caturday on Steemit? Well, why not post just one or several photo's, but combine them and make a collage !
That's right: A Collage !!
Want to see what a Caturdaycollage looks like? Go here
---

---
But it says caturdaycollageCONTEST. Are there prizes?
There sure are!
No contest is complete without a prize.
Since I am still a minnow, here's the deal:
All liquid SBD generated by this post will be divided amongst the winners.
For this contest, there wil be two winners again:
First prize gets 70% of the SBD
Second prize gets 30% of the SBD
Both winners will be handpicked by me this time.
---

---
What are the rules ? (Read this part carefully!)
Upvote this post.
Create a post with a caturday collage photo in it. The title of your post must contain: Caturdaycollagecontest #2 - Entry #.
Use only original photo's that you made yourself.
Tell us your cat(s) name(s) 😊.
Use the tags #caturdaycollagecontest and #caturday for your post.
Put a link to your post in the comments down below.
Only three (3) entries maximum per person.
Deadline is next Caturday, when this post will pay out.
If you don't follow all these rules, your post will be considered a DNQ.
---

---
Want to support this contest ??
You can! The following points are both optional:
Resteeming this post (This will probably increase the prizepool 👍)
Donating some SBD for the next contests prizepool (if you want to donate, let me know in the comments)
---
Looking forward to all your new collages !!