Hey fellow Steemians and car lovers amongst us!
Cars can be really fun, especially the ones in the Hot Hatch category.
Good looks, quite a big amount of Power and the capability to run quick times around the track compared with quite a low price tag, comfort and all-day practicality makes this cars a good, probably the best choice for anybody who wants a sporty car to have some serious fun with, but can´t or isn´t willing to afford a car that´s either not practical at all, expensive or unreliable as f**k. Hot hatches are good driver´s cars while being efficient and comfortable.
Some people have their daily car and a second one for the fun times, but with a hot hatch, you can have fun all year long and get the groceries, then pack your girlfriend and another couple in to go on a roadtrip. Try using a Porsche for that. The Porsche even costs more then 2.5x the price of a brand new loaded hot hatch from a german manufacturer and it can´t even carry it´s own 4 tires to the shop when you need to change them...
There are a shit ton of Hot Hatches nowadays, some have just come to the market, some are in the market for maybe 30 years now. In this series i will introduce you to EVERYONE of them!
The first car in this series will be the HYUNDAI I30N.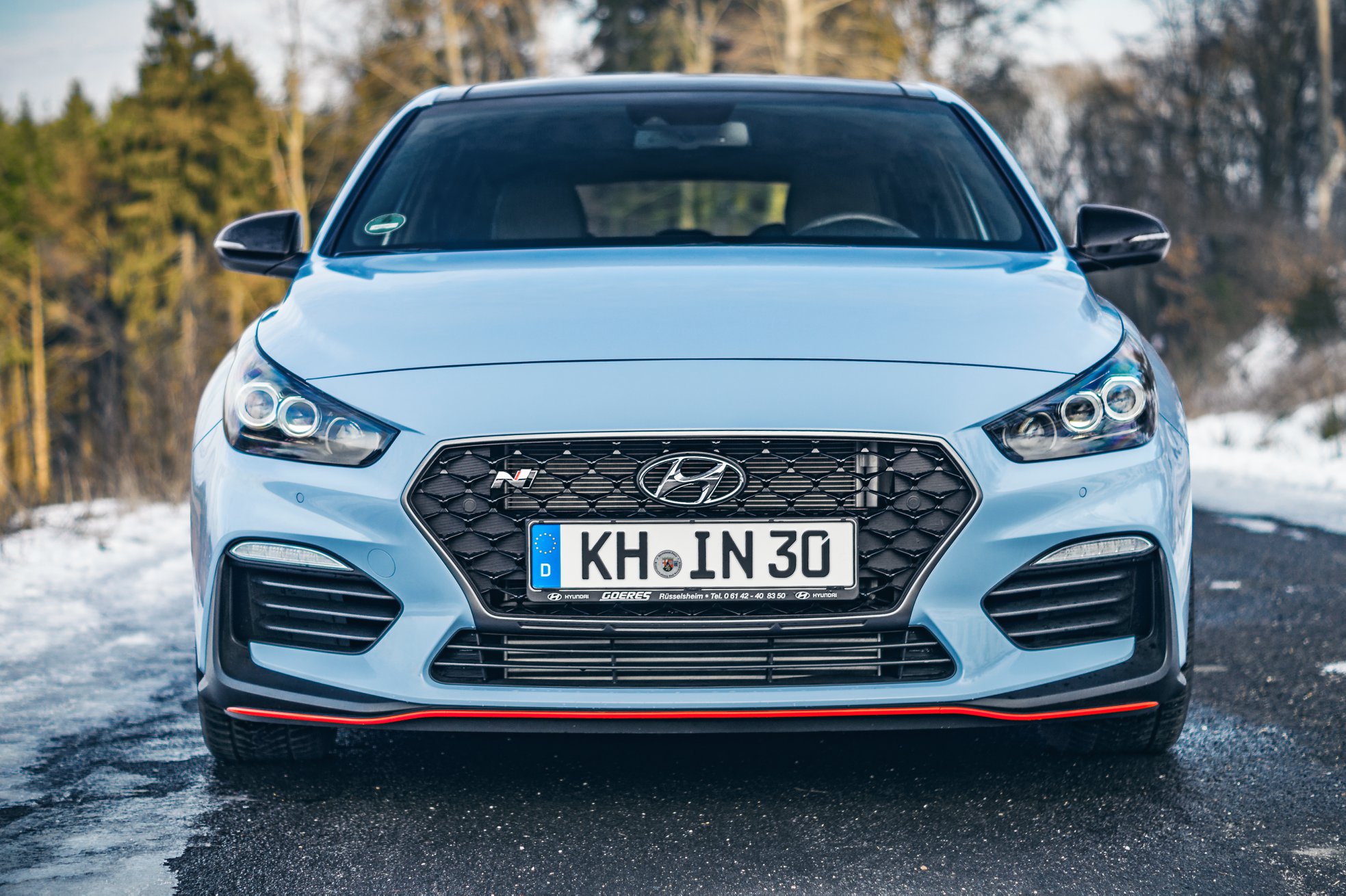 This car is the first model of the Korean manufacturer Hyundai in thier new "N"-Series
So, what does "N" stand for? Well, we know BMW´s "M" for Motorsport or Nissan´s "NISMO" for Nissan Motorsports.
But, Hyundais "N" stands for 3 official things:
1: Namyang: Hyundai´s Development- and Research-Centre, the place where every Hyundai gets born.
2: Nürburgring: The most dangerous and demanding (to men and machine) racetrack in the world, where every
manufacturer goes to thest and develop thier performance cars, for said reasons.
3: A stylized scheme of a racetrack. They are serious with that.
But there is more...Some call it N-joy, some N-thusiast and i call it: N-eed it.
"Drivers will experience the excitement and emotions of our motorsport expertise ourselves. Our future model range will be made up of performance-oriented models
which are full of energy and fit for the racetrack.
This is just the beginning of a journey for us
and this journey is fast and exciting."
-Albert Biermann, Head of Hyundai Motor's Performance Development & High Performance Vehicle Division
Do you know who Albert Biermann is? He worked 30 years for the BMW M Division, was Chief Engineer. Now he´s the brain behind Hyundai´s racing and sports cars.
This is why i trust Hyundai with the new N-Division. They are hungry and they picked one of the best to lead them on the hunt.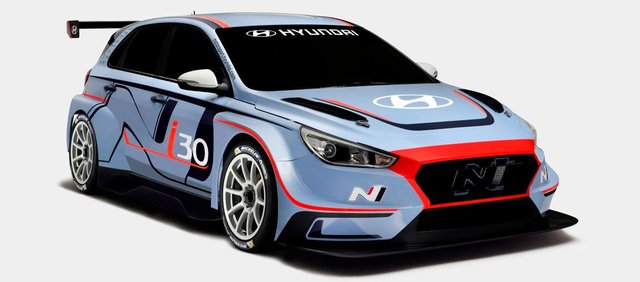 But, they are not just talking hot air here. They already built up a racing heritage themselves and now they start capitalizing on it. I love that. It brings fresh competition to the market, soon, Hyundai is not gonna be that boring underdog grocery getter builder. They were big in Rallye even years ago, and with the I30N TCR, they took it to the global touring car racing and they have proven to be very competitive in the TCR series. They also were pretty successful in the Nürburgring 24-hour race last year:
"The two near-series Hyundai i30 N started in the SP3T class (1.6 to 2.0-liter turbo engines). Although the i30 N with the start number 95 was involved in an accident and failed due to repair several hours, he crossed the finish line after 109 laps. The i30 N with the start number 92 completed within the 24 hours even 135 laps. He finished the race in 4th place in the SP3T class (10 out of 12 vehicles in the finish) and in 50th place in the overall standings. An astounding achievement, with only 109 of the 160 cars on the finish line, most of them with significantly higher performance and major modifications. A race lap of the 24-hour race on the Nürburgring is 25 kilometers long and consists of the Nordschleife and part of the Grand Prix circuit. For example, both i30Ns covered more than 6,000 kilometers around the clock in the toughest racing conditions, providing valuable insights into the final steps of fine-tuning the chassis, engine performance and life before launch."
So, enough talking around, now straight down to everything that matters, the car itself: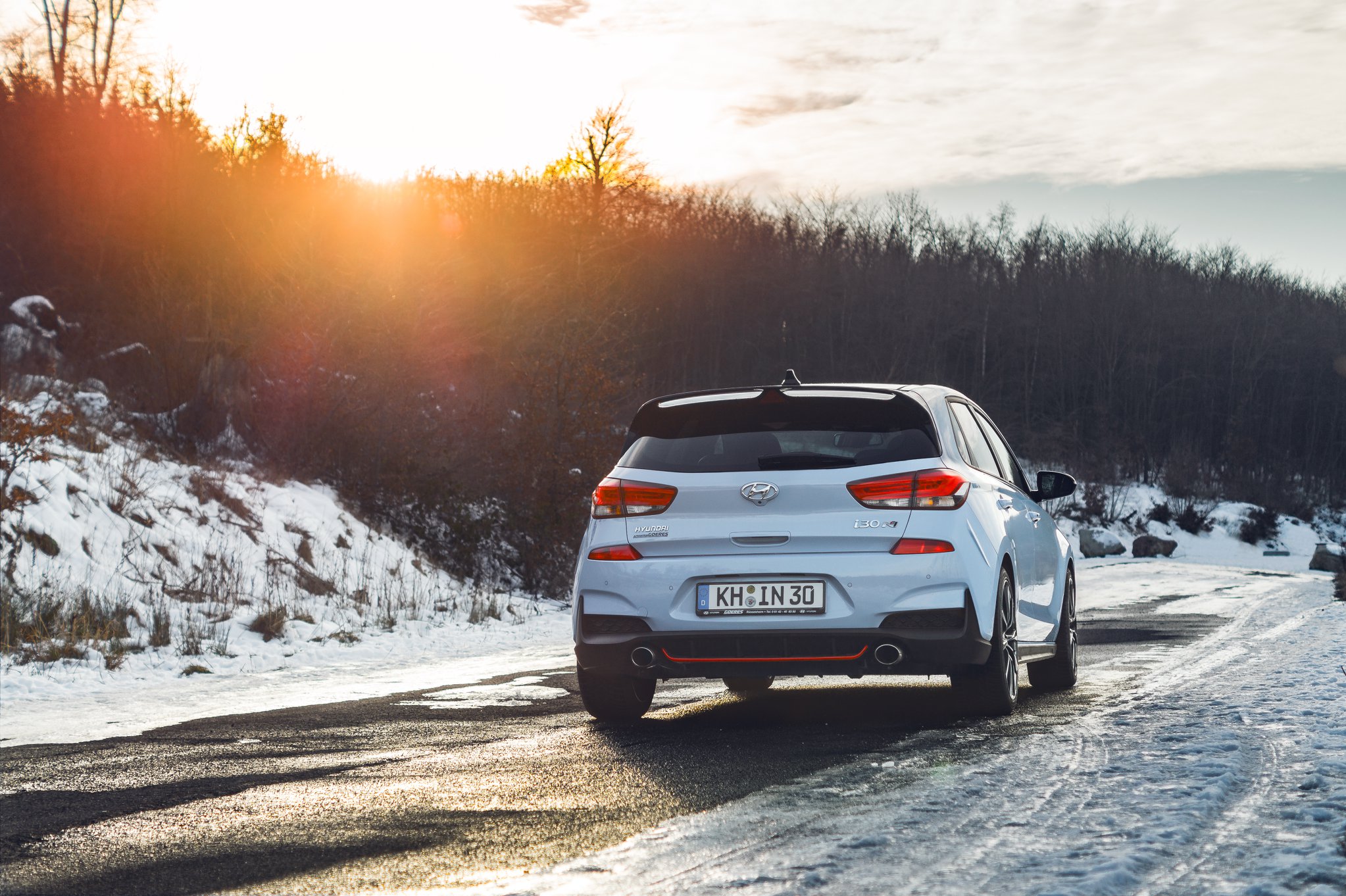 Hyundai I30N
Category: powerful hatchback compact-class car, "Hot Hatch"
Body: self-supporting safety body, 5 doors, 5 seats
Dimensions: 4335mm x 1795mm x 1447-1451mm (length, width, height), 132-136mm ground clearance
Weight: 1475-1584 kg
Engine: 1998ccm Inline-4, turbocharged, 250-275PS ("hp") 353-378 Nm torque, gasoline
Drivetrain: 6-Speed manual, front-wheel drive, optional limited slip differential
Price: 29.700-36.520 Euro (in Germany)
Now, since you got the most important facts up there, i´ll go into further detail:
The Hyundai i30N came to market in fall 2017, featuring 2 variants: i30N and i30N Performance.
I30N starts at 29.700 Euro, featuring the 2.0 twinscroll-turbocharged 4-banger with 250hp, 18" alloy rims with Michelin Pilot Super Sport tires, Full-LED headlights, sports suspension with adaptive shock absorbers and Rev-Matching.
However, the more serious I30N Performance starts at 32.200 Euro, featuring the same Engine, but with 25 more horsepower, 19" alloy wheels with Pirelli P-Zero tires, N-Performance brake system (345mm front), N-Corner Carving Differential (electronically controlled differential lock), sport exhaust system with two tailpipes and variable flap control.
The Performance weighs about 30kg more than the standard one, but thats because theres more tech in it. Bigger rims and tires also make a difference. Both are only available with a 6-Speed manual. both have all the comfort stuff like the 2-zone automatic air-condition, nice audio system, cruise control, electrical windows and so on. Of course the car also has all the security features like antilock-brakes, esp, traction control, tire-pressure control... and it even has more advanced security systems: Active Lane Keeping Assist, attention assist, emergency brake system with front collision warning.
However the performance one has the limited slip differential, a launch control, overboost mode, a better braking system, and a variable flap control exhaust system. So you can be rolling quietly in the hood while roaring through the forests on the german backroads. And trust me, it´s sound is awesome, it´s prolly the best sounding car in its class. Period.
For more options, there are quite some, but the cars is pretty loaded even without clicking the few optional packs:
Functions-Pack: (included in Performance) rain sensor, ambient lighting, smart key, electrical mirrors, smartphone-qi-
loader ( i dont even have a smartphone with inductive loading lol)
Okay, this one is needed. Seriously. Should be included in the base model imo:
Navigation Pack: 8" coloured touchscreen with navigation system, digital radio, apple car play/android auto, N- Performance Driving Data (turbo boost pressure / torque / engine power / lap times and acceleration timekeeper), traffic sign recognition. 750 Euros.
Comfort Pack: Seat upholstery in partial leather black, front seats electrically adjustable, front passenger seat with
adjustable thigh support and electrically adjustable lumbar support, driver's seat and exterior mirror with memory function, auto-retractable exterior mirror, knee airbag on driver's side and heat-insulating windscreen. 1700 Euro.
Now there´s a nice, let´s call it "risk-reward"-option: Cross brace in the luggage compartment : Increases body stiffness by 6%, reduces usable trunk space by 14 l. Well, if you wanna have fun with this car, click this. 180 well-spent Euros.
Last but not least, a panorama glass sunroof. Well, it´s cool, but i´d have preferred a standard metal sunroof. It thing the glass one would be pretty heavy and less safe/stiff etc. 1100 Euro, price is okay, but i probably wouldn´t order it.
You can get the car in red (included), white (200€), baby-blue, grey, silver,black (all 590€). Wheel options are fixed for Performance or Non-Performance.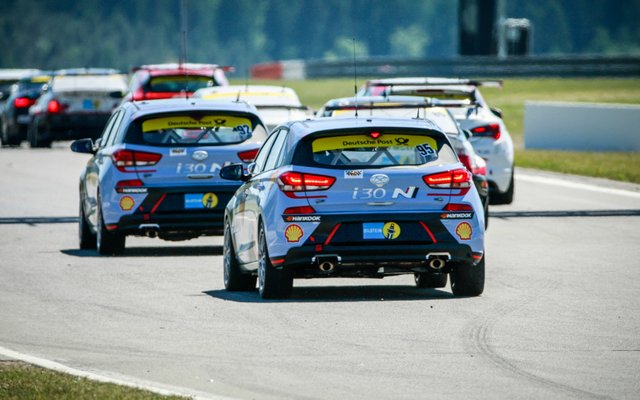 These are the official options on the Hyundai website. But there is more. The Hundai N-Thusiast parts... man, they like to play with this, huh?
In the first article about this car i´ve read about a "track package", but was wondering about when this will come out...
So, it turns out, this will not be a official package to order the car with, but a series of modding parts distributed through Hyundai dealerships, which means you order through them, built it into your car and you get full manufacturer guarantee. Did i even mention this car has 5 years guarantee without a mileage-limit? Ask at a VW dealership for a deal like that on a GTI, lol.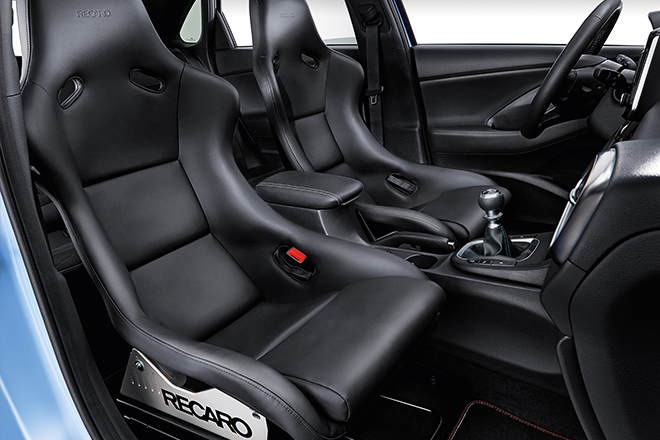 "Hyundai N-Thusiast Parts" for enhanced sportiness of the Hyundai i30 N:
-10-spoke light alloy wheels, only 9.5kg weight, made by O.Z. Racing with Pirelli P Zero Tropheo R tires. 3100 €. Ouch.
-aluminum motorsport wheel nuts, 379€. Okay,now they are going nuts, literally.
-triple adjustable rear axle stabilizer, 289€. Must have imo, if youre doing track days or want to visit "the ring" frequently.
-Motorsport brake pads, 349€ per axle. Well, don´t know if you need the Hyundai ones, there are more brake-pad companies out there ;)
-Recaro racing seats, 7kg weight,1550€. Well, for obvious reasons.
-Big "i30N" decal, 590€. Nope
-2 coloured "N"-emblems for the sideskirts. 19€. Why not?
-Floor mats in black velor with embroidered N logo and red stitching. 77€. STFU and take my money.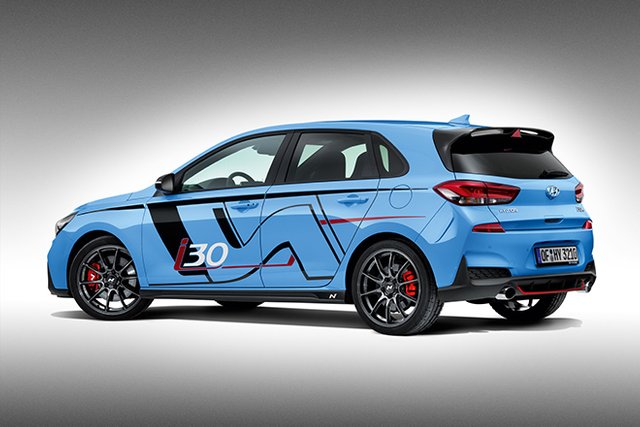 Okay, stuffing money in that box. But what´s really inside?
As i told you, it has a gasoline (95 octane) powered 1998ccm, 4-cylinder DOHC 16-valve aluminum engine with a twinscroll turbocharger. Max boost is 1.2 bar.Rev-matching, start-stopp system and a overboost mode for 7 seconds, giving about 20 more Nm of torque. Double continuous variable valve timing ( VTEC KICKED IN YO). Compression is 9.5:1, typical low compression fur turbocharged engines.
Front-wheel drive and 0-100kph is 6.1 (Performance) 6.4 (base model). Max Speed is 250 kph, probably electric cut-off. Gas usage is inbetween 5.5 and 9.7 litres, gotta be patient with the right foot.
It takes 5.8 litres of engine oil but has only a 50 litres gasoline tank. It needs fresh engine oil every 10.000kms or once a year and maintenance every 30.000km or every 2 years.
It´s loud. Standing noise emissions as stated in registration papers 109dB., the base model even 111dB.
For the suspension: Front: Reinforced modified-geometry front axle N Power Sense Axle, independent on MacPherson struts with adaptive suspension shock absorbers, coil springs, stabilizers.
Back: Independent suspension on multi-link axle, with adaptive shock absorbers, coil springs, stabilizers.
Brakes should work: Dual circuit diagonal high performance brake system, power assisted; electronically controlled 4-channel anti-lock braking system with electronic brake force distribution (EBV) and brake assist (BAS).
City Emergency Braking and Electronic Stability Control (ESC), Dynamic Stability Management (VSM). Hill Start Assist (HAC).
It also has Internally ventilated floating caliper disc brakes, Diameter: 330 (i30 N Performance: 345) mm in the front and Floating caliper disc brakes (2.0 T-GDI Performance: ventilated), Diameter: 300 (i30 N Performance: 314) mm in the back.
Now, thats nice : It has a mechanical cable parking brake!
I guess this was enough nerding out about "just a car"... But to me, this is a really special one. It does so many things just right, which isn´t very common nowadays. Hyundai definately focused on building a capable drivers car for reasonable money and imo, they really delivered. I feel likeits near perfect, but some things do bother me.
The Navigation package should be included and not optional, just raise the base price 500 bucks and stick it in. The N-Thusiast parts should´ve been available as a "track package" from the factory, i don´t know why they try to hide this so much. Interior doesn´t feel really good, quality-wise. It weighs so much. 1500kg for a compact class car is ridiculous. And i don´t have 35k € to just go and fucking buy it. Now I´m sad.
Actually, this is my dream car. I´ve fell in love with it when i´ve read the first article about it, then again when i´ve first seen it on video and again when i´ve first seen it in person. Time to get my ass into it. Gotta get that hustle goin´, i guess`?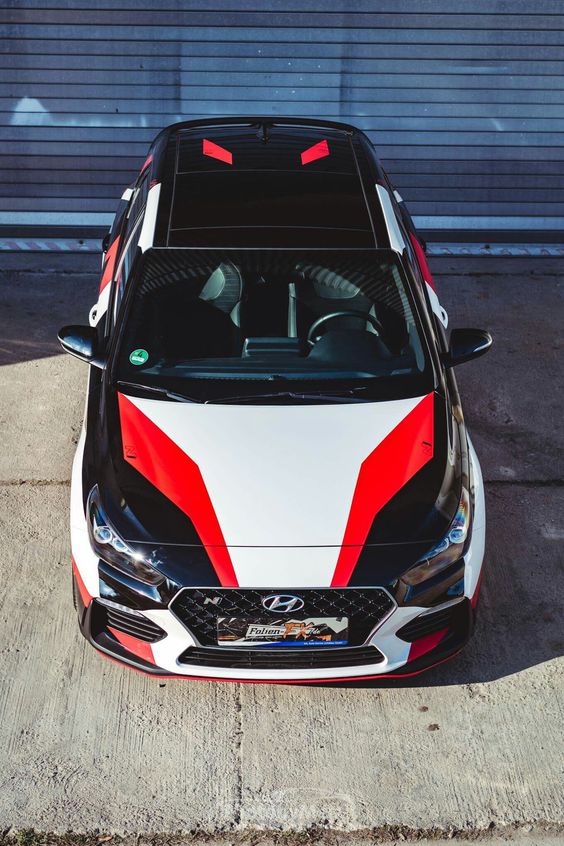 So, if you liked this post, please consider upvoting, resteeming and following me. I plan to bring up more like this on a frequent basis. I have a ton of ideas, i just lack some time right now, since this takes up way more time than i thought...
Full Steem ahead boys! (and girls <3)