Introducing TELOS Trading Cards Album
I am very happy to announce that Cards & Tokens will be developed on the TELOS blockchain and as a sign of commitment we will have a new album dedicated exclusively to promoting this new blockchain.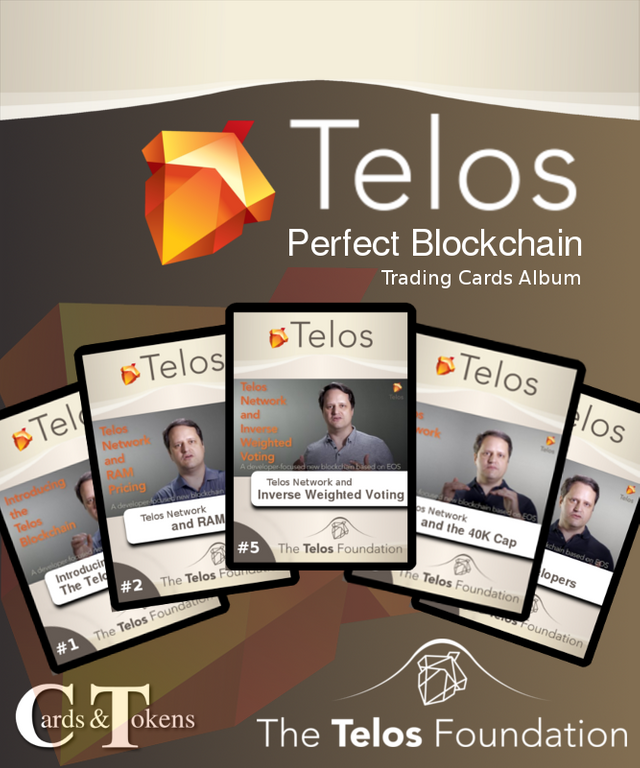 10 TELOS trading cards album
If you already know Cards & Tokens you know that the Steemit Openmic Album allows you to put any Openmic card on any slot. That's because there will be an uncertain amount of Openmic trading cards since there are 5 new winners per week.
This new album will have exactly 10 trading cards and every card will have a number, therefore you can only put each card on its corresponding slot (like a normal album).
Also, you do not get points for putting a new card on the album, unlike the OpenMic album, where you earn as many points as the number of steemit votes the card has. In this album you will have to be one of the firsts to fully fill the album with the 10 trading cards to be a winner.
TELOS Album prizes
Getting a copy of each card will be no easy task, so you will be competing against other users to be inside of the first ones to fill the album.
The sooner you do it, the greater the prize you get. Also the prize will be proportional to the amount of participants. The more people participates the bigger the prizes are.
Cards & Tokens is responsible for this initiative, therefore is the only committed entity supporting this new contest. This basically means that the prizes will be in CNT Tokens.
Nevertheless, we have the chance to create a TIP (Telos Improvement Proposal) to ask for founds to support this new TELOS album contest with TLOS Tokens.
Implementation
I'll be creating and publishing the cards for everybody to see them on the web site, but no one will own any copy because there will be zero supply of these cards for the moment.
After the TELOS blockchian is running, the smart contracts for Cards & Tokens will be deployed and just then you will be able to get some copies.
Thanks
As allways, thanks to all who are supporting me and this project. I really apreciate it !!
Especially to @dreamrafa, @mariajruizb, @dianakyv, @davidcentenor for this great new cards !!!