Cards & Tokens - OpenMic Album
OpenMic Album Avant Premiere
Finally it's online and workig the first Cards & Tokens prototype (v0.1.0) and the very first album is for Steemit Openmic !!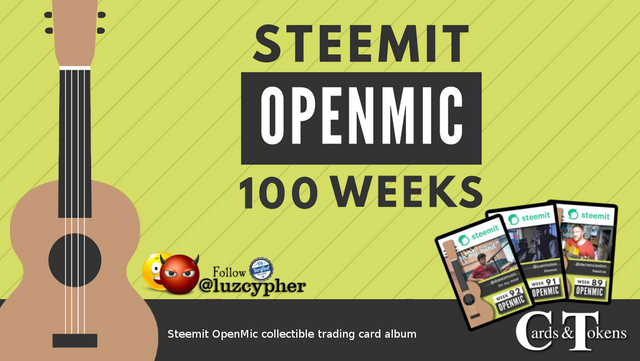 What is this all about?
Hello, everyone! My name is Viterbo and I'm the one behind the Cards & Tokens project. As I have already told you in this post, I have been working hard on this prototype for the last two months and is finally online and working. As you will notice it's not finished yet but it has the main functionalities already working (in draft version).
The main idea is to promote this project showing how fun it could be to be able to collect trading cards of your favorite topic and start filling in the corresponding album. For now we will have just one album about the weekly open audition contest of Steemit Openmic (which is an awesome community that I love and follow on steemit), but in the future you will have an editor that will allows you to create your own album and crypto trading cards.
Crypto Trading Cards
This Crypto Cards are just a new format of publication which has a lot of innovative features.
Cards Collection
The first initial batch of cards were created with the content published by the participants who were winners in the last weeks of the contest. Currently there is almost 60 cards but I will be adding more every week with the new winners.
If you have participated in this contest and you want me to add your card to the collection, just add a comment below with the link to your post along with a link to a background image that you would like to use and I will add it (this process is temporary since there will be an editor to create cards in a self-managed way). On the contrary, if you do not want your card to be part of this platform just let me know and I will remove it immediately.
Take a look a the complete collection at http://cardsandtokens.com/cards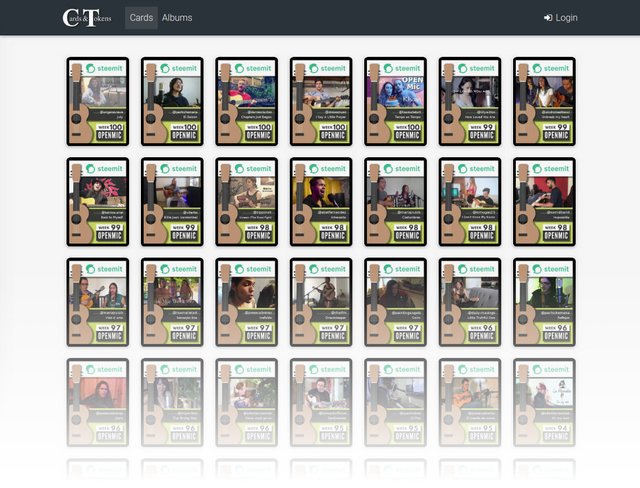 Collecting cards and filling the album
This prototype has many important unimplemented features, such as the editor, the card market or the token wallet. However, it already has a functional inventory and the possibility of filling the Steemit Opemic album with the cards you have.
The process of obtaining new cards, for now, is simply by means of a daily prize that you must claim each day.
In the inventory you will find a button to claim your prize once every 24 hours.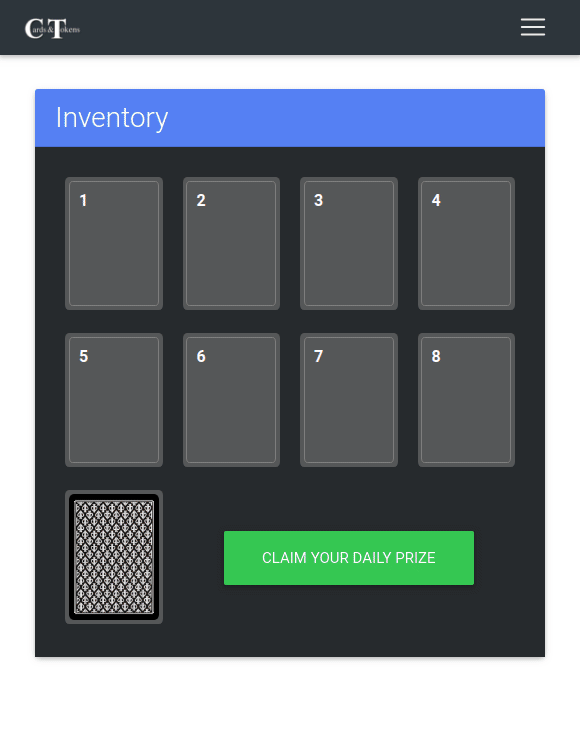 As you can see, each time you add a new card to your album you will gain points. The amount of points a card gives you is equal to the number of upvotes that card has received. Which means that the value (in points) of each card may increase over time.
Note: the calculation of points for each card is simplified for this prototype.
Promotion prizes
About four months ago I made this post presenting the project for the first time, where the CNT token was also presented along with its initial distribution. In there you will find that a small portion (about 2%) of the tokens were reserved to promote this project. Well, the time has come to use that reserve of tokens !!!
10.000.000 CNT Tokens in Prizes !!

There will always be more cards available than slots in the album. That means there are many combinations of cards to fill the album. Every combination of cards inside an album is considered a collection and has a value equal to the sum of points of all its cards.
In the last page of each album you will find a ranking with the people who has the more valuable cards collections (in terms of points). You should be there, in the top positions because...
At the end of this year there will be great prizes (in CNT tokens) for the top positions of this ranking so you better start collecting your cards as sooner as you can.
Login with Steemconnect NOW
OpenMic Trading Cards Contest
The content creators (the cards' authors) will also be competing with each other for another special prize. This one will not only include a large number of CNT tokens, but also an as yet undetermined amount of Steem tokens that will come out from a future campaign (of which I will be giving more details in another post) specifically dedicated to raising funds to finance this special prize of the OpenMic trading card contest.
If you want to know about how to claim the authorship of your cards and start participating in this content creators contest, you can find the information in this post
---
Thanks...
Thanks to all of you that are supporting me with this project. I find the strength I need to continue working on every word of encouragement that you give me.
Consider that I am a regular guy, a family man, who spends his free time (and sometimes more) to make this project a reality. If you want to help me, please spread this information as much as you can, starting with restmeeming and upvoting this post.
Thank you !