[ Soil to Oil ] Guide to Growing Indoor Cannabis - Watering Seedlings
Almost anyone can produce top quality cannabis for free at home!
My tips for watering seedlings: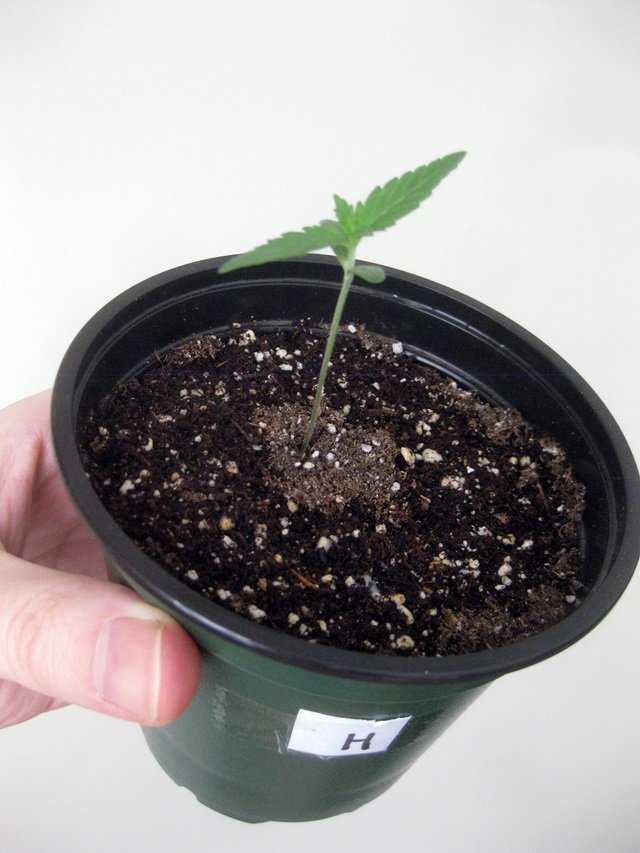 After germinating and sprouting seeds easily and for free, using things found around the home, it's time to give the young seedlings their first waterings.
What water to use?
regular tapwater is fine (tends to be in the right pH range in most places)
at this stage, don't worry about nutrients as long as there's at least some nitrogen in the soil
if your tapwater is RO (reverse osmosis) or otherwise demineralized, consider using another source (wells, rain, creek, etc) so it's not devoid of magnesium and calcium
don't use bottled/drinking water... it has had all the 'plant food' removed!
tapwater that has sat out for 24 hours is best (it is definitely room temperature, and any chlorine gas has bubbled out)

When to water?
most gardeners overwater cannabis plants, even professionals
cannabis typically grows in sunny regions with moderate to light rainfall
never water if the surface of the soil is still damp (you will 'rot off' your seedlings at the soil line if you don't let things dry out between waterings, especially at this tender age)
for small seedlings it may be every couple days, some large adult plants can go 10 days or longer between waterings - you will learn what works best for your strain, your technique, your grow environment, and so on
unless your home is VERY dry, you should never have to 'mist' of vaporize water on your plants (this leads to mold growth and other problems)
if the plant has begun to droop, you waited too long before watering
ideally you want to get good at knowing the exact moment to water, which is just before it droops
lifting the plant and its cup in your hand can give you an idea how heavy it is, which tells you how dry the soil is
time of day doesn't matter as much
How much to water?
take your time and allow the soil to begin soaking up the water before you add more
when the water has absorbed into the soil, if none is coming out the bottom, add a little more
don't always water in the same spot or pattern (teach the roots to 'search' for it)
don't always water as much (sometimes water until water comes out the bottom, sometimes an average amount, and sometimes only a light drink)
a lot of runoff is a waste of nutrients from the soil, and potentially messy
some strains like a little bit more water than others (they will let you know if you pay attention)
the plants will start to drink up moisture from their soil quickly as they begin flowering, so give a bit extra then
The principle is that if your soil is healthy and alive, it will be nutritious, and all the plants need is water to soak up those nutrients with.

For those who can see sideways, there's my current garden of Super Skunk seedlings at 12 days old!
Soil to Oil
This is part of my 'Soil to Oil' series, which is following my 3rd crop grown fully on the Steem blockchain. The first post is here. The series intends to help intermediate gardeners adapt their skills to producing high quality clean organic cannabis, in their living room, for essentially no financial cost. If you've grown tomatoes, fruit, or flowers, you won't have trouble using what you know to succeed with cannabis. This guide isn't intended for brand new gardeners, but I encourage them to follow along and start developing their green thumbs. The Super Skunk crop will be grown, harvested, and the oil will be extracted for medical use.
DRutter