BUZZi Rewards Ecosystem Overview. Website launched. BETA testers wanted!
Thank you to everyone for your interest in our project. We are overwhelmed with your support and comments! 

In our last post we introduced the concept of  BUZZi and introduced our features. If you missed it you can read our first post here.

For this post we will go over our rewards ecosystem explaining how our users can earn rewards for participating on BUZZi. 
BUZZi Reward System - How it works and how it contributes to the Steem community

The BUZZi rewards ecosystem will consist of two rewards pools - The Steem Rewards Pool and the Commission Rewards Pool.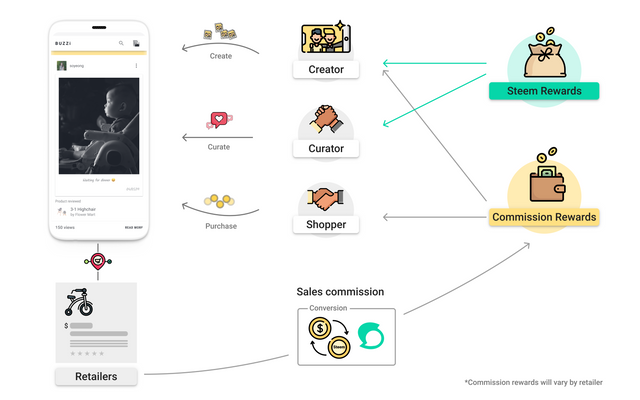 The Steem Rewards Pool will reward users the same way as Steem rewards it users. 
Creator Rewards: When a creator publishes a post or a comment and other users upvote it.


Curation Rewards: When a creator publishes a post or comment and a curator up votes it, the curator will get rewarded a share of the value of their upvote.
The Commission Rewards Pool will reward Creators and Shoppers on our platform. This will only be applied to content that is linked through one of BUZZi's retailer partnerships.
Creator Rewards: For any revenue generated from their post BUZZi will share a commission of the product sales price with the creator.


Shopper Rewards: For every purchase a consumer makes from a piece of content  BUZZi will reward them with a percentage of the product sales price. 
In addition to the Steem and Commission Rewards BUZZi will also reward Top 5 Creators for each category every week.

We plan to launch our own BUZZi token based on SMT, but until the SMT is launched our reward system will be based on Steem. For Commission Rewards we will exchange the commission we receive in fiat currency from our retail partners into Steem to reward back our users.

The more participation and content from our users will increase e-commerce transactions through BUZZi. This will lead to more commission from our retail partners that we will convert from fiat to Steem. By converting fiat to Steem we are increasing the demand for Steem which will increase its value, thus benefiting the Steem ecosystem. 
Motivation for everyone in the ecosystem 

BUZZi's reward system will incentivize users to contribute and evolve our platform through content creation and product purchases. Every action from a user will lead to a reward, motivating users to continuously contribute to BUZZi. We expect this will lead to growing number of users, content, and purchases made on BUZZi.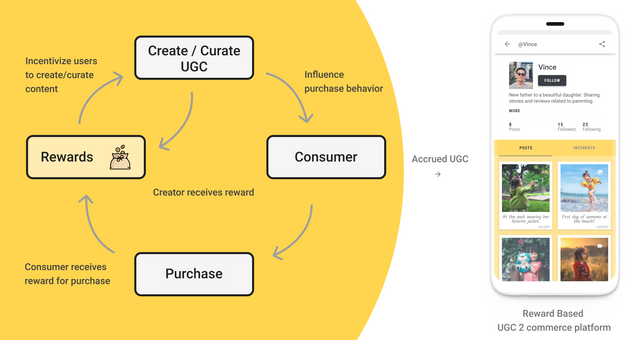 DURING OUR BETA TEST WE WILL ONLY BE PROVIDING STEEM REWARDS. OUR COMMISSION REWARDS AND TOP CREATOR REWARDS WILL NOT BE AVAILABLE DURING BETA LAUNCH.
Looking for BETA Testers

We are excited to announce that we have officially launched our BETA test program and would like to invite anyone interested in testing our app. We would love to hear your thoughts, feedback and any ideas to improve our service!

You can sign up to become a BETA tester on our newly launched website or by entering your email at the following link below. You must enter your email associated with your Google Play Store account.
 
Sign up to be a BETA tester

We will send you an invitation to join our BETA test program. As a reminder we are currently only available for Android devices.

Thank for your continued interest and we are looking forward to growing the BUZZi community together!

Previous Posts: