Introducing BuzzBreak - 1000 STEEM Giveaway!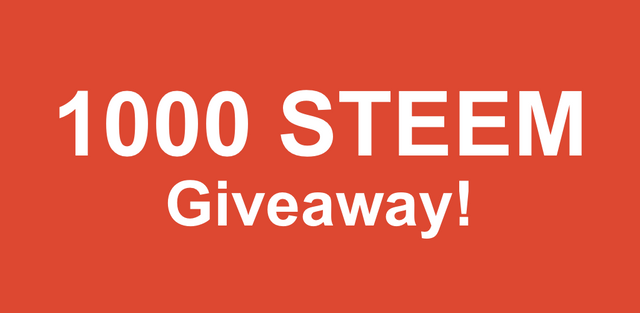 Hello Steemians,
Today we're really excited to announce BuzzBreak, a fun and entertaining news app in which you can earn real cash!
Who Built BuzzBreak?
BuzzBreak is built by the team at Partiko (https://partiko.app/partiko), who also built the most used Steem mobile app Partiko (see https://steemapps.com/). If you have used Partiko before, you will notice they look similar in a lot of ways!
Why Build BuzzBreak?
Partiko aims to be gateway of crypto where people can easily earn STEEM and in the future other cryptos with it. However the onboarding learning curve is very steep for a non-technical person.
BuzzBreak allows people to earn real cash (earning crypto will be supported in the near future) by doing something dead simple - reading news. We hope this can help us reach a broader audience and bring even more people into crypto. Just to give everyone a brief idea, Google News has 1 billion downloads on the Google Play Store, and "Today's Headline" has over 100 million daily active users in China.
Join BuzzBreak Today!
We are giving away 1000 STEEM for people who join BuzzBreak today!
Follow the 6 steps below to earn up to 200 STEEMs (payout after 7 days)




Google Play Store or scan QR code: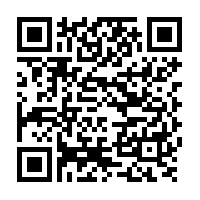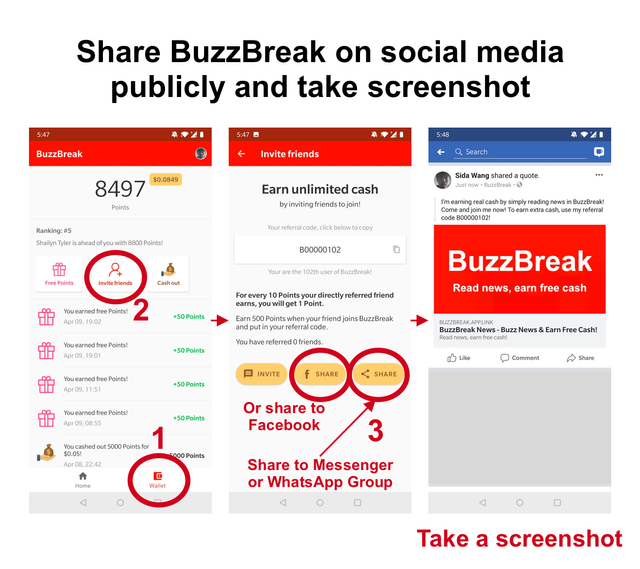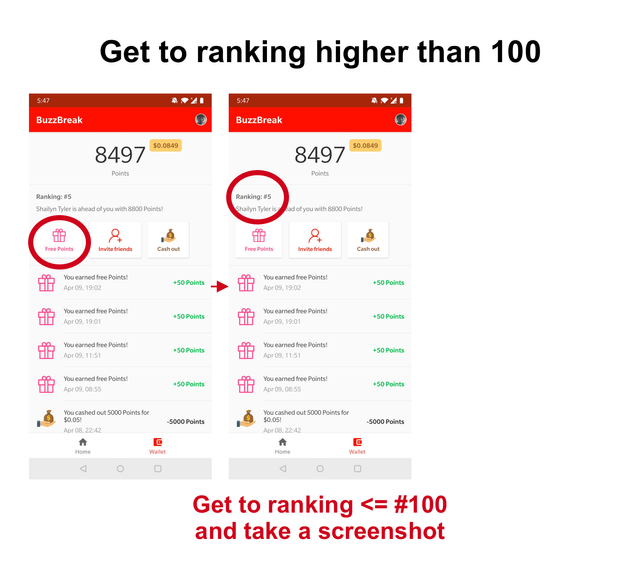 We will reward you based on your ranking in BuzzBreak (payout in 7 days):
Ranking #1 in BuzzBreak will get 200 STEEM
Ranking #2 in BuzzBreak will get 100 STEEM
Ranking #3 in BuzzBreak will get 50 STEEM
Ranking #4 to #10 in BuzzBreak will get 20 STEEM
Ranking #11 to #50 in BuzzBreak will get 10 STEEM
Ranking #51 to #100 in BuzzBreak will get 5 STEEM
Note: Reaching #1 on day 1 of this post DOES NOT guarantee you 200 STEEM. We will look at the rankings of all participants on the 7th day of this post and use that to decide the winners.
FAQ
Where does the money come from?
We use our ad revenue and share a portion of that with our users.
How do BuzzBreak users get paid?
We currently allow you to cash out BuzzBreak Points into your PayPal account. Cashing out into crypto will be added later based on user interest and demand.
How to get to ranking higher than 100?
You can earn Points to do that. You can watch videos in BuzzBreak to earn Points (as signup bonus, you can earn 3000 Points for watching the first 5 videos). You can also earn Points by inviting your friends to join BuzzBreak using your referral code.
What if I have other questions?
Don't hesitate to reach out to us at [email protected]!
Thank you so much! Look forward to your participation!