Source: pixabay
O que é uma curation trail ou trilha de curadoria? E como usar definindo as configurações ideais para o seu caso.
Vou tentar ajudar para isso temos que analizar qual o seu objetivo em seguir uma trilha?
1 - Apenas automatizar o voto por falta de tempo?
2 - Repassar para a trilha a responsabilidade de escolher bons posts?
Procurar obter melhor rentabilidade para o teu Steem Power através de votos automáticos?
4 - Contribuir para determinada comunidade apenas votando nela?
Já encontrou a resposta? Então vamos ver como fazer.
FUNCIONAMENTO
Ao seguir uma trilha voçê vai poder repassar para ela a possibilidade de votar no seu lugar em posts escolhidos pela trilha.
Mas atenção voçê tem a liberdade de votar nas suas próprias escolhas também.
Outro fator importante é a gestão do seu poder de voto. Se a trilha que segue votar muitos posts vai concerteza baixar muito o seu poder de voto em termos de % de força e logicamente como pode ver no Steemworld em valor, para isso se deve configurar as condições de voto, de poder e de tempo como vou explicar a seguir.
@pataty69 CURATION TRAIL no STEEMAUTO
Como sou CURADOR procuro posts com conteúdo de qualidade seja em textos, imagens, fotos, videos, entrevistas, tutoriais, etc. e que sejam promissores em termos de vir a receber boas recompensas em número de votos e valor.
Para isso seleciono depois de ler e analizar o histórico de outros posts do mesmo autor.
Para não baixar muito o meu voto e também o meu poder, limitei o número de posts a votar a cerca de 15 a 20 por dia com 40%. Assim tanto eu como quem me segue na trail vai ter espaço para votar em escolhas pessoais e continuar com um bom voto. Se voçê escolher e votar antes da trilha o mesmo post o seu voto pessoal é que vale.
RENTABILIDADE
Nesta semana consegui uma eficiência de voto do 0,336 SP por cada 100 STEEM POWER possuído.
CONFIGURAÇÕES
Para seguir a minha TRILHA deve acessar o link https://steemit.com/steemauto/@steemauto/steemauto-com-free-and-unlimited-auto-upvote-and-auto-posting-service e seguir as instruções para criar e ter acesso a sua conta no STEEMAUTO.
Depois de ter garantido o acesso, vá no menu lateral e escolha CURATION TRAIL, então na Search for a trail coloque @pataty69 e clique Search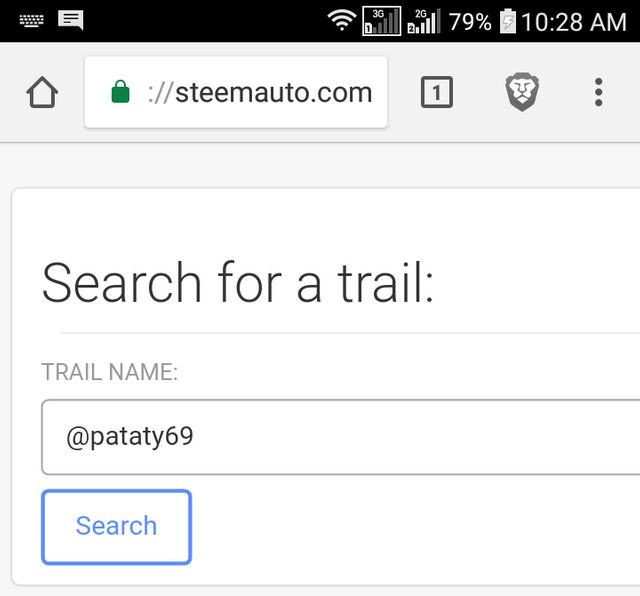 Source: postimage
em seguida escolha Follow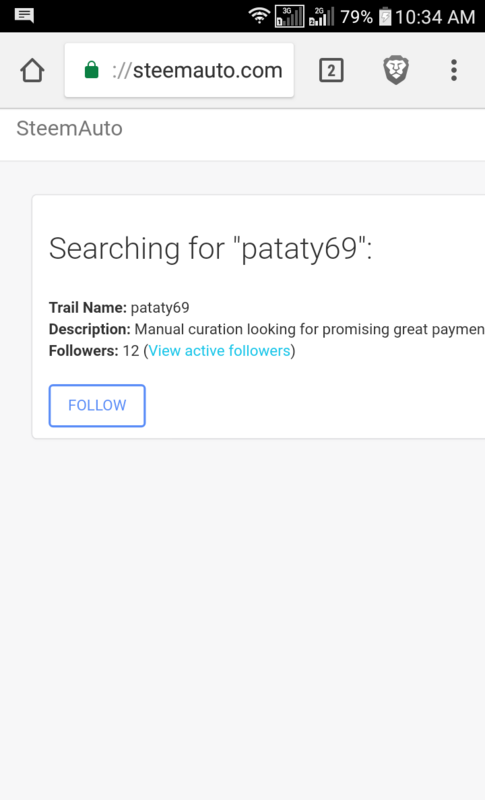 Source: postimage
no próximo menu escolha Settings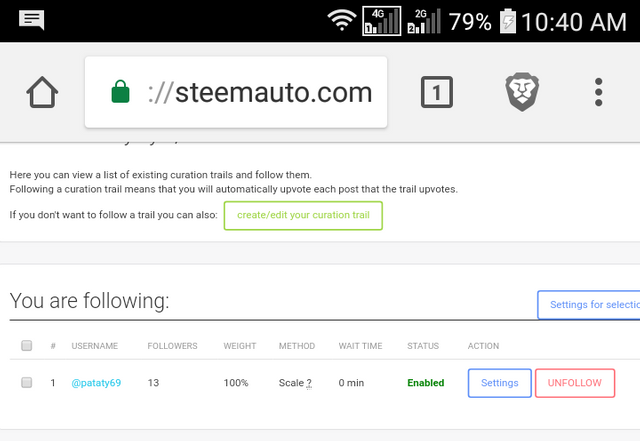 Source: postimage
agora configure % de voto e tempo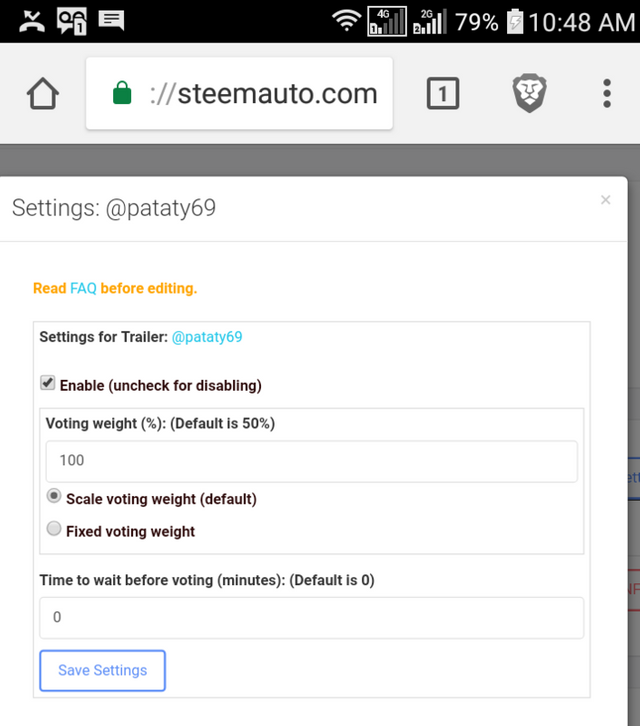 Source: postimage
VOTO 100% scale
TIME. 0 minutos.
Clique em Save settings
Assim vai igualar o meu voto de 40% e votar também com 40%.
Aqui está terminado agora volte ao menu e escolha DASHBOARD.
Agora vai proteger o seu voto de baixar muito e perder power.
Nos Settings escolher editar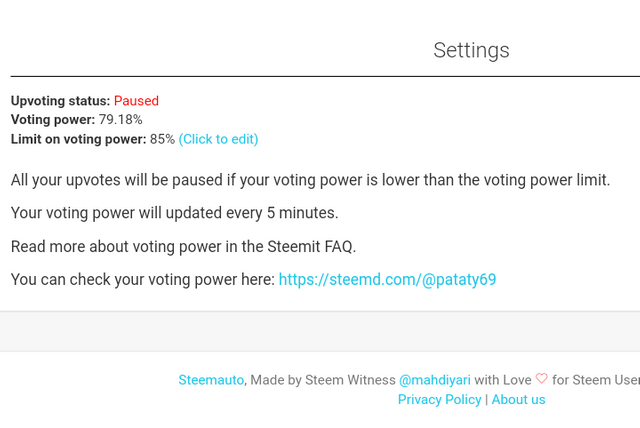 Source: postimage
Limit on voting power escolher 85%
Assim fica com margem para votos pessoais. Não aconselho baixar muito de 80%.
Save settings
Atenção não estou a pedir votos para mim e seguindo a minha curation trail não vai incluir votos nos posts que eu fizer. Para isso existe a
FANBASE ou Voto manual.
This post was written in Portuguese. Consider using Google Translate or other online translator to help you with translation.