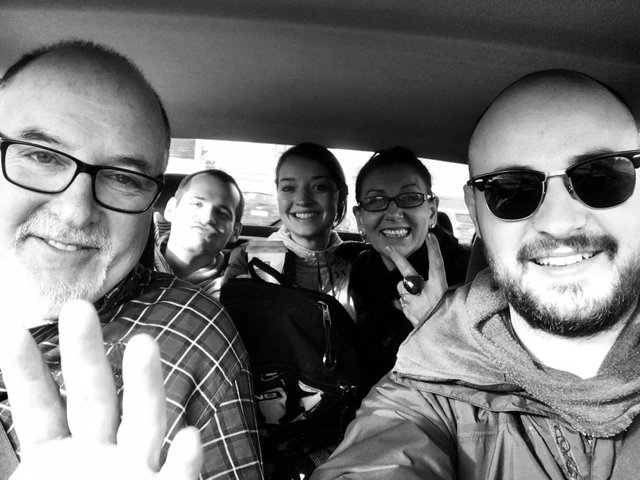 As I already told you yesterday @yinundmann and myself went to Vienna yesterday to participate at the Steemian Meet up there and meet @mammasitta @manncpt and @gexi to drive together to Steemfest 3.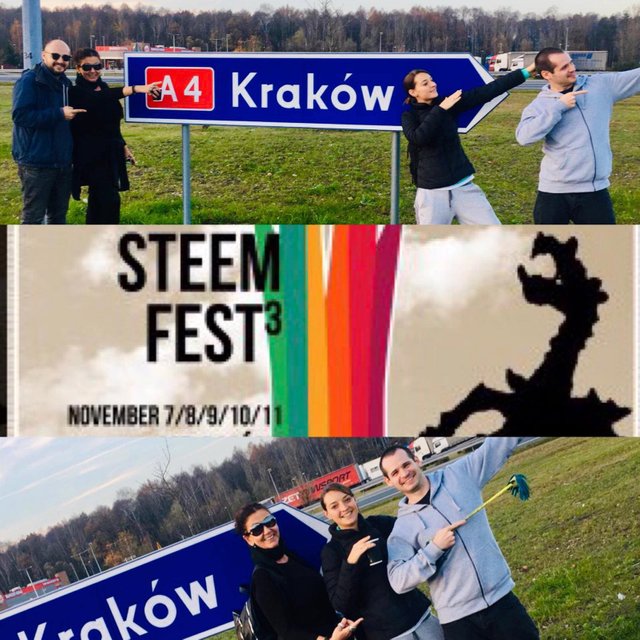 Since a few weeks we are super excited to get there and meet all the others again, some of them also for the first time!!!
So this morning we got up "early" - 9:00am and met the others at the car to start our trip. Of course we first had a little breakfast and bought some cookies etc. For the drive.
Wie ich euch gestern bereits erzählt habe, fuhren @yinundmann und ich gestern nach Wien, um dort am Steemian Meet teilzunehmen und @mammasitta @manncpt und @gexi zu treffen, mit denen wir gemeinsam zum Steemfest 3 fahren würden.
Wir freuen uns schon seit ein paar Wochen darauf, alle anderen beim Steemfest wiederzusehen und einige auch zum ersten Mal kennenzulernen!!!
Also sind wir heute morgen "früh" - 9.00 Uhr aufgestanden und haben die anderen am Auto getroffen, um unsere Reise zu beginnen. Natürlich haben wir zuerst etwas gefrühstückt und Proviant etc. eingekauft.
Como ya les había contado, @yinundmann y yo fuimos a Viena ayer para participar en la reunión de Steemian y reunirnos con @mammasitta @manncpt y @gexi para conducir juntos al Steemfest 3.
Desde hace unas semanas estamos muy emocionados de llegar allí y reunirnos con todos los demás, con algunos de ellos por primera vez.
Así que esta mañana nos levantamos "temprano" - 9:00 am y nos reunimos con los demás en el auto para comenzar nuestro viaje. Por supuesto, primero tomamos un pequeño desayuno y compramos algunas galletas, etc. Para el viaje.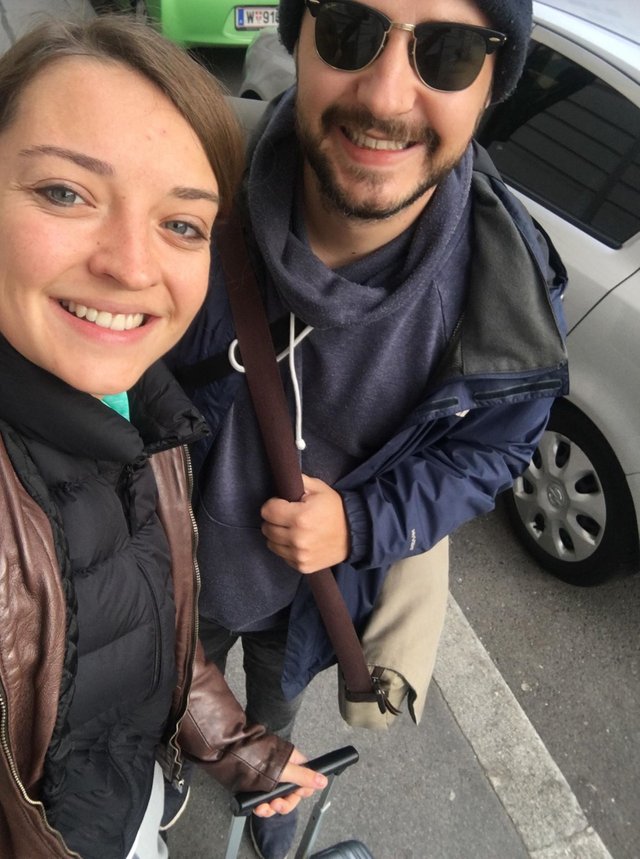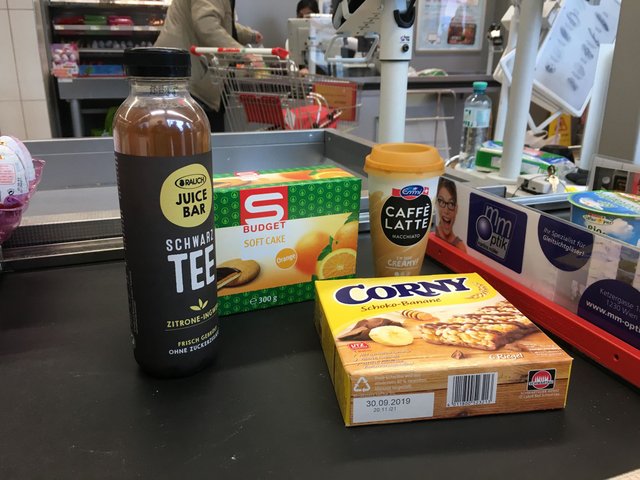 @manncpt had to get squeeze in our luggage in the trunk. Of course @mammasitta helped him ;)
@manncpt hatte die dankbare Aufgabe unser Gepäck im Kofferraum zu verstauen. Natürlich hat @mammasitta ihm geholfen ;)
@manncpt tuvo que apretar nuestro equipaje en el maletero. Por supuesto que @mammasitta le ayudó ;)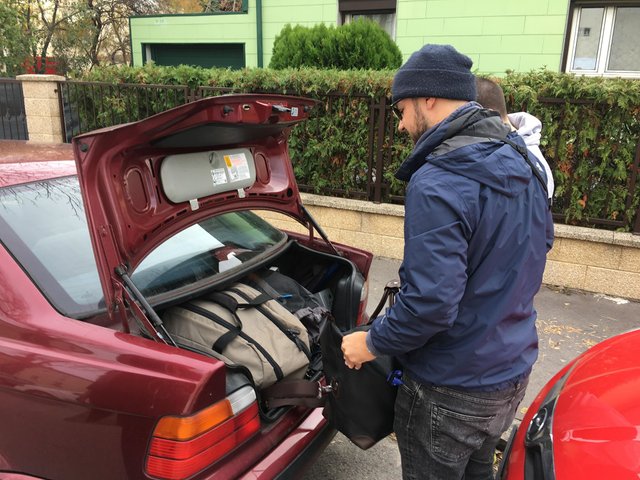 After that we were good to go and started driving. @manncpt as our driver, @yinundmann indicating the way on the map, @mammasitta and @gexi as DJ and myself group cuddling in the middle.
Danach waren wir soweit loszufahren. @manncpt als unser sicherer Fahrer, @yinundmann als Wegweiser mit der Strassenkarte, @mammasitta und @gexi als DJ und ich mitten drin reingekuschelt.
Después de eso estuvimos listos y empezamos a conducir. @manncpt como nuestro conductor, @yinundmann indicando el camino en el mapa, @mammasitta y @gexi como DJ y yo mismo en el medio en un abrazo grupal.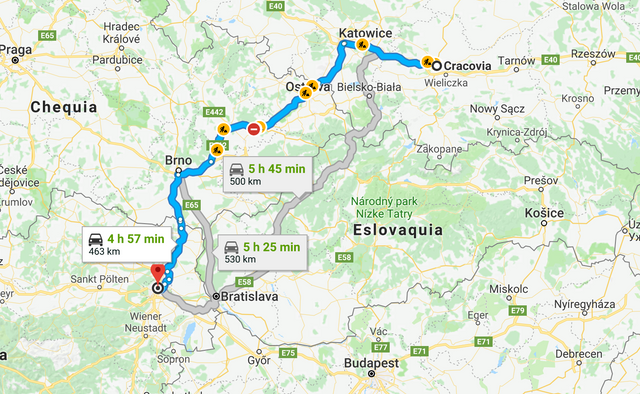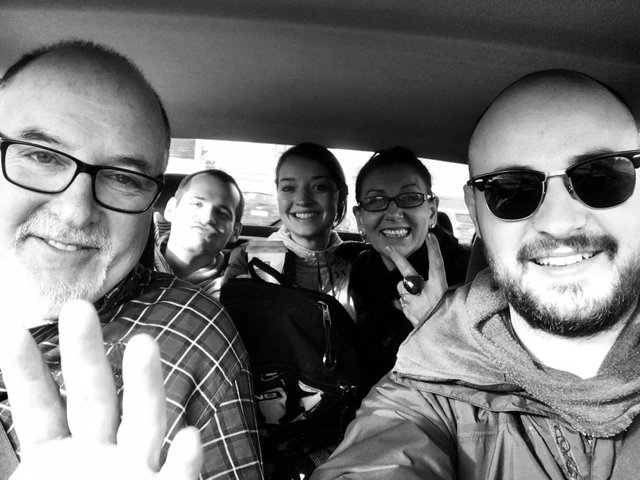 While we were driving, the Steemfest 3 Krakow group on Telegram was going crazy getting more and more members. Everybody was on their way now, coming from Milan, London, Frankfurt, Barcelona, Warschau, Munich, Vienna, etc... some meeting at the gate already, or at the baggage claim sharing an Uber, or here at the city center.
Of course being in touch with all of them just made us looking forward to the event even more.
Crossing the border to Czech Republic @gexi got super tired and fall asleep :D - Kinda cute
Während wir immer weiter fuhren ging es in der Telegram Steemfest 3-Gruppe in Krakau richtig ab, fast minütlich wurden es immer mehr Mitglieder. Alle waren jetzt unterwegs und kamen aus Mailand, London, Frankfurt, Barcelona, ​​Warschau, München, Wien usw. eingeflogen... einige trafen sich bereits am Gate oder bei der Gepäckausgabe, teilten sich einen Uber oder sassen schon hier im Stadtzentrum bei einem Cafe zusammen.
Natürlich waren wir mit allen in Kontakt, was uns noch heisser auf die Veranstaltung machte.
Nachdem wir die Grenze nach Tschechien überquert hatten wurde @gexi super müde und schlief ein: D - iwie süß
Mientras conducíamos, el grupo Steemfest 3 Krakow en Telegram se estaba volviendo loco con cada vez más miembros. Todo el mundo estaba en camino ahora, viniendo de Milán, Londres, Frankfurt, Barcelona, ​​Warschau, Munich, Viena, etc. ya se habían reunido en la puerta o en el reclamo de equipaje compartiendo un Uber o aquí en el centro de la ciudad.
Por supuesto, estar en contacto con todos ellos nos hizo esperar aún más el evento.
Al cruzar la frontera con la República Checa, @gexi se cansó mucho y se quedó dormido: D - Muy lindo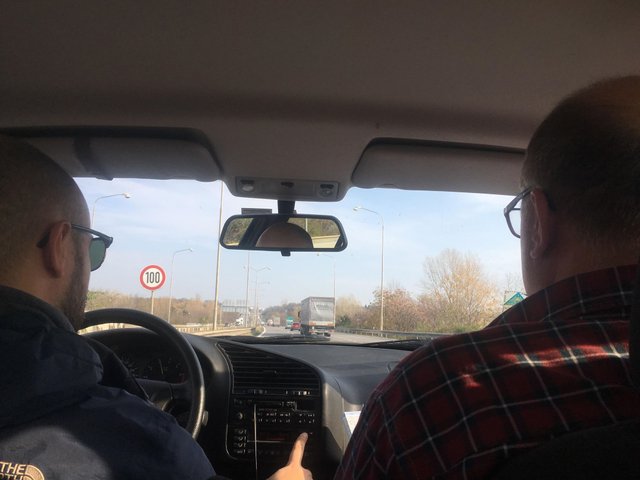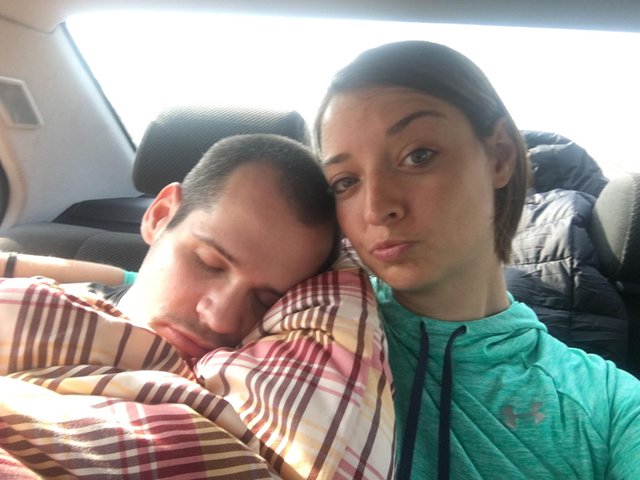 Soon after that we took our first break, stretching a bit, doing yoga, walking, drinking and having some fresh air. We also did a little dance session just to move around a bit after sitting that long ;)
Bald danach machten wir unsere erste Pause, dehnten uns ein bisschen, machten Yoga, gingen spazieren, tranken Wasser und genossen die frischen Luft. Wir haben auch eine kleine Tanzsession eingelegt, nur um uns ein bisschen aufzulockern, nachdem wir so lange gesessen hatten ;)
Poco después tomamos nuestro primer descanso, estirándonos un poco, haciendo yoga, caminando, bebiendo agua y tomando un poco de aire fresco. También hicimos una pequeña sesión de baile para movernos un poco después de estar sentados tanto tiempo ;)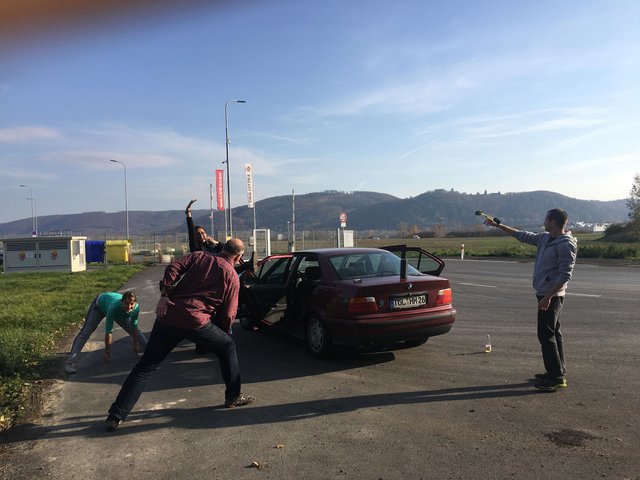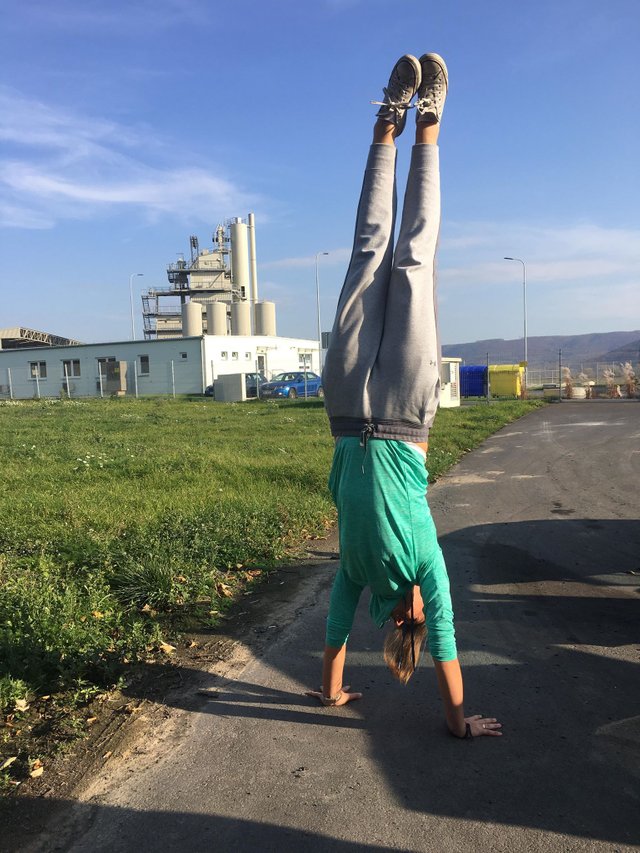 After that I also fell asleep for a while. :D Until I woke up and was super hungry. We all shared this emotion so we did a last stop 70km before Krakow to have a little Snack and get some energy.
Danach bin ich auch eine Weile eingeschlafen. :D Bis ich total hungrig aufgewacht bin. Wir alle teilten dieses Hungergefühl, also machten wir einen letzten Stopp 70 km vor Krakau, um einen kleinen Snack zu uns zu nehmen und nochmal Kraft zu tanken.
Después de eso también me dormí por un tiempo. :D Hasta que me desperté y estaba super hambrienta. Todos compartimos esta emoción, así que hicimos una última parada 70 km antes de Cracovia para comer un pequeño snack y cargar energía.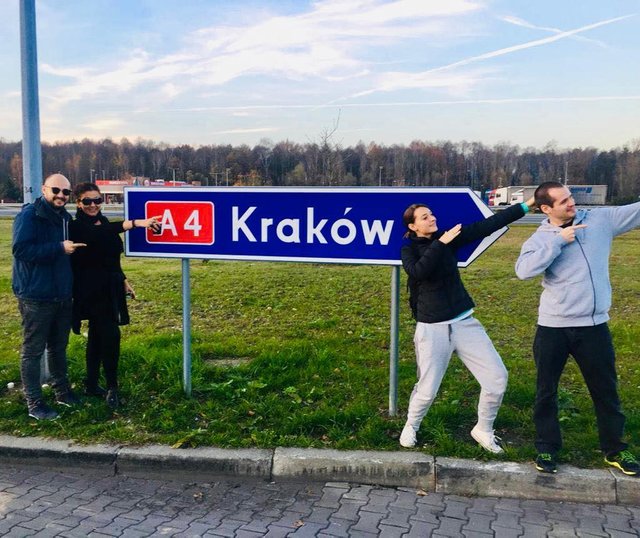 From there we were super close and arrived in almost no time. Now we are all getting settled at the hotel, some of us get some rest and later on we will go to the Qubus hotel to do our Steemfest Check In and meet all the others ;)
What a great ride till here! So looking forward to tonight!
Von da waren wir super nah und kamen in kürzester Zeit an. Jetzt sind wir alle im Hotel angekommen, einige von uns erholen sich und später gehen wir ins Qubus Hotel, um unser Steemfest Check In zu machen und alle anderen zu treffen
Was für eine tolle Fahrt bis hierher! Ich freue mich schon riesig auf heute Abend!
Desde allí estuvimos muy cerca y llegamos en poco tiempo. Ahora todos nos estamos acomodando en el hotel, algunos de nosotros descansamos un poco y luego iremos al hotel Qubus para hacer nuestro Steemfest Check In y conocer a los demás;
¡Qué gran viaje hasta aquí! Ya estoy super emocionada por esa noche!
Cheers, Servus & Un abrazo,
Liz