CACAO MADELEINES 🎄😍🎄
Hello my Dearest Foodies,
Who doesn't love traditional French pastry, or any pastry for that mater, however, under all that beauty and delicious taste there are unhealthy ingredients that aren't that much different than any other junk food. But don't worry, there is a way how to make these delicious treats healthier and cruelty free.
Altough, I never know how my baking is going to turn out because I am still only a newbie, I am excited every time. But when it turns out so amazing like these Madeleines, I feel joy and satisfaction. Besides, I get even more encouraged to continue. There for I would like to also encourage you to try, because it's truly worth it. You can't buy pastry like this anywhere, not even in vegan store, because no one is using whole grain spelt flour for pastries.
Unless of course you are suffering from intolerance to gluten or Celiac, spelt is not the flour for you. However, that is only 1% of population, you can read more about that HERE. For the rest of us, whole grain Spelt and other ANCIENT GRAINS are the healthiest choice, even if they are not gluten free.
Wish you a wonderful weekend 🎄😍🎄
CACAO MADELEINES
Healthier Version of Traditional French Pastry
Vegan – Refined Sugar Free – Guilt Free - Cholesterol Free
INGREDIENTS makes 22
• Whole grain spelt 1 ½ cup
• Vegan butter 1cup (I use Earth Balance)
• Aquafaba 1 cup (liquid from organic chickpeas unsalted)
• Cream of tartar 1/4 tsp
• Xylitol 2/3 cups (or sweetener of your choice)
• Cacao 2 tbs
• Baking powder 1tsp
• Baking soda ½ tsp
• Himalayan pink salt ½ tsp
• Madeleine pan
• Brush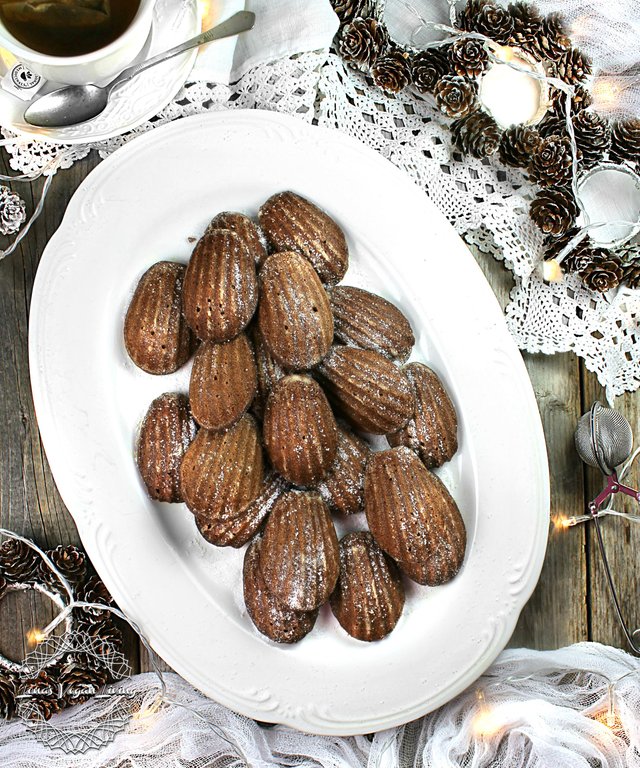 PROCESS
• Melt the butter in double boiler above the steam and set aside for it to cool.
• In a bowl, mix all dry ingredients except sweetener.
• In a large bowl, start whisking aquafaba with electric mixer by adding sweetener gradually, until it begins to foam.
• Continue whisking while gradually adding the flour mixture, until is all mix in.
• Add the gradually the butter while whisking continuously.
• Coverer the bowl with lid or plastic wrap and place into refrigerator for at least 2 hours or overnight.
• Preheat the oven to 375F.
• Prepare your Madeleine pan by greasing each shell thoroughly with melted by using butter by using brush and sprinkle plain white flour on top. Turn over the pan above the sink and shake off the leftover flour so only the one that sticks to butter remains. This may nit be necessary with good quality non stick pan like I have, but I did it anyway. It's better to be save than sorry. There for I suggest you do it too.
• When ready, gently stir the cooled dough and scoop 1tbs with small ice cream scoop, or spoon and fill each shell, little bit off center, closer to the wider end.
• Bake for 10 to 11 minutes.
• When ready, remove the pan from the oven and place on the counter. Take the cooling rack, turn it upside down and place it on top of the madeleine pan. Hold the edges of the pan and rack together, obviously wearing mittens, and flip upside down again. Now lift the pan. You may shake a little until all the cookies come out.
• Let them cool on the rack and bake more cookies in the meantime with the leftover dough.
NOTE
Madeleines are best fresh, but I tested if they can be frozen and heated up in the oven and yes, they can. Also, the dough can last in the refrigerator for few days in the sealed container.
THANK YOU FOR VISITING & BON APPETIT
FOR RECIPES PLEASE VISIT MY Lena's Vegan Living Blog


|